About Yas Waterworld
With about 40 rides, slides and many other attractions, Yas Waterworld, located in Abu Dhabi is one of the best waterparks in the world. One can enjoy hair-raising, thrilling rides like Bandit Bomber, Liwa Loop, Rush Rider, Hamlool's Humps, Jebel Drop, etc. and have a whale of a time with family and friends at rides like Al Raha River, Amwaj Wave Pool, etc.

There are also several fun rides dedicated for the tiny tots which include Yehal, Tot's Playground and Cannon Point. This Emirati-themed amusement park has won many national and international awards like the Middle East's Leading Water Park-2018, Top 10 Water Park in the Middle East 2017 by TripAdvisor Travelers Choice and many others since its inception in 2013.

Apart from the rides, Yas Waterworld has other fantastic attractions like Hairat Yas Pearl Diving Experience where you could actually experience the traditional Arabic way of pearl diving, collect oysters from your dive, get them carefully opened and even take them home as a memento.

The Cine Splash 5D theatre is another huge draw where the visitors can experience the water effects like rain, floods, fountains, and waterfalls for real. Yas Waterworld also has a number of cafes and restaurants like Chubby's Kitchen, Dhabi's Ice Cream and Skinny Frozen Treats to pacify your hunger between the rides.

Suggested Read: 
5 Best Water Parks & Theme Parks in Abu Dhabi
How to Reach Yas Waterworld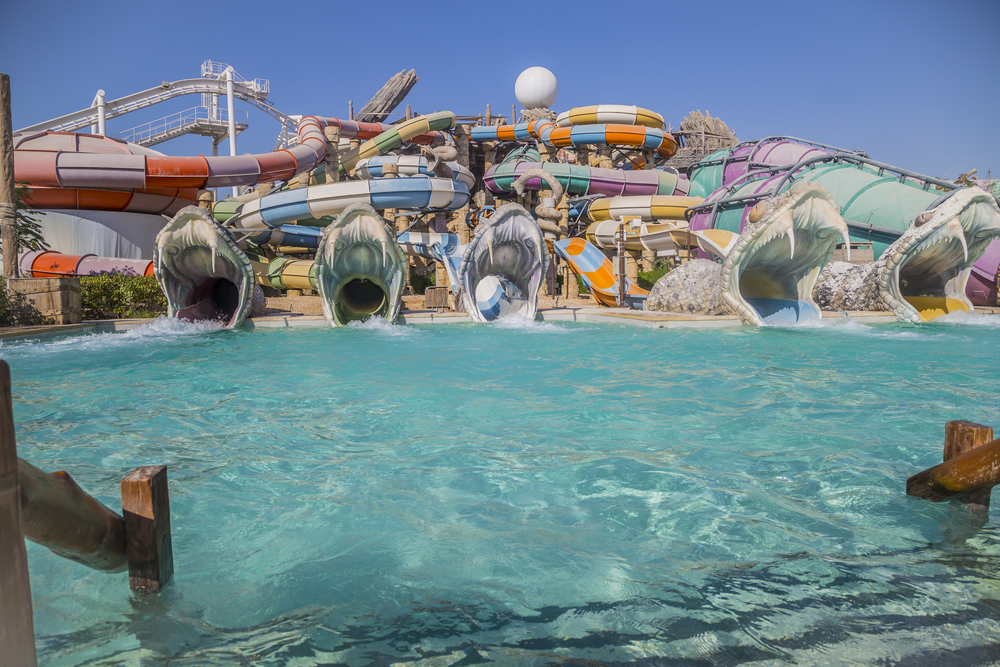 The driving distance between Abu Dhabi Airport (AUH) to Yas Waterworld is 12 km and the fastest way to reach is to drive yourself. However, you can hire a taxi or take a bus from Zayed Sports City station to Yas Island ADNOC South station. 
Also Read: 
10 Best Things to Do in & near Abu Dhabi Airport
Best Time to Visit Yas Waterworld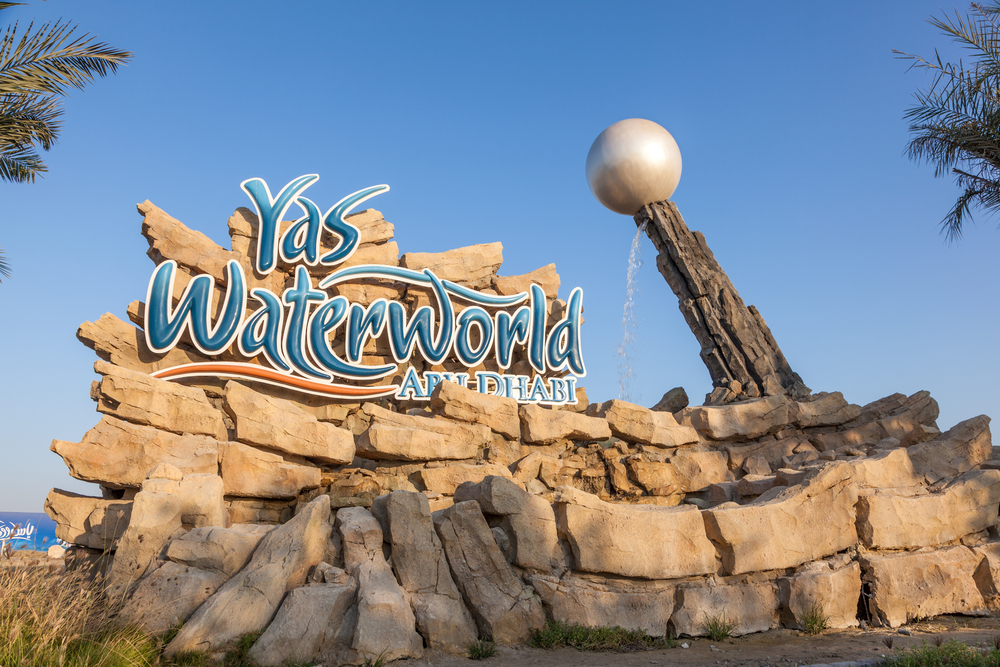 You can visit this amazing water park throughout the year. However, Abu Dhabi experiences a desert climate and hence, it advisable to visit Yas Waterworld during the cooler months (Oct-March) when the climate is pleasant to sightsee.
What Not to Miss at Yas Waterworld


The 40 mind-boggling activities and rides at Yas Waterworld are classified into three categories - Thrill Activity, Family Activity and Kids Activity based on the thrill quotient, fitness and height requirements and age constraints.
Thrill Activity

- Dawwama
Dawwama is the world's largest six-person tornado water coaster that starts from the whooping height of a mountaintop and then takes the riders on a long slide and finally onto a 20-meter high tornado funnel. The waterslide promises spine chilling thrill and is undoubtedly for the strong-hearted ones.
- Falcons Falaj
This is an adventurous ride where six members are taken on this six-seater water coaster with extreme twists and turns and rapids and drops. When the entire family longs for an adventure ride, Falcons Falaj is the place to be.
- Sebag
Sebag is a competitive ride where six individual riders slide on the six designated lanes putting their confidence to fuel the gravity and land on to the winning spot. Apart from the pleasure that the ride gives, the bond that happens over the race is truly a memory to behold.
- Bubbles Barrel
Bubbles Barrel is the world's longest surfing sheet wave and the rider slides through the double hump speed slide with high waves and thousands of litres of swirling water giving a spine chilling experience. This ride is definitely not for the faint-hearted ones.
- Slithers Slides
As the name suggests, Slithers Slide takes the rider on a serpentine spin. First, the rider plunges from a height and then takes two sharp turns and then drops through a water curtain. The rider then slides through darkness lit by tiny lights and finally drop into the landing pool safely.
- Rush Rider
Rush Rider is a beginner level water ride to warm-up and to hone your surfing skills for the other exciting water sports. The ride lets the riders have fun on this endless sheet wave getting sun-kissed under the sun.
- Liwa Loop
Liwa Loop is a first-of-its-kind waterslide in the Middle East where the riders zip down a high-intensity looping waterslide. One could indeed feel the adrenaline rushing through the veins during this long water slide ride which is covered in a matter of few minutes owing to its steep design.
- Jebel Drop
This ride is the park's steepest waterslide and is perched at a scenic vantage point. Riders can zoom down this slide enjoying the open sky above until they experience an unexpected drop! This ride is sure to appease the thrilling quest of all your senses.
- Hamlool's Humps
Hamlool's Humps is super speed slide where the riders slide through massive humps. The slide is super fast that one could feel flying in the air during this ride.
- Bandit Bomber
Bandit Bomber is the Middle East's longest suspended roller coaster that has special onboard water and laser effects for maximum thrill. Yas Waterworld captures your emotional face live during the ride to let you freeze this nerve-wracking memory for a lifetime. You can get this photo from the Bambit Bomber shop when you leave.
Must Read: 
Best Adventure Tours in Abu Dhabi

Family Activity

Family activities are super cool ways to enjoy, have unlimited fun and experience the uber-cool rides as an entire family. There are no height restrictions for the family activities and hence is suitable for a family of diverse ages - from tiny tots to senior citizens.
- Amwaj Wave Pool
Amwaj is a calm wave pool where the waves gently ebb making it perfect to laze around floating on the wave pool and enjoy a relaxing time with your family members gliding with the incredible wave patterns.
- Al Raha River
Al Raha River is a lazy waterway where you can glide in the direction of the river and pass through the caverns of the Al Raha River while nestled cosily in the tube. In short, the Al Raha River is synonymous to its tagline 'Relaxing water tube ride'.
- Water Wars
Water Wars are chilled out warfare where the war takes place with water balloon amongst family and friends. 'Soldiers' can even strengthen their army by buying a bucket of balloons as a supply to their amusing war and attack their rivals by splashing those water balloons.
- Marah Fortress
Marah Fortress is a water playground for the family with slides, dumping buckets, a water-shooting geyser, water cannons, and other interactive features for a family that loves to enjoy their time with easy-to-go water rides.
- Cine Splash
Cine Splash 5D is one of the latest additions and yet another reason to visit Yas Waterworld. Cine Splash 5D is a water-based theatre where the visitors can enjoy the show with water-based special effects such as rain, waterfalls, fountains, water explosions, guns, and floods that actually get the visitors wet. Hence, visitors are requested to get dressed in swimwear during the show. Other effects such as strobes, haze, lasers, wind, ground fog and LED lights to accentuate one's 5D experience.
- Yadi Yas
Yadi Yas is an interestingly crazy river that has wild waves, unexpected twists and turns and even currents that take you on an action-packed wadi ride. Ensure to hold your tubes firm to stay afloat and you can be guaranteed of unlimited fun.
Suggested Read: 
50 Best Places to Visit in Abu Dhabi

Kids Attraction

If you are travelling with kids, It is highly recommended to take them to the kids' attractions first to gear them up for family attractions so that they shed their fear off.
- Yehal
With three tiny slides and a dumping bucket, Yehal is a water play area exclusive for kids that serves as a great place for warming up for their day ahead. The parents could make use of this area to teach their kids that a few quick chugs of water or a second long drown inside a pool is absolutely fine!
- Tot's Playground
Tot's Playground has an infant pool and a slide complex. The shallow waters of the pool and the gentle steepness of the slides make this place absolutely safe for the kids to have fun and stay active. Tiny Tot's is perfect for the parents too apart from the little ones. 
- Cannon Point
Located below the Bandit Bomber ride, Cannon Point experiences showers as the Bandit Bomber zooms past overhead, spraying one with water. You can return their favour with water cannons and shoot back at them. Cannon Point is more of a family entertainer where the whole family can enjoy this family spray and play area.
Recommended Read: 
Best Water Sports Tours in Abu Dhabi
Things to Do in Yas Waterworld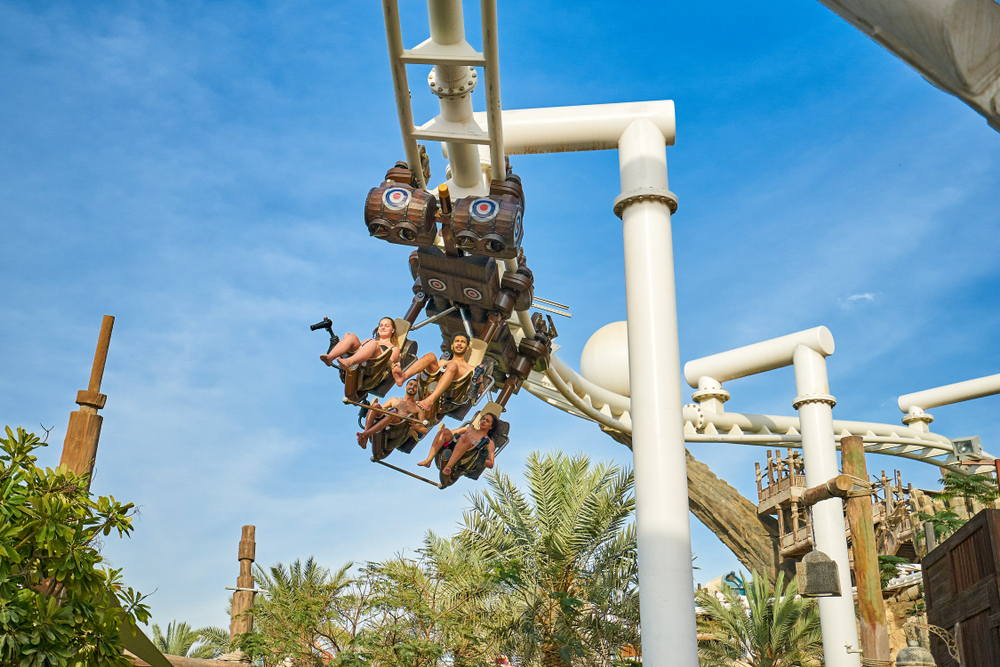 - Enjoy hair-raising, thrilling rides like Bambit Bomber, Liwa Loop, Rush Rider, Hamlool's Humps, Jebel Drop, etc
- Enjoy the fun-filled family rides like Al Raha River, Amwaj Wave Pool, etc.
- Take your tiny champs to the Tot's Playground and Cannon Point.
- Enjoy an amazing show at Cine Splash 5D theatre
- Indulge in the astounding Hairat Yas Pearl Diving Experience and collect pearls to take back home.
- Lounge at Al Waha Cabanas
- Taste some of Abu Dhabi's best ice cream at Farah's Flavours, Dhabi's Ice Cream, Skinny's Frozen Treats, etc
- Get your name artistically calligraphed at Flying Carpet Calligraphy
- Shop for souvenirs at Gahwat Nasser
Also Read: 
50 Best Activities to do in Abu Dhabi
Other Essential Information About Yas Waterworld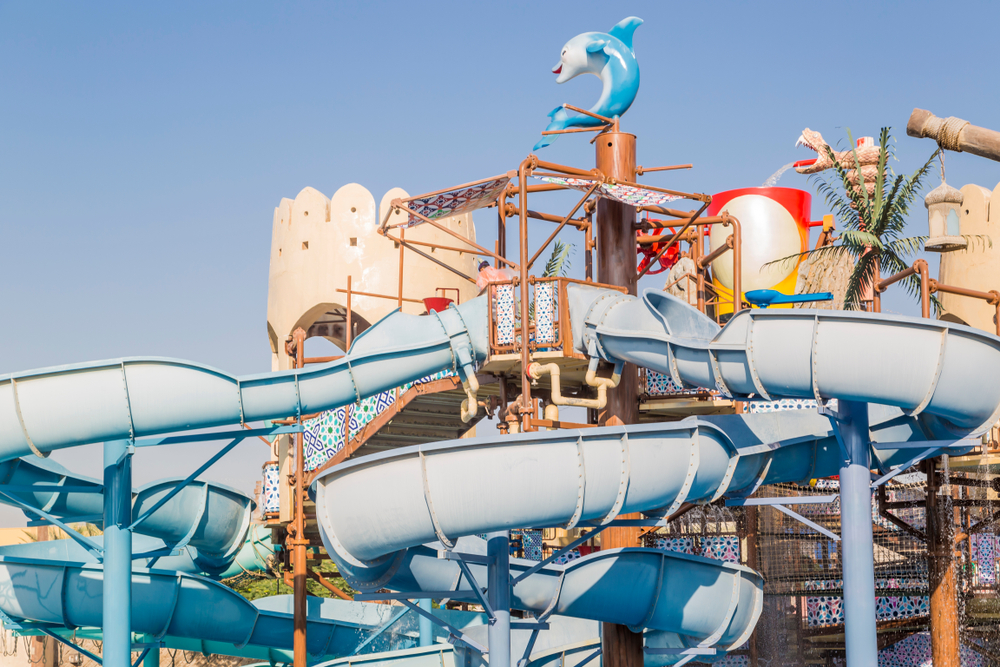 Location:
P.O. Box 12817, Yas Waterworld, Yas Island, Abu Dhabi, 
United Arab Emirates
Timings:
10.00 AM - 8.00 PM Sat - Wednesday; 10.00 AM - 11.00 PM Thursday; 10.00 AM - 10.00 PM Friday
Prices:
Single day ticket starts AED 250 . There are several passes and extras that you can buy based on your needs and budget

Book Now: 
Trip To Yas Island Water Park Flat 20% Off
Dining at Yas Waterworld
- Dhabi's Ice Cream
Dhabi's Ice Cream has a curated menu of lip-smackingly delicious ice creams of all flavours and endless topping options. If you are looking for a quick break amidst the thrilling rides, the delectable ice creams at this place are sure to be a perfect choice.
- Dana's Diner
Dana's Diner serves scrumptious snacks like BBQ, burgers, and sandwiches that are light too so that can enjoy continuing your thrill-filled day at Yas Waterworld without feeling heavy. The restaurant also offers great views of surfing outdoors.
- Chubby's Kitchen
If you are looking for the right place to gorge upon a full meal from pizzas to daal along with fried chicken and noodles, Chubby's Kitchen has everything that can get you drooling over its food. The restaurant offers stunning views of the pearl divers and the rollercoaster.
- Skinny Frozen Treats
As the name suggests, Skinny Frozen Treats is a heaven for those who love frozen desserts. Indulge guilt-free in their amazing menu of frozen lemonade and juices, shaved ice with syrup, and ice cream and beat Abu Dhabi's heat.
- Salma's Snack Shack
Featuring salads, sandwiches, fresh fruits, and smoothies in their menu, Salma's Snack Shack is an ideal place to appease your hunger yet not feel full. The standout here is the "Slush It Up Station" where you could mix your own choice of slush. 
- Gahwat Nasser
Gahwat Nasser is actually a souvenir shop selling Arabic coffees, camel-milk chocolates, fresh dates and heritage gift boxes which you could gift your near and dear ones and share memories about your trip to Yas Waterworld.
- Farah's Flavours
Farah's Flavours is all about delectable Turkish ice creams. The ice creams are also served in their traditional style that makes it even more special.
Suggested Read: 
20 Best Restaurants in Abu Dhabi
Shopping at Yas Waterworld 
- Sultan's Candy
Sultan's Candy features a range of sweets of the Middle East and candies from continents across the globe making it a one-stop destination to shop for your sweet tooth. These candies and sweets are also great choices to gift as souvenirs.
- Sultan & Sons
Selling all water park essentials of topwater park brands and themed essentials, this place is a must-visit before heading to the rides and slides. Get dressed here and gear up to get thrilled at the amusement park.
- Qaryat Al Jewana Souk
Qaryat Al Jewana Souk is a huge place where you can literally find everything. In the souk, there are separate sections selling sweets, souvenirs and coffee, and a restaurant. There are also changing rooms and lockers which you could use at a cost and even a dedicated prayer room.
- Jewana Photo
What could be a better way to capture your day out at Yas Waterworld than with a photo? Jewana Photo has an incredible collection of photo frames to capture such precious moments of yours at Yas Waterworld.
- Flying Carpet Calligraphy
This astounding place gives a beautiful life to your name by creating your name as a piece of watercolour art. Apart from your name, you get your loved ones' names too done as a watercolour art piece and surprise them with this artistic gift.
- Bandit Bomber Photo
Bandit Bomber Photo freezes your screaming moments on the Bandit Bomber thriller ride in their strategically placed cameras. You can then purchase these lively pictures during exit and cherish your experiences for a lifetime.
Must Read: 
10 Best Markets to Shop in Abu Dhabi

Experiences at Yas Waterworld
- Hairat Yas Pearl Diving Experience
This experience lets you enjoy the traditional pearl diving method of the Arab. Under the supervision of a trainer, visitors to the Yas Waterworld can dive deep into an underwater tank and collect a maximum of three oysters that contain pearls. You can then take the collected oysters to the  Tawasha Pearl Shop where you can learn to open them correctly to collect your pearl. You can take the pearl home or even convert it to a small piece of jewellery at the Tawasha Pearl Shop.
- Al Waha Cabanas
For those looking for a relaxed and luxurious day out at Yas Waterworld or a few hours to refresh and rejuvenate between rides, Al Waha Cabanas is the place to be. At the Al Waha Cabanas, one can lounge about in complete privacy and opulent comfort which includes VIP Butler service, free towels, pearl diving experience for one person from the group, safe for valuables, bottles of water and an exclusive menu which includes fresh fruits. The cabanas can fit 4 or 6 guests at a time. 
Must Read: 
20 Best Resorts in Abu Dhabi

Passes at Yas Waterworld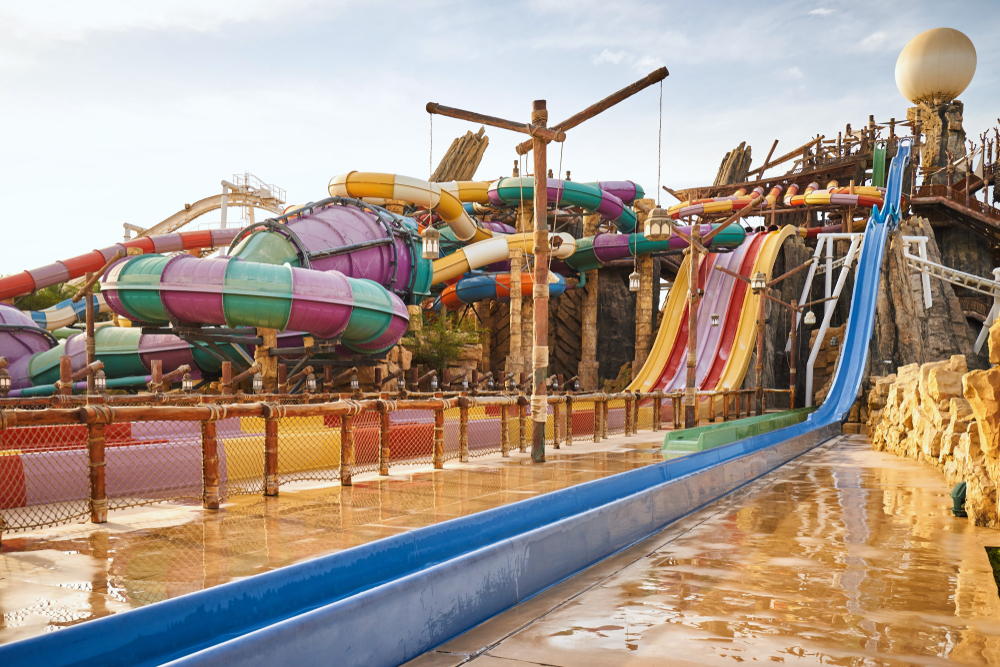 Apart from the single tickets, Yas Waterworld has many passes that one can buy to gain access to the other two amusements - Warner Bros. World™ Abu Dhabi or Ferrari World Abu Dhabi along with Yas Waterworld tickets while saving a penny.
- 1 Day Any 2 Parks Pass

Priced at AED 395, this pass is valid for only one day and includes tickets to Two Yas Island Theme Parks
- 2 Day Any 2 Parks 

Priced at AED 435, this pass is valid for two days and includes tickets to Yas Waterworld plus access to either Warner Bros. World™ Abu Dhabi or Ferrari World Abu Dhabi.
- 3 Day All 3 Parks  

Priced at AED 545, this pass is valid for three days and includes tickets to Yas Waterworld Abu Dhabi, Ferrari World Abu Dhabi, and Warner Bros. World™ Abu Dhabi
Yas Waterworld Annual Pass

Yas Waterworld Annual Passes allow access to the all the three theme parks - Yas Waterworld Abu Dhabi, Ferrari World Abu Dhabi, and Warner Bros. World™ Abu Dhabi and is valid for a year from the date of purchase. If you plan to visit Yas Waterworld frequently, these annual passes help you save a lot of money.
- 1 Theme Park is priced at AED 990
- 3 Theme Parks is priced at AED 1295
- Platinum Pass for 3-Theme Parks is priced at AED 2595
The above mentioned are applicable for off the gate tickets booked online.
You May Also Like: 
20 Best Places to Visit and Things to Do in Abu Dhabi at Night

Tips for Visiting Yas Waterworld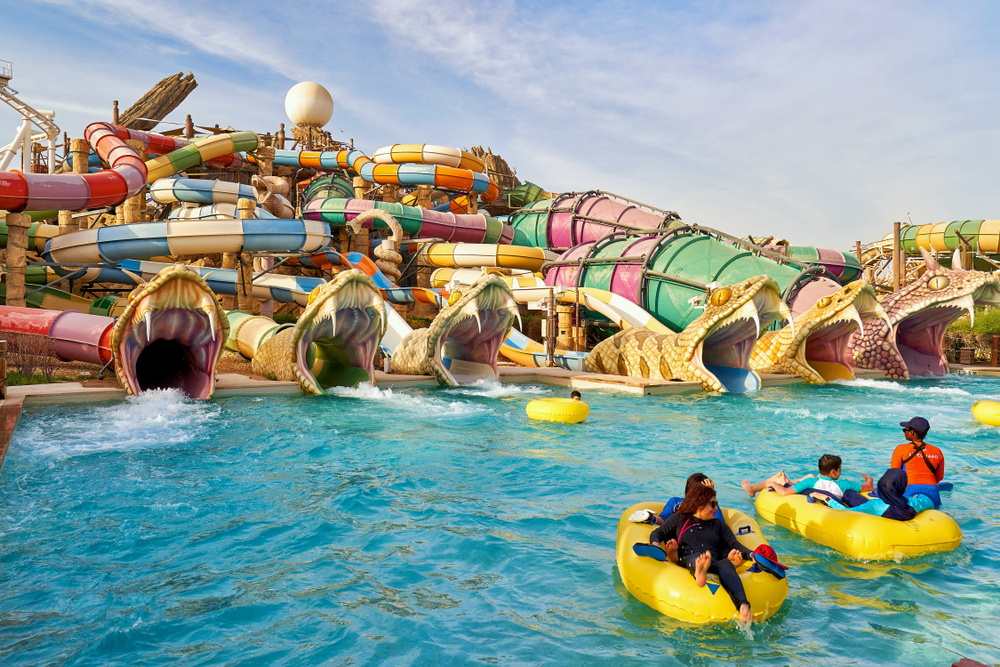 - Do not take your pets along as pets are strictly not allowed inside Yas Waterworld.
- Smoking is permitted only in the designated smoking areas.
- Swimwear and swimsuits that are not transparent or translucent are mandatory inside the park. Follow the dress code strictly.
- Photography and videography are not permitted inside the park.
- Book tickets online so that you can skip the queue and save time.
- Arrive early to avoid serpentine lines.
- Read the rules of the ride (like height and weight constraints) before boarding it.
You May Also Like: 
Best Time & Season to Visit Abu Dhabi