About Valley of Flowers
Lying near Badrinath, in the Chamoli district of Uttarakhand, Valley of Flowers is a spectacular photogenic national park that graces the Western Himalayas with its enchanting virgin beauty. Discovered back in the year 1931 by three British Mountaineers R.L. Holdsworth, Frank S. Smythe, and Eric Shipton, this beautiful valley has also been declared as a World Heritage Site by UNESCO, owing to its incredibly mesmerizing blooms encircled by mighty icy peaks.

Spread across an area of around 87.5 square miles, this unadulterated charming meadows is home to umpteen varieties of alpine flora, including flowering plants as well as medicinal herbs. The availability of medicinal plants in this valley gives the place its mythological significance, imbibing the belief in the heart of millions that the Hindu god Lord Hanuman had once collected the legendary Sanjeevani booti from here to help cure Lord Shri Ram's brother, Lakshman.

With magnificent mountains serving as its backdrop and meandering streams flowing inside it, Valley of Flowers is also bestowed with bountiful wildlife species.
Valley of Flowers is known popularly for its excellent trekking opportunity that is suitable for all kinds of trekkers. The trek starts from Govindghat and takes the hikers through terraced fields, green patches, cascading waterfalls, and rocky mountains to finally reach the flowery meadows of the valley. Other exciting activities to do at Valley of Flowers include photography, bird watching, and village walks.
How to Reach Valley of Flowers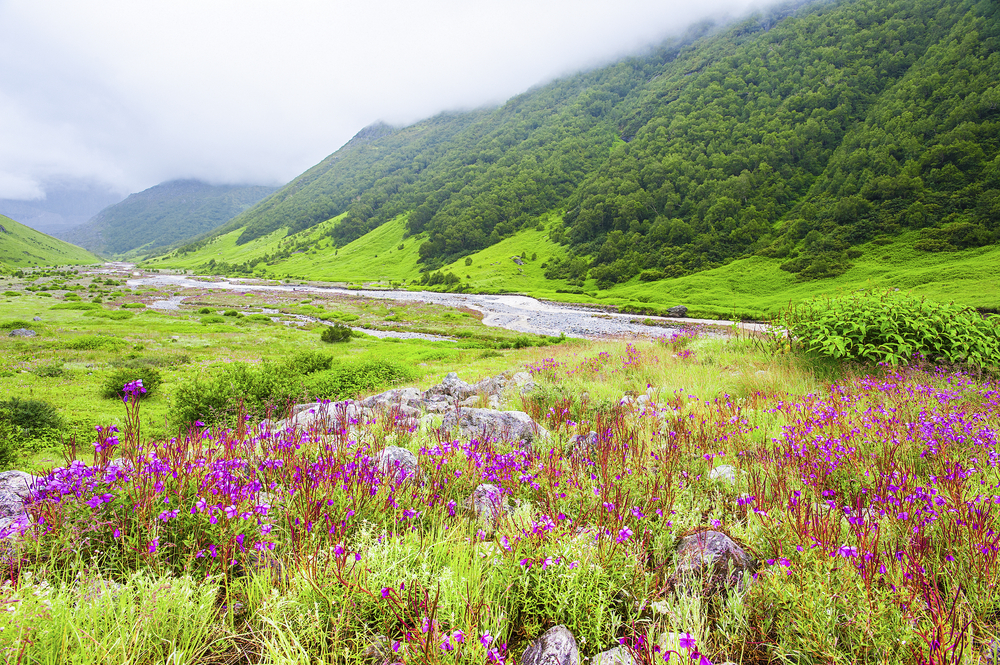 You can take a train, Volvo bus, or private taxi from Delhi and reach Haridwar. Next, you can take a local taxi from Haridwar and arrive at Govindghat within 10 to 12 hours. From Govindghat, you can take a local transport and reach Pulna Village, which is located just 4 kilometers away.
Once you arrive at Pulna, you can cover a moderate trekking trail of 10 kilometers to reach Ghangaria. You can also take a pony or helicopter to arrive at Ghangaria directly from Govindghat. Upon reaching Ghangaria village, you can cover a trekking trail of 10 to 20 kilometers to finally get to Valley of Flowers. 
Best Time to Visit Valley of Flowers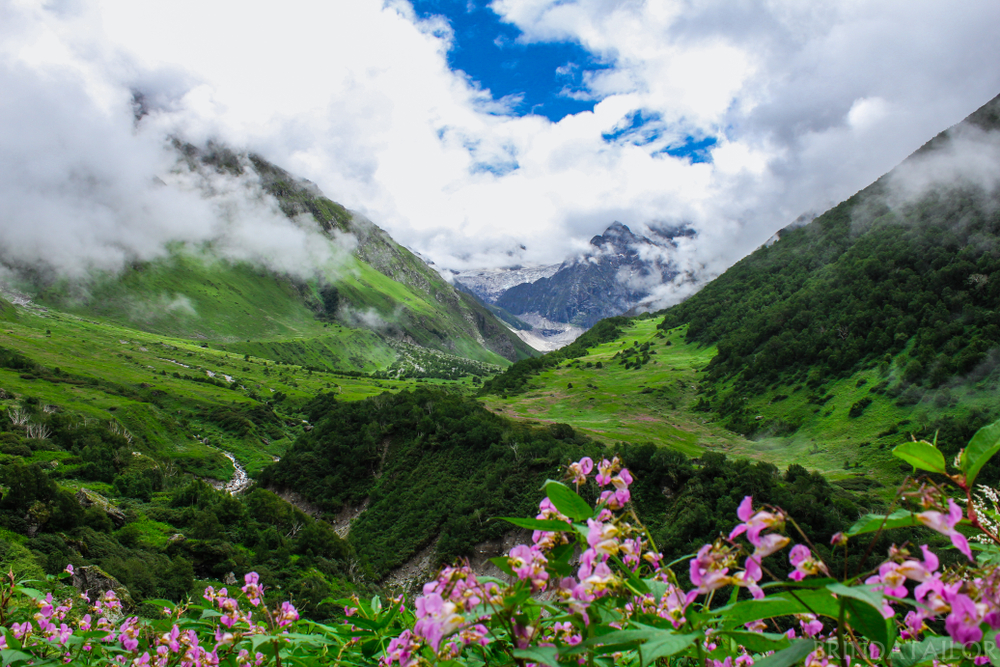 Since Valley of Flowers trek is a monsoon trek, the most ideal time for visiting the national park is during the rainy months of June to August. 
1. Valley of Flowers in June: During June, the snow begins to melt and the germination of the seeds of the plants of the previous year starts to take place.

You can find a plethora of beautiful flowers, such as Oxalis Corniculata, Reinwardtia Indica, Thymus Linearis, Viola Pilosa, Fragaria Nubicola, Gagea Lutea, Wild rose, Berberis Aristata, and Marsh Marigold in the valley at this time. 

2. Valley of Flowers in July: At this time of the year, the valley gets shrouded by a colourful carpet of blooming flowers, including huge colonies of Epilobium. 


3. Valley of Flowers in August: The valley blooms brilliantly with umpteen varieties of flowers till the end of August. You can witness breathtaking landscapes and many unique flowers.
Other Essential Information About Valley of Flowers


History:
The Valley of Flowers was discovered accidentally by 3 British mountaineers in 1931 on their way back from Mt. Kamet. 

Weather: Moderate to cool

Location: Chamoli Garhwal, near Nanda Devi National Park

Declaration of National Park: 1982

Entry fees: - INR150 for Indians and INR 650 for foreigners for a 3 days pass and INR 50 for Indians and INR 250 for foreigners for each extra day.
                   - Hiring a mule or a porter to Ghangaria trek will cost you INR 1,000 and
                   - Taking a helicopter from Govind Ghat to Ghangaria will cost you INR 3,500 per head.   

Duration of the Trek/trip: 6 days

Maximum Altitude: 14,400 feet
Difficulty level:
Easy to moderate
Starting and Ending Point of the trip/trek: Haridwar


Day wise Itinerary for Valley of Flowers Trek


Day 1: Haridwar to Govindghat
On day 1, you will take an uphill drive of 10 hours to Govindghat from Haridwar. During your uphill journey up to an altitude of around 6,300 feet above sea level, you will pass through Joshimath and Devprayag. Upon reaching Govindghat, you can wind up your first day and take a rest.

Day 2: Trek from Govindghat to Ghangaria
On the second day of your Valley of Flowers trek, you will enjoy a trekking tour to Ghangaria through Pulna Village. You will first take a 4 kilometers drive to Pulna, which is located at an approximate altitude of around 7,200 feet above sea level.

From here, you will cover an easy to moderate trekking trail of 9 kilometers to arrive at Ghangaria within 5 to 6 hours. Once you reach Ghangaria village, located at an approximate altitude of around 7,200 feet above sea level, you can wind up for the day and rest in a hotel or camp under the night sky.

Day 3: Trek from Ghangaria to Valley of Flowers and back
The third day of your trekking tour is reserved for your visit to the beautiful Valley of Flowers. You will cover a trekking trail of 5 kilometers within 3 hours to reach the valley that is located at an approximate altitude of around 11,500 feet above sea level.

After enjoying a day out at Valley of Flowers, you will cover a descending trail of 3 hours to reach Ghangaria for your overnight stay.

Day 4: Trek from Ghangaria to Hemkund Sahib and back
Your fourth day will be all about a trekking tour to the famous religious site, Hemkund Sahib. You will cover a steep ascent of 6 kilometers to reach Hemkund Sahib, which is located at an approximate altitude of around 14,107 feet above sea level. After enjoying a peaceful day here, you will take a steep descent and get back to Ghangaria for rest. 
Day 5: Trek from Ghangaria to Govindghat

On the fifth day, you will cover the same trekking trail and reach Govindghat via Pulna Village, preparing for your departure.
Day 6: Govindghat to Haridwar
You will return to Haridwar from Govindghat on the sixth day of your Valley of Flowers trek and proceed on your back home.
Valley of Flowers National Park Flora and Fauna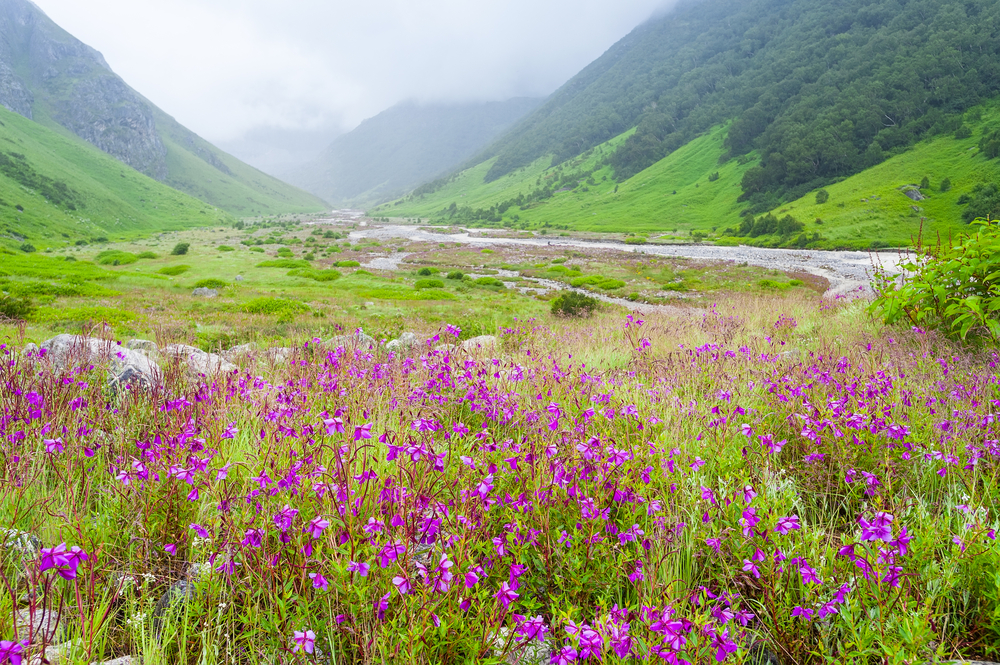 Valley of Flowers National Park is home to over 510 high altitude plants, including medicinal herbs and flowering plants. Some of the important medicinal plants that dominate the valley include Aconitum heterophyllum, Arnebia benthamii, Megacarpa polyandra, A. falconeri, Dactylorhiza hatagirea, Podophyllum hexandrum, Gymnadenia orchidis, Taxus wallichiana, and Picrorhiza kurroa.
The flowering plants that you can find here include Anemone, Orchid, Poppy, Primulas, Marigold, and Daisies. Sub-alpine forests of rhododendron and birch can also be found at various parts of the valley.
Valley of Flowers also has a magnificent fauna coverage, sheltering a plethora of endangered and rare wildlife species. Some of the commonly spotted animals here include musk deer, blue sheep, tahr, goral, bharal, and serow. Other important animals that can be found here include Snow Leopard, Himalayan Black Bear, Pica, Red Fox, and Himalayan Brown Bear.
The valley also houses a good population of colourful birds including Himalayan Golden Eagle, Himalayan Snow Cock, red billed choughs, Griffon Vulture, the Sparrow Hawk, Himalayan Monal, and Snow Partridge. In addition, many species of reptiles and butterflies can also be found at the valley. 
Where to Stay in Valley of Flowers
1. Himalayan Abode Home Stay: 
Lying on Badrinath highway, Himalyan Abode homestay is a luxury accommodation facility with well-furnished rooms that feature private bathrooms and wooden flooring. All the rooms offer excellent views of lush fields, high mountains, and the Alaknanda river.
2. Nanda Inn Homestay: Lying on the periphery of Joshimath, Nanda Inn Homestay is a peaceful homestay that offers a home-like staying experience. This mid-range accommodation facility features comfortable suites that offer spellbinding mountain views for you to soak in with your loved ones. 

3. Hotel Shiva Palace: Featuring cozy rooms spread across 3 floors and an elegant in-house restaurant, Hotel Shiva Palace is known for its modern conveniences and warm hospitality. Lying in the heart of Joshimath, this hotel also offers its guests superior facilities including cab on hire and kids' activities.
4. Grand Ishwari Narayani Hotel: Located in the Auli Ski Resort district, Grand Ishwari Narayani Hotel is a family and kids friendly accommodation facility. The hotel features Deluxe Double, Budget Double, Deluxe Triple, Basic Triple, Deluxe Quadruple, Deluxe Single, and Superior Family rooms with attached private bathrooms.
5.Sri Nanda Lokpal Palace: Situated in Ghangaria, Sri Nanda Lokpal Palace features 14 super deluxe rooms and an on-site multi-cuisine restaurant serving homely food. 
Things to Carry while Visiting Valley of Flowers Trek


1. Bags: Carry a rucksack to pack all your belongings for the entire trekking tour to Valley of Flowers and a day pack for your day treks to the valley and Hemkund.

2. Clothing: Carry warm clothes, a pair of woollen socks, a pair of water-resistant trekking trousers, a pair of synthetic gloves, a woollen cap, and a raincoat.

3. Trekking equipment: Carry a trekking pole, durable sleeping bag, a tent, a sleeping mattress, a tent rain cover, and a pair of trekking shoes.

4. Toiletries: Remember to carry tissue papers, sunscreen, moisturizer, brush/paste, sanitizer, and bodywash. 

5. Other Essentials: Consider carrying your water bottle, personal medication, dry foods, and camera.


Traveller Tips for Valley of Flowers Trek
- Always keep yourself hydrated on the trek in order to avoid fainting and fatigue.
- Carry your own lunch as there isn't any eatery on the trek from Ghangaria to Valley of Flowers.
- Start your tour to the valley early in the morning so that you can traverse more areas and also find the place relatively calm.
- Remember to trek carefully and slowly as there are many narrow and steep trails where you might end up hurting yourself.
- Do not stand near the edges of the valley and take selfies as it can be quite dangerous if you slip off.