About Tallebudgera Creek
Paradise lies waiting for you at Tallebudgera, which is one of Queensland's unspoiled waterways and best known for its fizzy creek in Australia, surrounded by the Burleigh Heads National Park. You can head for the place if you love swimming, camping, kayaking, and more.

The Echo Beach towards the north is the perfect spot to take a cool dip on a hot, summer day. This part of the creek is usually peaceful and quiet and you can swim anywhere down the river. Tallebudgera Creek is also known for 'good fishing' as the ancient Aboriginals used to call this place.

Flathead, small barracuda, mangrove jacks, bream, and whiting are some of the common fish varieties found in the Creek. The major attractions of Tallebudgera Creek Tourist Park include the three outdoor swimming pools, beach campground, and self-parking at no cost.

This campground is so much admired that families return to this coveted tourist destination in Queensland every summer. The camping ground is very very touristy and therefore vacationers return every summer to claim their most desirable spot at Tallebudgera Creek seated on the edge of this scenic estuary. 

If you would like to stay here, the Tallebudgera Creek Tourist Park has comfortable accommodations close by with flat-screen TVs, tea and coffee makers, microwaves, and housekeeping facilities. There are amusement options for the guests staying at the luxurious hotels, where you can play at the outdoor tennis court, spend time near the kid's pool, and even get easy access to the Tallebudgera Creek Tourist Park playground. 

The Creek waters are calm and balmy, and tourists looking for some thrill or adventure need to take a walk towards the Tallebudgera Beach close for sea surfing. For a taste of Tallebudgera Creek coast, visit the Club Talle or Tallebudgera Surf Lifesaving Club for a sumptuous meal with your loved ones.
How to Reach Tallebudgera Creek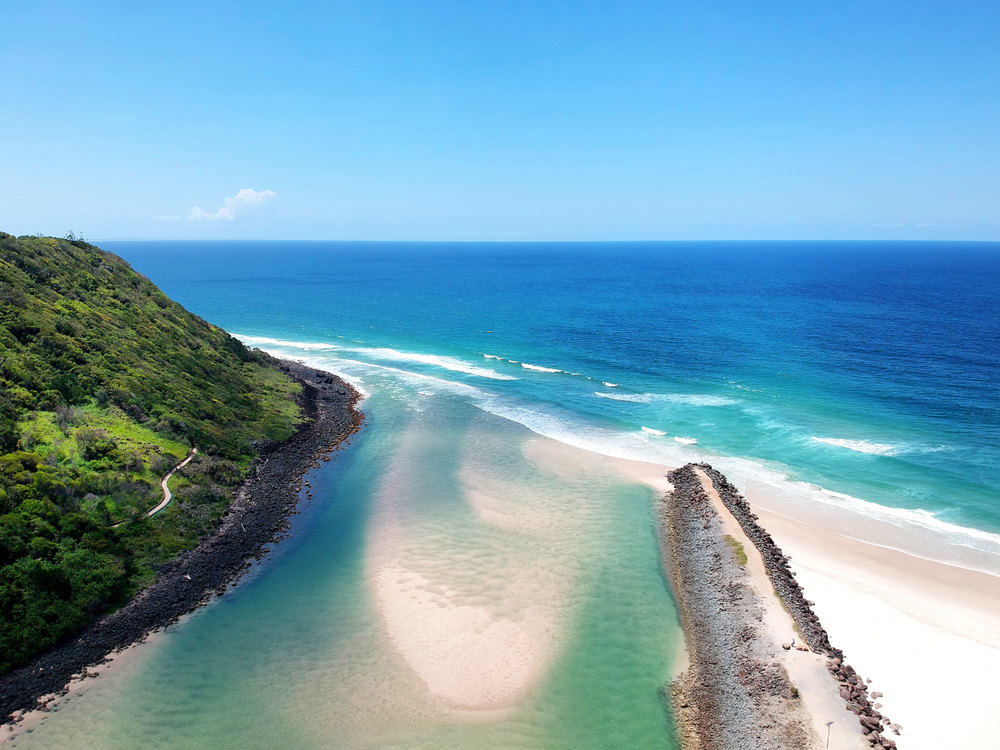 You can get to Tallebudgera Creek from the Gold Coast Airport by taxi, bus services, shuttle, care, and town car. 

Bus:
Board the Line 760 and 763 to get to Casuarina Drive, as you will find no direct bus service from the airport to Tallebudgera. After reaching Casuarina Drive, your journey would include transfers that would take around 1 hour, 27 minutes to reach Tallebudgera Creek. 

Taxi:
The fastest way from the airport to the Creek is to take a taxi which would take around 11 minutes. 

Shuttle:
If you opt for shuttle services, it would take you approximately 11 minutes to reach Tallebudgera Creek from the airport.
Best Time to Visit Tallebudgera Creek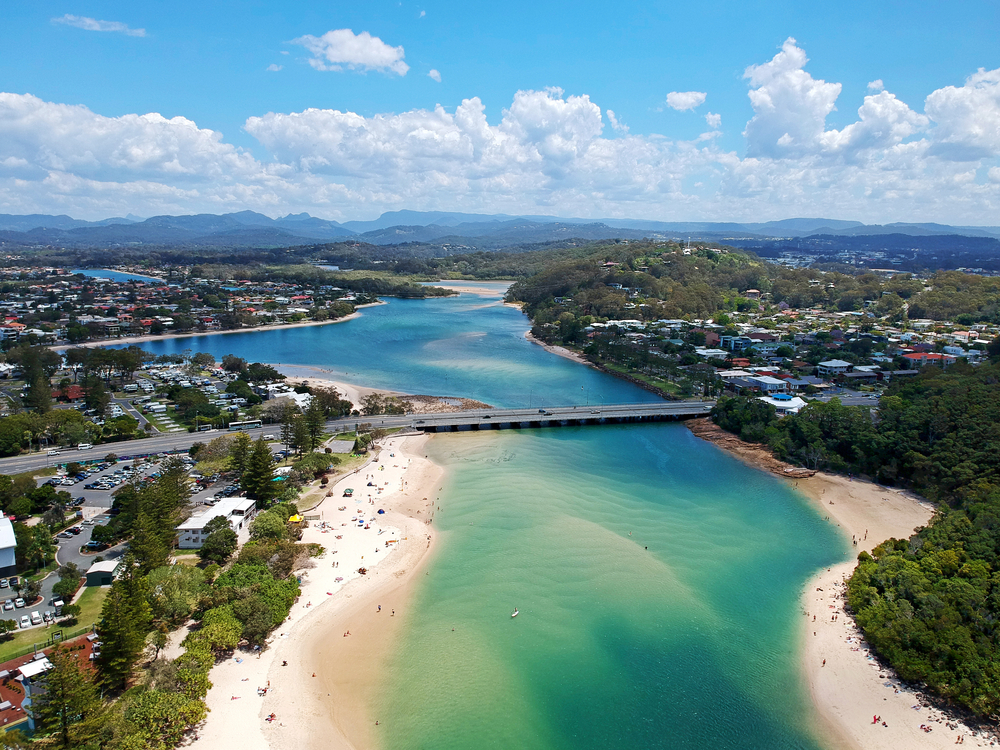 The best time to visit Tallebudgera Creek is around summer because of the warm and pleasant weather. You can also visit Tallebudgera Creek during spring if you like to take cool and refreshing dip in one of the best swimming spots at the creek. 

Avoid visiting during the monsoon because Queensland receives heavy downpour for a couple of days. Swimming along the river is therefore not safe around this time. You should also avoid visiting during the winter months from June until August, as the weather gets quite chilly during this period.
What Not to Miss at Tallebudgera Creek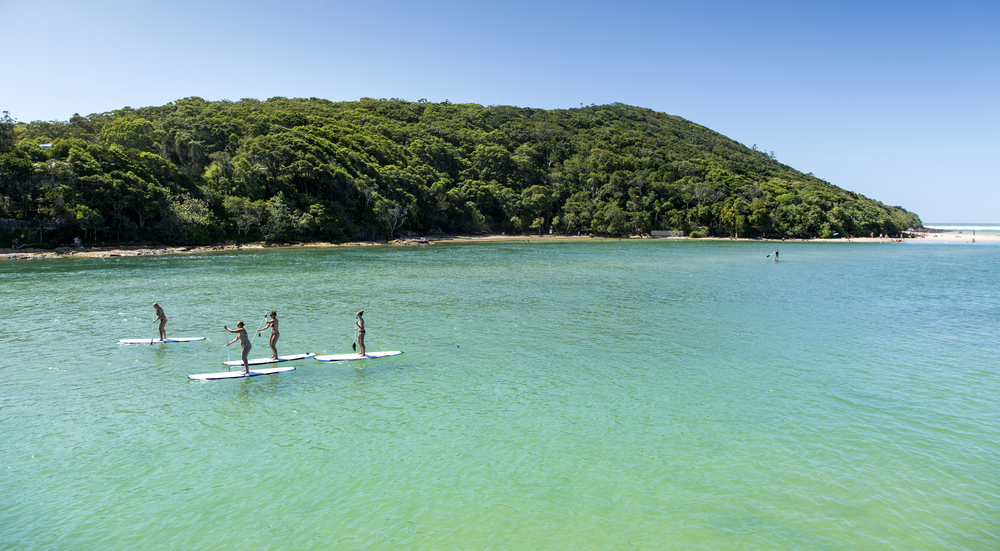 There are numerous activities at Tallebudgera Creek from boating to a barbeque lunch by the Creekside. Here are some of the top things to do here: 

1. Sunrise watching
Claim the best spot at Tallebudgera Creek to watch a splendid sunrise by the river with your loved ones. Head for the Creek at the crack-of-dawn and see the orange sun come up above the horizon and do not forget to take photographs.

2. Bird watching 
You will find plentiful birds down the riverbank and if fortunate, you can spot osprey, sacred kingfisher, sea eagles, as well as rainbow bee-eater. Watch these birds and take some wonderful shots and capture them in the lens of your camera or that of your smartphone. 

3. Swimming 
The Creek is an ideal spot to take a cool dip in the waters on a hot summer day. You can splash water, take a swim, or play with your kids here. There are a couple of patrolled beaches towards the south side of Tallebudgera Creek, and the Echo Beach towards the north, which is quiet, unpatrolled and is a perfect place to unwind and swim. 

4. Picnic 
You can play and have a picnic by the Creek with your family and friends. Spread a towel and sit with your loved ones. Eat your favorite meal in the picnic shelters. Spend a lazy day full of good food and fun while your kids play around in the playground close by. 

5. Paddleboarding 
Rent a stand-up paddle board from the Cheyne Horan Shop close to the Tallebudgera Creek Recreation Center. You can sail up and down the waters of the river on a paddleboard or simply reach the mouth of the river to brave the waves if you're trained. 

6. Hiking 
Hike right from the north of the Creek into Burleigh Heads National Park and towards Tumgun lookout. The national park would give the best hiking experience and a taste of all the things that the Gold Coast has on offer. 

7. Jet Skiing, boating, and fishing 
You can boat or try some water skiing on the north and south of the river, inland from the bridge. You will find specific zones for water sports like jet skiing, boating, as well as wakeboarding. Head up to the river if you like to enjoy some quiet, peaceful fishing. 

8. Bridge jumping 
If you are experienced in adventure activities and love bridge jumping, then Tallebudgera Creek is an ideal spot for some adrenaline rush. You can take a jump at the north end side of the bridge, facing the ocean. The activity for youngsters is fun, but you must always consider your safety before you leap. 

9. Hangout with your friends at Neptune Kiosk
After some water sports, you can visit Neptune Kiosk for some freshly brewed coffee and scrumptious baked food. This place serves espressos in the early morning, from 5.15 am every day. You can also try fresh smoothies and colorful acai bowls. Go and treat yourself to some mashed, frozen fruits. 

10. Barbeque lunch by the Creek 
You can enjoy a delicious BBQ lunch down the river towards the inland face of the bridge. There are barbeque areas for tourists, where you can savor BBQ pork sandwiches, balsamic BBQ chicken, baked BBQ tofu, or chicken kebabs with your friends.
Places to Visit near Tallebudgera Creek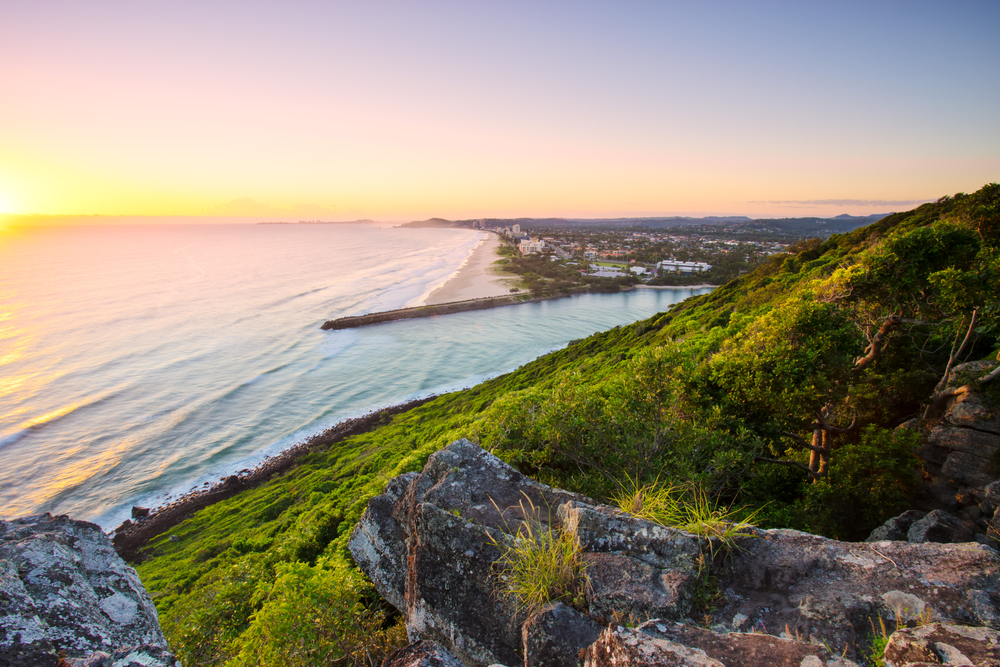 There are many places to explore near Tallebudgera Creek including: 

1. Burleigh Head National Park
Explore this national park if you want to see a natural, wild headland close to Tallebudgera Creek offering scenic walks down the rock-strewn foreshore and via rainforest. You could also see whales during spring as well as sea eagles flying high down the length of the coast. 

Take in the beauty of old volcanic columns meeting the sea in the Burleigh Head National Park featuring eucalypt forest, tussock grassland, rainforest, mangroves, pandanus groves, and coastal moorland.  

2. Burleigh Heads Beach
The Burleigh Head cape protects this beach close to Tallebudgera Creek, offering some of the best bodyboarding, swimming, and surfing opportunities to tourists on Australia's Gold Coast. Burleigh Heads is known for its perfumed pine trees, surf breaks and raw food.

You can head towards the beach for a swim, taking a refreshing dip in the safe waters of Tallebudgera Creek. Again, if you would just like to relax and unwind, claim your patch of grass or sand to take in the scenic views around. 

Take delight and laze around while listening to the local musicians and watching the fire twirlers. You will also love watching the splendid sunset from Burleigh Heads Beach. 

3. David Fleay Wildlife Park
This park is the best experience you can have in Queensland, Australia, seated in the middle of Burleigh Heads on the Gold Coast. It is an amazing wildlife park with a twist. Take a leisurely stroll via the natural habitats and take delight in Australia's iconic fauna. See koalas, crocodiles, brolgas, bilbies, emus, dingoes, and of course Australia's famous kangaroos. 

You can explore David Fleay Wildlife Park all by yourself or with the park rangers to enjoy the wildlife shows held daily here. The park is perfect for prams, wheelchairs, and even individuals who have difficulty in walking.
Other Essential Information About Tallebudgera Creek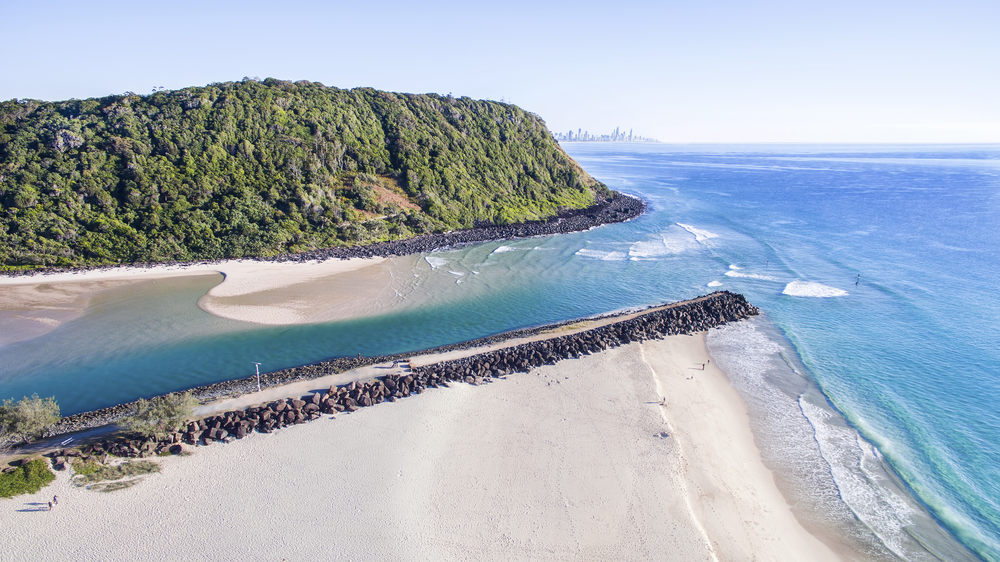 Location:
1544 Gold Coast Highway, Palm Beach, Gold Coast Area, Queensland, Australia

Timings: The place is open every day of the week for the tourists or vacationers. 

Entry Fee: There is no charge to enter Tallebudgera Creek. 

Distance from Gold Coast Airport: The distance is 15.3 km through Gold Coast Highway and Guineas Creek Road.


Tallebudgera Creek Conservation Park Walk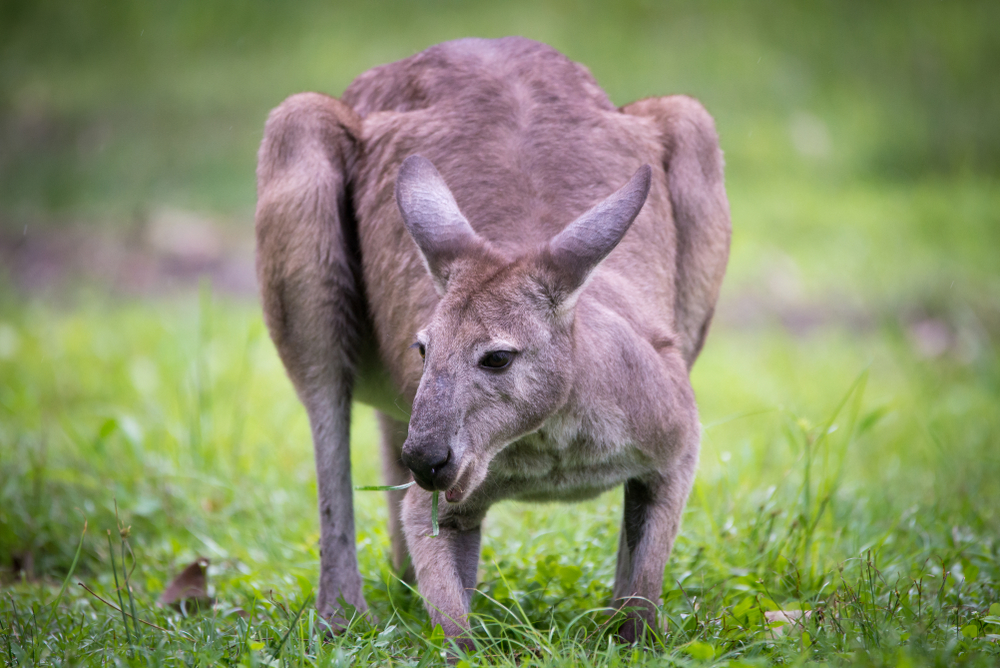 The park walk offers you the perfect blend of city and scenic views to leave you enthralled. Considered the gem of Australia, the walk delights tourists with splendid views of Tallebudgera Creek emerging from gaps down the pathway. Some parts of this park walk make you believe that you have come to a deserted place and not in Australia's touristy Gold Coast. 


If you have kids with you, make sure you have someone, a friend or family member with you because the washout steps are quite steep. You can see abundant birds here, especially the sulfur-crested cockatoos screeching above your head. 


Just stand still and listen carefully in silence and you will feel what it's has been for the early settlers as well as the local Bunjalung or Kombumeri people living in this part of the world during that time. The Mangrove track is breathtaking, especially the boardwalk and this is a fantastic place to visit with your family and educate your kids about the significance of the marshland for the coastal surroundings.

The mangroves in this part of Tallebudgera Creek are much different in contrast with Beree Badalla Boardwalk, which is the Currumbin Creek. It is the higher extent of Tallebudgera Creek, where Beree Badalla Boardwalk is close to the mouth of Currumbin Creek. 


The mangroves here are thick and have little human intrusion and the walk is not simple to access. You only have two choices; either you take a walk that means an uphill climb down Ocean Parade, the entrance is towards your left. The second option is driving to this spot.


Traveler's tips before visiting Tallebudgera Creek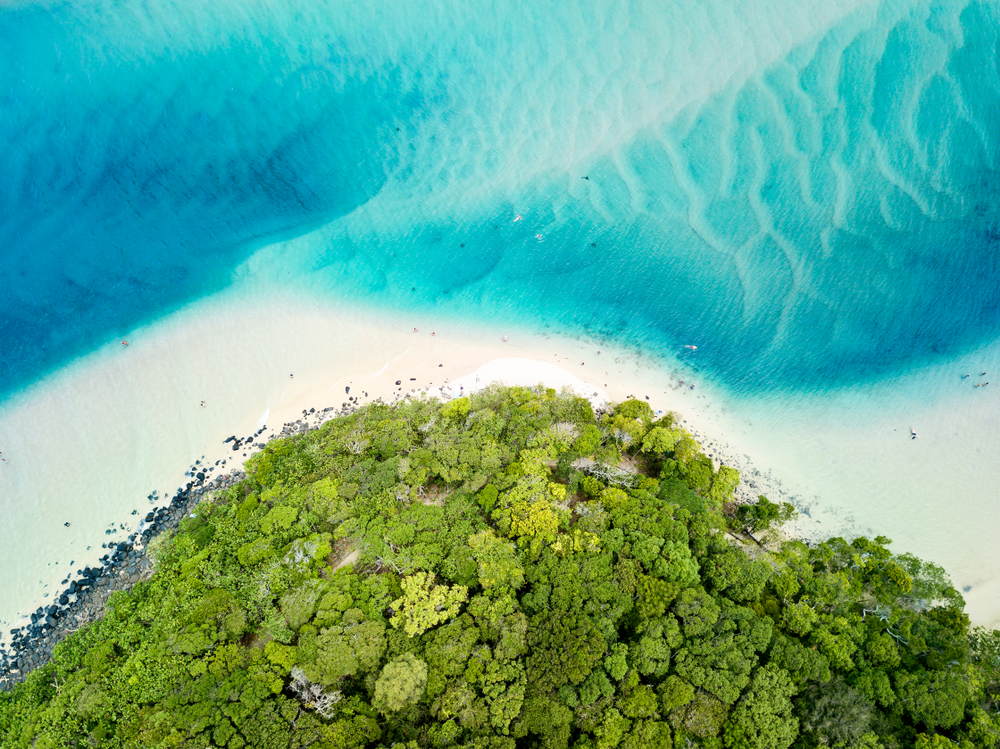 There are certain things to keep in mind before you head for Tallebudgera Creek. Here are some of the useful tips: 

- You should have enough time so that you can spend a full day at the Creek and make the most out of this experience. There are many things to do and see in and around Tallebudgera Creek. 

- Do not forget to carry a picnic basket because you will find some cool picnic spots here. 

- Keep the place clean and do not litter. Take all loose food packets and empty water bottles back with you. 

- If you want to take a dip at an unpatrolled beach, you should be a trained swimmer because the water currents are strong at the Creek. Avoid swimming if you are not a great swimmer. 

- There are snakes here and therefore, you need to be careful.