About Seminyak Beach
Accounted for its picturesque beauty, Seminyak Beach is one of the tourist magnets of Bali. People flock here to witness the outstanding beauty of white sandy terrains and crystal clear water. The beach is renowned for offering the widest range of activities and one of the perfect sunset views when the sky is painted with pastel pink hues.

Not just Bali, the beach is also listed among the elegant beaches in the world and thus attracts numerous tourists from around the world. It really receives a large number of folks which fills it with colourful scenes of people enjoying everything the beach has to offer. Despite having such a happening atmosphere, the beach manages to keep it crystal clean. One can enjoy a number of adventure activities and water sports which can take people high in the sky and deep down in the ocean. If none of these are your cup of tea, then horse riding is something nobody ever says no to. One can hop on to the back of a horse and stroll around the white coastline of the beach enjoying the eye-catching surroundings.

Flocked by locals and tourists alike, Seminyak Beach is one of the most loved beaches in Bali. If you are planning a trip to Bali, then do not forget to put this beach in your list as it will take your mind way too far from the hectic corporate life. Not just that, the place becomes a combo when you realise the amazing food options and villas nesting in the vicinity of the beach.
How to Reach Seminyak Beach


Seminyak Beach is located at an approximate distance of around 11.2 kilometres from Ngurah Rai International Airport, in the city of Denpasar. The beach is conveniently connected to Denpasar airport by public means of transport. Once tourists land at the airport, they can easily take a rental car or book a cab to reach Seminyak Beach in no more than just 35 to 40 minutes. 
Best Time to Visit Seminyak Beach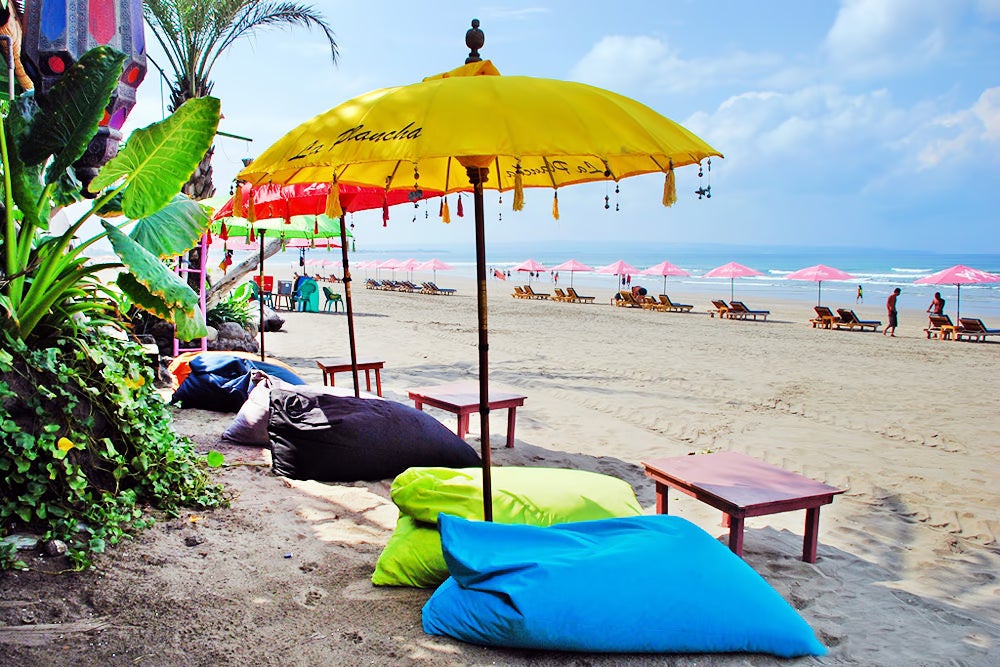 The months from April to September are considered to be the most ideal time for paying a visit to Seminyak Beach and enjoying the umpteen varieties of activities offered by the place. During this time, the weather remains mostly cool and pleasant, offering visitors a good chance to explore the beach to its core.
What Not to Miss at Seminyak Beach


Seminyak Beach is renowned to provide a number of activities to its visitors, so here is a list of all the things you can do at Seminyak Beach:

1. Swimming- Seminyak Beach features clear and sparkling water that lures every visitor to enjoy a good swim without giving a second thought. The water is a bit cold and clean, which makes it suitable for the adventure enthusiasts to dive in. Swimming in the tranquilize water at Seminyak Beach can be all that you ever want in order to get rejuvenated and refreshed from within.

2. Horseback Riding- Seminyak Beach has the provision to allow tourists to experience the joy of horse riding. The enjoyment of sitting valiantly on the back of a graceful horse while the animal walks casually along the beautiful shore of the beach can indeed be an experience to photograph and remember for years. This delightful activity can offer you the opportunity to catch a glimpse of this breathtaking beach, sitting in comfort on the horseback.

3. Scuba Diving- Seminyak Beach is a paradise for scuba divers. A host of visitors, experience scuba diving at this beach, which allows them to catch a glimpse of the colourful and beautiful marine life here. In the course of scuba diving, you can explore an awe-inspiring underwater world of alluring coral reefs and umpteen varieties of fish. Scuba diving at Seminyak Beach is absolutely safe and can be experienced by adventure junkies of all age groups.   

4. Surfing- If you are a surfer, make it a point to try surfing at Seminyak Beach at least once in your lifetime. The fast blowing wind coupled with the gigantic sea waves makes this beach a perfect hub for the seasoned surfers. Unfortunately, Seminyak Beach is not the right place for novice surfers.   

5. Sunbathing- Sunbathing is a recommended activity to enjoy when at Seminyak Beach in Bali. You can just lie down casually under the bright sun and feel the warmth on your skin. This will rejuvenate you and nourish you with enriched Vitamin D.


Places to Visit near Seminyak Beach


One of the most beautiful beaches ought to have some splendid places around it which are worth paying a visit. Here is a list of all the shortlisted places near the beach which shall not be left at any cost:

1. Pura Petitenget- Counted among the oldest religious spots in Seminyak, the popular Pura Petitenget happens to be a beautiful Hindu temple built back in the 16th century. Made of elegant red sandstone and bricks, this magnificent sea temple shelters a plethora of small shrines and pavilions on its premises. The architecture of this temple coupled with its beachside ceremonies, make the place a must-visit destination in Bali. Pura Petitenget is open for visitors from 8 o'clock in the morning to 6 o'clock in the evening.

2. Purpa Fine Art Gallery, Seminyak- Situated in Seminyak, the world-famous Purpa Art Gallery happens to be a contemporary art hub, exhibiting the paintings of legendary artists like Nyoman Lempad and Walter Spies. The gallery also provides an excellent platform to the emerging artists by bringing them to the limelight. Purpa Art Gallery can be visited from 10 o'clock in the morning to 6 o'clock in the evening, throughout the week except on Sunday.

3. Nyaman Gallery- Nyaman Gallery happens to be a popular Balinese art gallery, exhibiting contemporary as well as classic art. The whole gallery features brick walls ornate beautifully with paintings and photographs rendered by the popular artists of Indonesia.

This stunning art gallery is lit dimly with uniquely illuminated art objects and pictures being highlighted for focusing on particular areas. Nyaman Gallery can be visited from 9 o'clock in the morning to 9 o'clock in the evening, throughout the week.

4. Double Six Beach- Located in Seminyak, Double Six Beach offers visitors a unique chilled-out vibe with its crystal-clear waters and golden-white sands. This popular Balinese beach offers tourists a plethora of exciting activities to enjoy including surfing, horse riding, and sunbathing. The beach is also known among travellers for its vibrant nightlife. Double Six Beach can be visited at any time of the day.
Other Essential Information About Seminyak Beach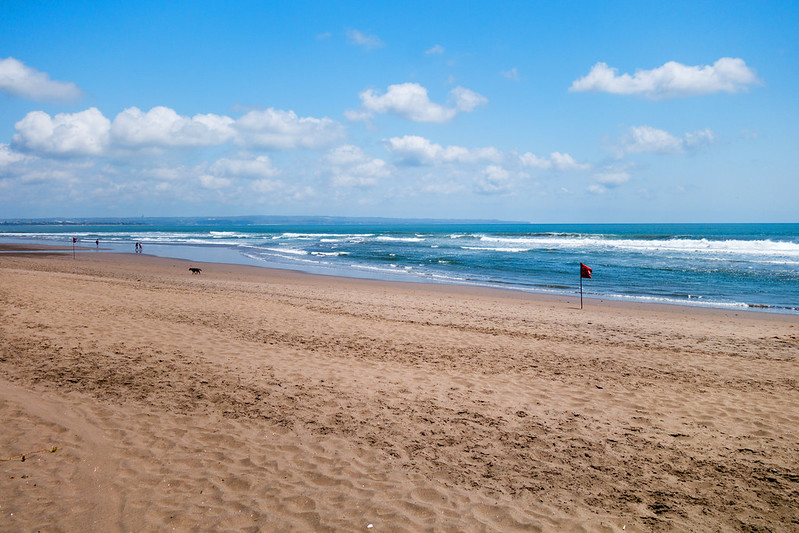 Location: Seminyak Beach is situated on the western coast of Bali's southern region. This beach lies to the south of Umalas and north of Kuta.

Address: Seminyak, Badung, Bali, Indonesia.

Timings: Seminyak Beach can be visited at any time of the day.

Price: There is no entry fee to visit Seminyak Beach in Bali


Places to Eat at Seminyak Beach


1. La Plancha- Located close to Seminyak Beach, La Plancha is a very popular resto-bar specializing in lip-smacking seafood and European delicacies. This vegetarian and vegan-friendly restaurant offers a comfortable sitting area with colourful bean bags where guests can enjoy some drinks watching the beautiful sunset.

The waterfront food outlet welcomes travellers to relish breakfast, lunch, dinner, and after-hours drinking with energetic live music playing in the background. Some of the recommended items to try at La Plancha include grills and cold beer.

2. BlueWater Café & Beach House- Situated at a proximate distance to Seminyak Beach, BlueWater Café & Beach House specializes in American, Australian, European, Indonesian, and Asian cuisines.

Popular for its pleasing ambience and widespread menu, this amazing restaurant invites travellers mainly for brunch, lunch, and dinner. In addition to delicious and aromatic food, this food joint also serves some world-class alcoholic beverages. When at BlueWater Café & Beach House, you should definitely try its drool-worthy seafood and grills.

3. The Champlung Bar & Restaurant- Located at a very short distance of around 0.1 kilometres from Seminyak Beach, The Champlung Bar & Restaurant serves excellent Indonesian and Asian delicacies. Known for its mouth-watering and tempting preparations, quick service, and amazing atmosphere, this place is visited by travellers for lunch, dinner, and after-hours drinks. The food outlet also specializes in umpteen varieties of exemplary alcoholic drinks. Some of the most recommended preparations to relish at The Champlung Bar & Restaurant include burgers, beef delicacies, and of course cold beef.

4. Warung Chiringuito- Lying at an approximate distance of about 0.1 kilometres from Seminyak Beach, Warung Chiringuito is a widely popular restaurant serving drool-worthy Indonesian delicacies.

Known for its tempting ambience, punctual service, and budget-friendly pricing, this food outlet calls on guests for breakfast, brunch, lunch, dinner, and drinks. Travellers enjoy access to a full bar with vibrant live music playing in the background. The must-try items to try at Warung Chiringuito include seafood, cocktails, and local delicacies.


Clubs and Nightlife in Seminyak Beach


1. Mirror Lounge and Club- If you want to have some rejuvenating drinks and get weird on the dance floor, then this is the place to visit. It is located at Jalan Petitenget and is widely known for its Gothic Cathedral influenced interiors made up of stained glass windows and tall ceilings.

2. Potato Head Beach Club- The potato head beach club attracts tourists mainly at the time of the beachside music festival. This is the best beach in Bali to let you experience grandeur in everything. In the daytime, it is one of the best places for family travellers, and when the sun goes down, it becomes the best place for youths who can have some beer and relax by the side of the pool. 

3. Los Gringos- If you want to have the best tequila in Seminyak, then this is the place. It will entice you to be awake all night and rejoice in the energetic vibe of the place. The club is known for its R&B and Hip-Hop music.

4. Ku De Ta- Ku De Ta is the place for exhilarating events and gatherings that kicks off in August and September. This place is considered as the party hub of Seminyak as it is at all time high on the music, drinks, and fun.


Best Hotels to Stay near Seminyak Beach


1. Hotel Indigo Bali Seminyak Beach- Hotel Indigo Bali Seminyak Beach offers a comfortable and luxurious stay at Bali, offering guests a vibrant surrounding. Manifesting the culture of Seminyak, the décor of this hotel is an absolute treat for the eyes. Featuring all kinds of basic and luxury amenities, Hotel Indigo Bali Seminyak Beach has Ocean View rooms, Suites, and Family rooms starting from INR 27,000 per night.

2. Seminyak Beach Resort & Spa- Seminyak Beach Resort & Spa happens to be a stylish and classy beachfront resort, assuring guests a pleasant stay in the city. Positioned within an elegant landscape, which includes lily ponds and native greenery, this hotel has comfortable suites, villas, and guest rooms.

Featuring authentic Balinese touches, the ambience of this resort is nothing but awe-inspiring. A stay at Seminyak Beach Resort & Spa starts from INR 44,183 per night.

3. The Oberoi Beach Resort, Bali- Embraced by around 15 acres of green gardens, The Oberoi Beach Resort is situated right on Seminyak Beach. Packed with all the luxury amenities including a poolside bar, couples massage retreat, an in-house restaurant, an outdoor pool, and a banquet room, this popular hotel in Bali offers couples a romantic experience. Rooms at The Oberoi Beach Resort generally start from INR 36,000 per night.


Tips for Visiting Seminyak Beach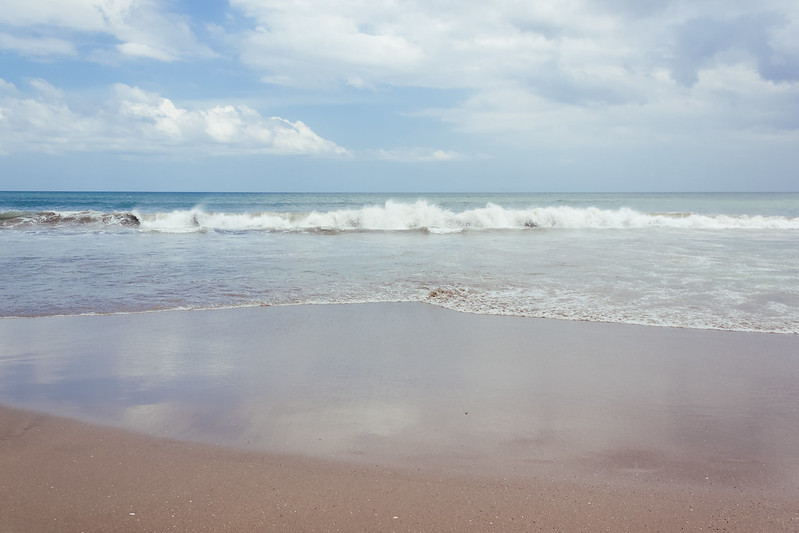 1. You might consider these points while visiting the Seminyak Beach as they might come handy at various points of time.

2. Do not litter the beach with plastic bags, food packets, and water bottles. In addition to having fun at the beach, do your part to keep it clean.

3. Consider carrying towels and extra clothes if you are interested in trying the various water activities available at the beach.

4. Make sure you follow all the safety instructions of the guides when carrying out water sports.

5. Make sure you carry a pair of sunglasses, a good sunscreen lotion, your moisturizer, and a good lip balm while heading to the beach.

6. Seminyak Beach offers a picturesque scenic beauty that is worth capturing in a frame. So, do not forget to carry your camera to the beach.

7. You can consider carrying frisbee and volleyball if you are interested in playing games at the beach.

8. If you are in a mood to go for a swim in the waters of Seminyak Beach, avoid going very deep into the sea in order to keep away potential chances of drowning.