About Sea World
Sea World is one of the many amazing attractions of Australia and is located in Gold Coast, Queensland. It is comprised of an Oceanarium, Marine Mammal park, and Theme Park. Sea World is a goblet full of unmatched fun and adventure that includes exciting rides, animal exhibits, and many other entertaining attractions and this is one of the best places to visit in Gold Coast.
The main aim of the Sea World is to promote animal conservation by educating, rescuing, and rehabilitating the injured, sick, and orphaned wildlife and marine life. The main attractions of Sea World include interacting with Dolphins, Penguin Encounter, SpongeBob Parade Pants, Action-packed Jet Stunt Extreme, Fish Detective Show, and many more.
Visitors can interact with dolphins at Sea World's Dolphin Breeding Program. The program allows the guests to pet the dolphins, see them doing acrobatics, applaud them, and make friends with these beautiful intelligent water creatures. The Penguin Encounter program allows you to get close and observe the beautiful Antarctic Penguins. 
The Sea World is also home to Sharks, Polar Bears, Sea Lions, and many other animals. The Sea World not only offers incredible experiences with marine and wildlife but also offers great shopping and dining opportunities throughout the massive park. 
Sea World in true sense is a complete fun-filled package for the entire family, making it one of the most memorable and enjoyable day visits at Gold Coast. From children to teenagers to adults, the sea World is sure to add a splash of joy and happiness and give a thrilling experience.
How to Reach Sea World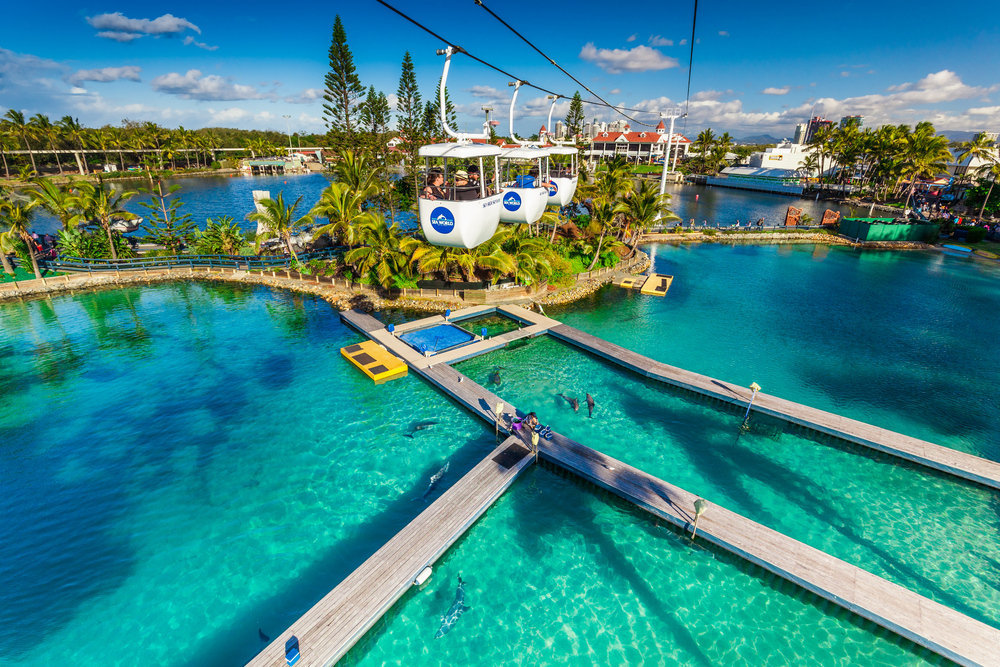 There are 5 ways to travel from the Gold Coast Airport to Sea World –
1. Bus
Take 777 bus from Gold Coast Airport to Broadbeach Station and then take the 705 bus to Sea World.
Cost – Rs.500 to Rs.669 
2. Taxi
Take a Taxi from Gold Coast Airport to Sea World.
Cost – Rs.3500 to Rs.4200 
3. Drive 
If you have a private vehicle then directly, drive down to Sea World.
Cost – Rs.170 to Rs.250
4. Shuttle
There is a direct shuttle service from the Gold Coast Airport to Sea World.
Cost – Rs.750 to Rs.1000 
5. Uber
You can book an Uber from Gold Coast Airport to Sea World.
Cost – Rs.2000 to Rs.2800
Best Time to Visit Sea World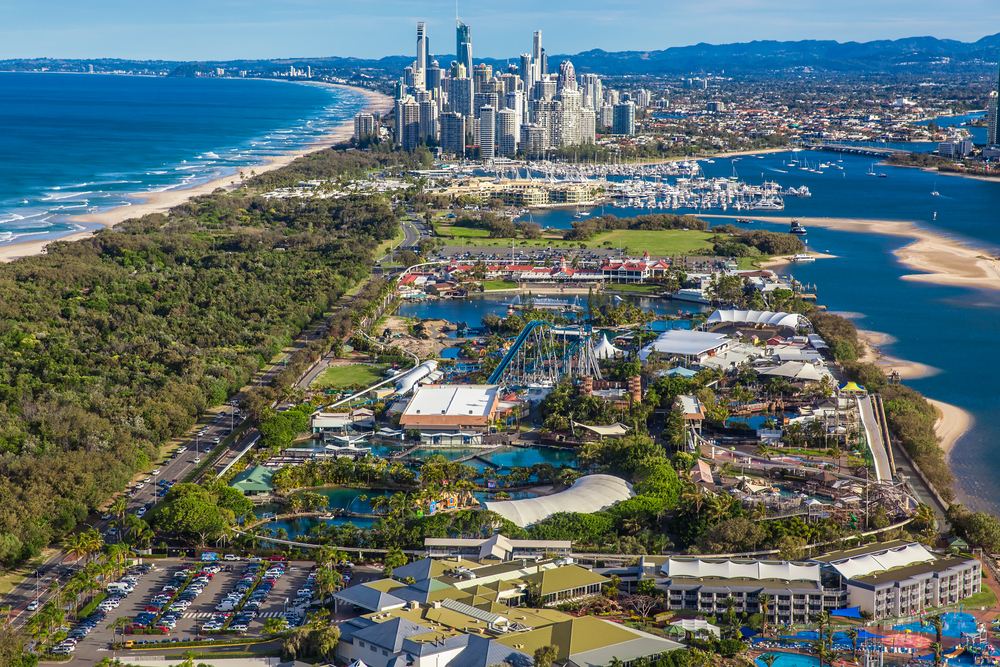 Gold Coast witnesses' sunshine for almost 300 days of the year, as the Sea World is located in Gold Coast you can have the liberty to enjoy it any time of the year. However, the best time of the year to visit Sea World is between the months of May and October. 
The warm and balmy weather during these months is ideal to enjoy water-based activities at Sea World. The average temperature during these months ranges between 24° Celsius to 11° Celsius, making it a perfect season for getting wet and wild.
What Not to Miss at Sea World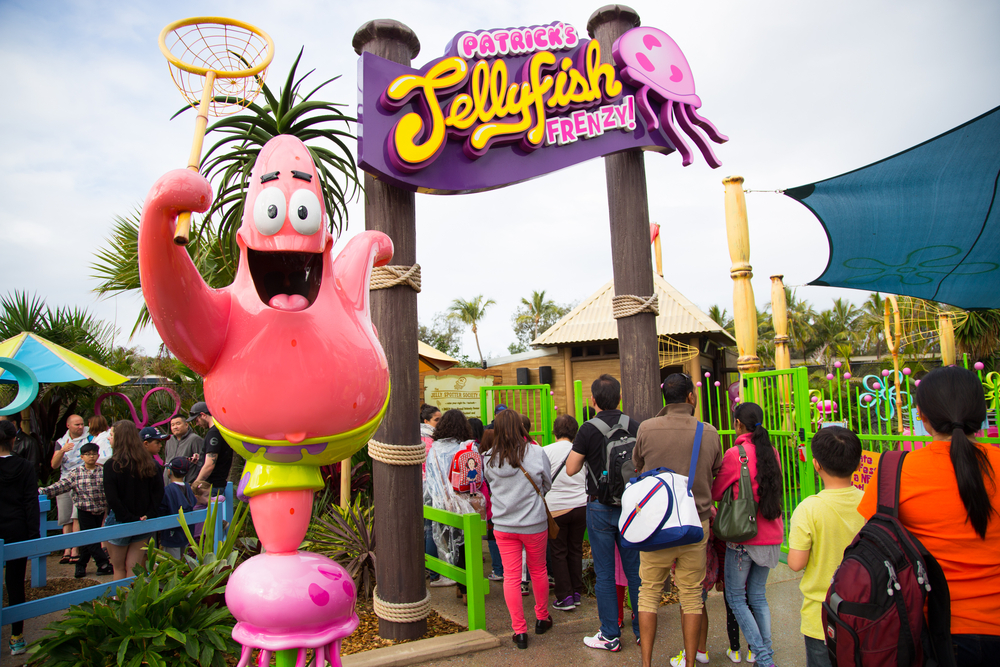 You can enjoy the following exhibitions at Sea World:
1. Polar Bear Shores 
See the gigantic white-furred land mammals closely through the large viewing windows. Observe their habitat, watch them swim gracefully in the water, and see them do other playful activities. Sea World Gold Coast is home to four polar bears, twins Hudson & Nelson, mum Liya and cub Mishka. 

Don't get disappointed if you did not see the bears, they have the choice to come and go from the exhibit as many times as they want. You are free to come again and visit them.

2. Sandy Shores Lagoon 
Watch the bottlenose Dolphins interact and play with each other at the Sea World's three large lagoons. These lagoons are home to these beautifully incredible mammals, which were rescued but are not able to be released back to the ocean.

3. Seal Harbour 
The seal harbour exhibit is a perfect place to watch the seals sun, splash, and play. The glass partitions and boardwalks at Sea World Gold Coast makes it easy to get close and personal to these long-nosed furry mammals. The harbour comprises sandy bottoms, crystal clear waters, and naturalistic play areas.

4. Sea Jellies Illumination 
It is not easy to locate sea Jellies in water but Sea World Gold Coast gives you a mesmerised experience of watching these beauties with special illuminated backdrops. This interactive exhibit helps you to learn about these amazing creatures in a working research laboratory from Griffith University.

5. Penguin Point
The exhibit is home to the smallest penguin species in the world – Little Penguins. Gain educational insights of these beautiful flightless birds as you watch them dive, swim, burrow, and playfully interact with each other. The semi-covered glass boardwalks at Sea World gold Coast are sure to give you a real and personal experience.

6. Shark Bay 
It is one of the largest man-made tropical reef lagoon. The huge transparent windows give an opportunity to explore life beneath the ocean's surface. It is a hypnotising moment to watch the massive predators come face-to-face and glide past you. 

The exhibit has two levels, which offer both underwater and above water viewing experience of the sharks. Shark Bay also comprises an interactive touch pool, a snorkel lagoon, and a shark pool full of these awe-inspiring beauties.

7. Ray Reef 
Ray Reef at Sea World Gold Coast is an interactive exhibit, which comprises a large touch pool where you can touch these majestic creatures and watch them glide through. The live educational program at the exhibit runs throughout the day and helps you to understand Ray fish' role in the ocean's ecosystem.

8. Seabird Rehabilitation Aviary 
It is an outdoor Seabird exhibit where you can visit the rescued Seabirds for whom Sea World Gold Coast is their home. The birds in this open-air aviary have been nursed and made healthy by the expert experienced staff of Sea World. 

Many of these Seabirds cannot return to the wilderness due to the disabilities caused in them by fishing nets and lines. The Sea World Gold Coast rescue team has conducted successful rescues of over 1300 birds.
Animals at Sea World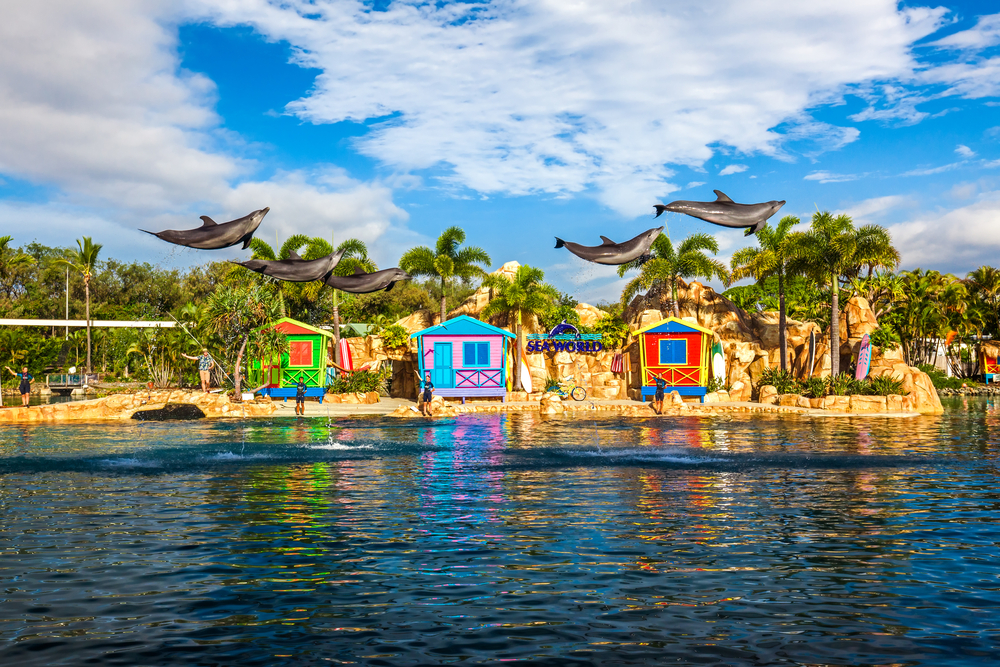 1. Polar Bears 
Polar Bears are carnivorous mammals with a population of only 22000 to 31000. An adult Polar Bear might weigh from 150kg to 800kg. Wild Polar Bears are found in Denmark, Norway, Russia, Canada, and the USA.
2. Dolphins
Dolphins are Piscivorous mammals that are found in warm, tropical, and cool oceans around the world. They are known to have intelligence like humans and can swim at a speed of over 30 kilometres per hour. Nearly 24% of the Dolphin species in the world are threatened.
3. Turtles
Turtles are beautiful reptiles that can be herbivorous, carnivorous, and omnivorous depending on their species. They generally nestle in open waters, coasts, and reefs. There are seven wonderful species of turtles out of which six are found in Australian seawaters, however, approximately 86% of turtle species are endangered.
4. Rays 
Rays are cartilaginous fishes, which are carnivorous in nature, with over 550 species of Ray fishes in 26 families. They are mostly found in the shallow water below 200 meters depth. Sandy bottoms, coastal mudflats, and coral reefs are their preferred habitats. Approximately 25% of these placid animals are in danger of extinction.
5. Sharks 
They are a group of elasmobranchs fish that are carnivorous in nature. There are 500 known species of sharks, out of which 25% species are nearly threatened. They can be found anywhere from a warm tropical climate to the cold polar environment. They can be located in waters less than one meter deep to 1000 meter deep. One interesting fact about sharks is that they keep growing rows of backup teeth.
6. Sea Jellies 
Also known as Jellyfish these invertebrates are omnivorous in nature and can be discovered in every ocean of the world from the surface to the deep sea. In fact, some species are also found in freshwater.
7. Seals 
These beautiful sea lions are carnivorous mammals and are found all over the world from frozen waters of the poles to tropical beaches in Hawaii and everywhere possible in between. Almost 32% of these species are under the danger of extinction. Sea World is home to four types of seals.
8. Tropical Fish
There are over 250 species of tropical fish including Clown Triggerfish, Blue Tang, and Humphead Maori Wrasse. Their habitats are coastal waters and tropical reefs. Humphead Maori Wrasse has threatened species, however, the status of many is not clear.
9. Seabirds 
These beautiful birds settle in and adapt to life surrounded by an aquatic environment. There are over 300 beautiful species of seabirds worldwide, which vary significantly in psychology, behaviour, and lifestyle. Australian Pelican, Silver Gull, and Cormorant are some seabirds that have been rescued and found at Sea World.
10. Penguins 
These black and white piscivorous birds are found in Antarctica and Subantarctic islands. There are 18 species of penguins worldwide out of which three types of Penguins rehabilitated at Sea World are Gentoo Penguins, King Penguins, and Little Penguins. Sadly, 72% of these Penguin species are on the verge of extinction.
Shows & Presentations at Sea World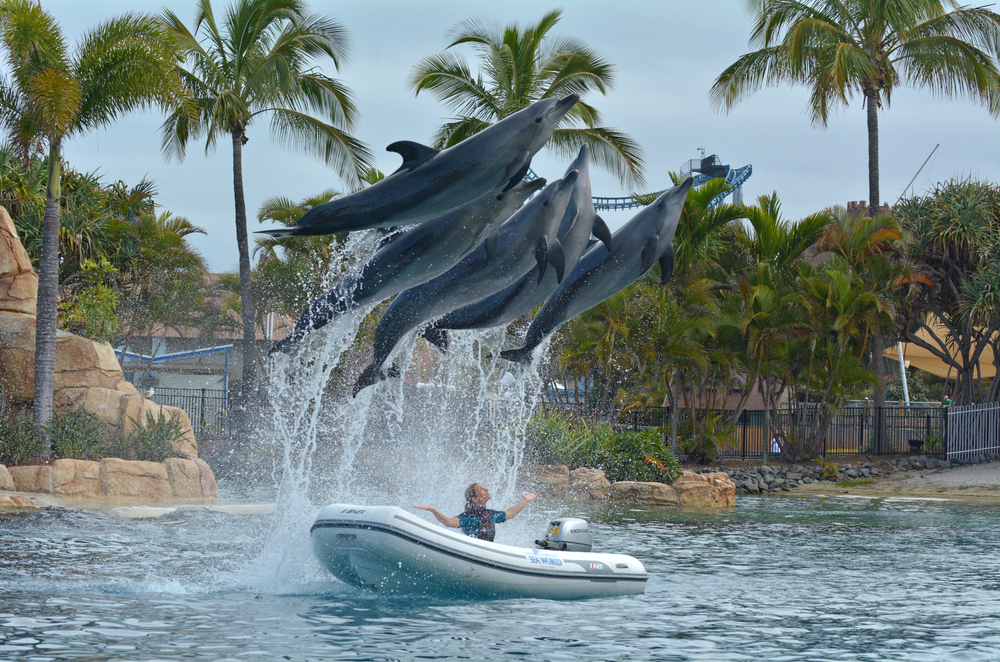 1. Seal Guardians Presentations
This educational presentation is all about the fun activities performed by three rescued seals named Carter, Saturday, and Tarni. Watch the seals play an absolutely delightful ball game with  Professor Swells and his team, rise high above water, and fulfill many such activities with so much grace and precision!
Timings: 
10.15am and 2.30pm Daily
Venue: Seal Theatre
2. Our World Of The Dolphin
This educational presentation gives the visitors an insight into the rescue and rehabilitation activities happening at the park. The dolphins performing this presentation are Howie, Raaf, and Nudge and have been rescued under various circumstances.

Timings: 12.30 PM daily; Closed currently
Venue: Sandy Shores Lagoon
3. Affinity Dolphin Presentation
This presentation takes you on a closer encounter with the dolphins and explains the beautiful relationship that these huge mammals share with the humans.

Timings: 11.15 am and 3.30 pm daily
Venue: Dolphin Beach
4. Penguin Feeding Presentation
Penguins have always been one of the most fascinating birds and this educational talk show is nothing less than a wikipedia about these birds. The keepers of penguins at SeaWorld share interesting facts and habits of these magical birds.

Timings: 10.45 am and 3.30 pm daily
Venue: Penguin Point
5. Ray Reef Presentation
Rays are mysterious marine animals and this educational presentation lets you observe these magnificent sea creatures. Strong at heart? You can even touch them!

Timings:10.45 am and 3.00 pm daily
Venue: Center of the park
6. Thunder Lake Stunt Show
Featuring nerve tingling stunts by two world's best teams - Sun State All Stars and Bay City River Rats, this show is predominantly about BMX tricks, Wakeboarding, Water Skiing and stunts.  

Timings: 1.30 pm and 4.15 pm
Venue: Sea World Lake
7. Nickelodeon Character Meet and Greet
This meet and greet show brings you all your favorite characters from Nickelodeon like PAW Patrol's Chase and Marshall, Teenage Mutant Ninja Turtles, Dora the Explorer, SpongeBob SquarePants, Patrick Star and Squidward. So, keep your poses ready as you get to meet, greet, and click pictures with them.

Timings: Appearances between 10.15am to 3.30pm
Venue: Nickelodeon Land Precinct
8. Sponge Bob Square Pants 3D Movie
This 3D movie is sure to kindle the child in you as the plot revolves on how SpongeBob SquarePants and his best friend Patrick the Starfish save the Jellyfish of Bikini Bottom.

Timings: There are shows throughout the day. 
Venue: Castle Theatre
9. Teenage Mutant Ninja Turtles Turtle Power
This live show which portrays how The Teenage Mutant Ninja Turtles aid April in mutants rule with their elegant dance and action moves in a treat for both parents and children.

Timings: 12.00 pm daily
Venue: Nickelodeon Stage
10. PAW Patrol Goes on Holiday
This high-energy show features Chase and Marshall from PAW Patrol and guests can cheer their favorite characters from the show, dance with them, and freeze those moments with the Digital Candid Photo Pass!
Timings:
11.00 AM and 1.45 PM daily
Venue: 
Nickelodeon Stage within Nickelodeon Land
Rides & Precincts at Sea World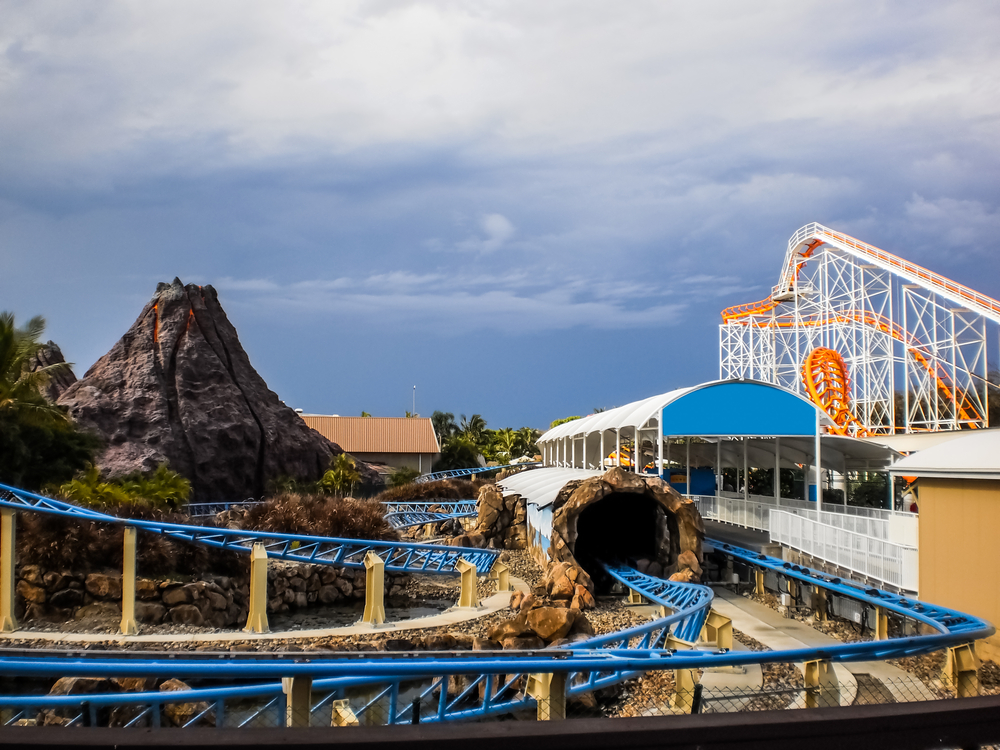 1. Mild Thrill rides
Mild Thrill rides at SeaWorld are based on Nickelodeon themes and are perfect family entertainers. These rides are suitable for kids, teens, and even their parents.

The rides at Nickelodeon Land also have Meet and Greet Shows to keep the spirits of the children high. With no big twists and turns, these rides are absolutely safe and kids will undeniably have a whale of a time here!
Rides: Bikini Bottom Crosstown Express, Boots' Banana Boogie, Castaway Bay Battle Boats, Patrick's Jellyfish Frenzy, SpongeBob's Boating School Blast, Dora's Fiesta Carousel, Nickelodeon Land, The Reef at Castaway Bay, Castaway Bay
2. Moderate Thrill Rides
Designed for kids above 8+ years, these moderate thrill rides give your senses a mild blow! You can feel the butterflies in your tummy as you soar up into the sky on SeaWorld Sky Flyer or as you spend hours at the interactive adventure playground of Castaway Bay. 

Sky Fortress has five entertaining levels where you can climb, crawl and clamber your way through rope bridges. Moderate Thrill Rides are the real family rides as they entertain people of all ages.
Rides: The New Atlantis(Coming Soon), SeaWorld Sky Flyer, Castaway Bay Sky Climb, Castaway Bay Sky Fortress, Donatello's Ninja Flyers
3. Max Thrill Rides
The maximum thrill rides at SeaWorld are definitely for the strong hearted ones. Feel your heart skip a beat as you rush down through the roller coaster tracks of Jet Rescue Coaster and Storm Coaster. People with heart problems, seizures, neck and back problems, and pregnant mothers are strongly recommended to keep away from these rides.
Rides:
Vortex, Jet Rescue Coaster,Storm Coaster
Animal Adventures at Sea World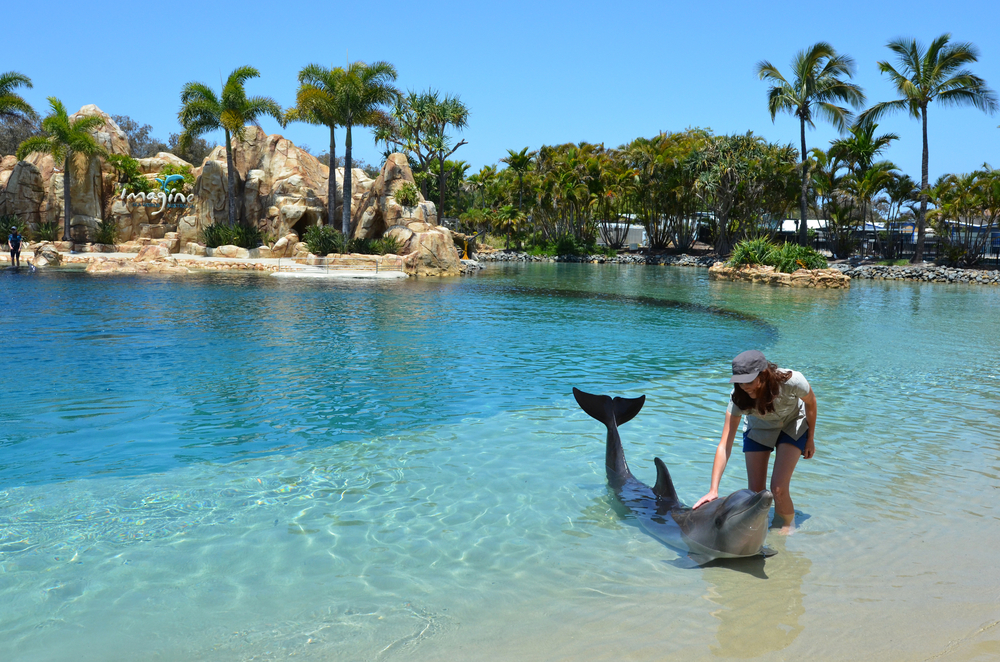 1. Dolphin Aqua Adventure Child
This program lets the children watch the dolphins from a very close distance on a submerged platform and witness their various behaviours. The program includes 25 minutes of informative presentation and 20 minutes of actual dolphin viewing.

Age limits: 5 to 13 years
Cost: $159 per child
2. Dolphin Deep Water Adventure
Mimicking an ocean experience, this program lets the guests witness these exquisite mammals a deep water encounter. The Marine Mammal Trainer will give an informal educational presentation for about 25 minutes and then start the real fun of water experience.

Age limit: 9+ years
Cost: $249 per person
3. Dolphin Family Adventure
This family adventure happens on the shallow waters and the visitors get to enjoy viewing the dolphins and their behaviours with your family.  As with other dolphin adventures, this adventure program also includes an educational talk.

Age limit: 5+ years
Cost: $749 per family
4. Behind the Scenes at Polar Bear Shores
The exhibit replicates the Arctic summer and here, you can watch these cutest animals live, learn more about their abilities, and the conservation steps taken for sustaining this species. Added to that, you will also be given a sneak peak into their kitchen, den, and play area.

Age limit: 5+ years
Cost: $89 per person
5. Shark Bay Glass Bottom Boat
Watch the ferocious sea animals safely at SeaWorld with guided glass bottom boat tours. The shark lagoon in Sea World's Shark Bay also has many vibrant fish species, rays, and turtles apart from sharks that you can spot during the 15 minute boat ride.

Age Limit: 4+ years
Cost: $10 per person
6. Penguin Antarctic Adventure
Happening in a frozen world, this adventure program literally takes you to Antarctica, the natural habitat of Penguins. Penguin Encounter at SeaWorld is home to the King penguin and  Gentoo penguins and with this program, visitors can feed these beautiful birds or even enroll in a fun enrichment program.

Age limit: 8+ years
Cost: $129 per person
7. Seal Aqua Adventure
Fancy swimming with seals, feeding and patting them, and spending an hour close to these friendly sea animals? Seal Aqua Adventure program gets all your fancies checked!

You can feed and swim with various seal species like Long-nosed fur seals, Australian sea lions or Californian sea lions and cherish these experiences for a lifetime.

Age Limit: 14+ years
Cost: $159 per person
8. Shark Bay Discovery
This adventure is no less than snorkelling in an ocean! The adventure starts as tourists enter an acrylic cage in the lagoon; the astounding sight of spotting colorful tropical fish, rays, and harmless Black Tip and White Tip reef sharks unveils before one's eyes. An experienced Dive Leader will accompany the visitors for the duration of their snorkel to ensure safety.

Age limit: 14+ years
9. Seal Encounter
Long-nosed fur seals, Australian sea lions or Californian sea lions are some of the most playful and friendliest seal species and with this adventure program, guests at the park can interact, play and pat seals.

Age limit: 5+ years
Cost: $79 per person
10. Meet the Dolphin
This Semi Water-Based Animal Adventure is performed as a group of 12 participants in knee deep water. The visitors get an exciting chance to get a close encounter with these huge fish and even touch them as they swim close by.

Age limit: 4+ years
Cost: $169 per adult, $139 per child
11. Marine Rescue Ranger
This Land-Based animal adventure takes the kids on a closer interaction with rescued seals turtles and many other marine animals. Along with it, kids will also be enlightened about the threats to marine life and the conservation steps needed to protect them.

Age Limit: 8 - 14 years
Cost: $99 per participant
12. Tropical Reef Snorkel
Giving you the real life experience of snorkelling in an ocean, with this adventure, you can dive to the floor of the Shark Lagoon and watch various marine life like tropical fish, majestic rays, Black tip reef shark, and White tip reef shark. Wetsuit and snorkel gear will be provided as a part of the activity cost.

Age: 8+ years
Cost: $69 per person
13. Trainer for a Day
Spanning for 4 hours and 30 minutes, this adventure lets the guests live a day in Sea World as a trainer. You can learn about how the trainers look after and train the animals, and how the stranded and injured marine animals were rescued and brought back to life.

Age: 14+ years
Cost: $349 per person
Other Essential Information About Sea World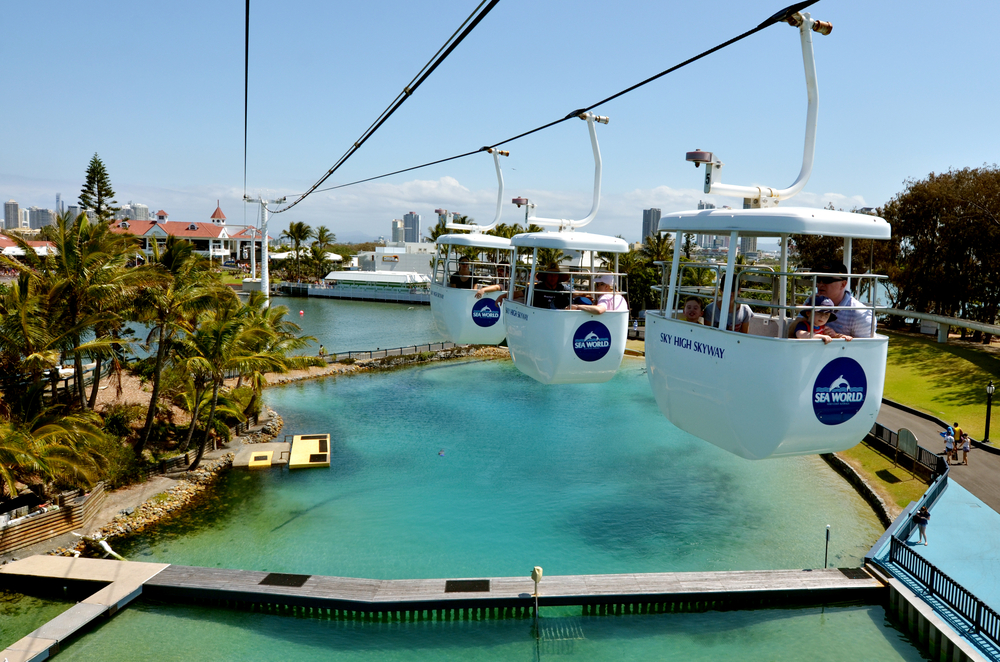 Location:
Seaworld Dr, Main Beach QLD 4217, Australia

Timings:
9.30 AM - 5.00 PM on all days

Facilities for visitors:

- Clean restrooms and showers

- Adequate changing rooms and safety lockers

- Disability Services include car parking, toilets and ramps

- Coin-operated lockers are available for hire. Cost ranges from $10 to $20 for a large size locker

- ATM / EFTPOS

- Lost and Found Services

- Complimentary Wheelchair Hire at a deposit of $20 

- Stroller Hire available for $10 plus $10 as refundable deposit

- First Aid Centre with registered nurses on duty
Distance from Gold Coast Airport: 
26.6 km
Tickets for SeaWorld :
1. Village Roadshow Locals One Pass
This pass gets you 12 months unlimited entry to Warner Bros. Movie World, Sea World, Wet'n'Wild and Paradise Country from your 1st visit. Also, you can enjoy 1 free entry to  White Christmas, Carnivale

- Price: $159.00
2. Village Roadshow Three Day Pass
This pass gets you 3 Consecutive days entry to three theme parks -  Warner Bros. Movie World, SeaWorld and Wet'n'Wild.

- Price: $ 139.00
3. Village Roadshow Super Pass
With this pass, you can enjoy 7 Consecutive Days Entry to Warner Bros. Movie World, SeaWorld and Wet'n'Wild. The fourth park, Paradise Country is free as "Limited Time Only Offer!"

- Price: $159.00
4. Village Roadshow Mega Pass
This pass offers 14 Consecutive Days Entry to all the four theme parks namely Warner Bros. Movie World, Sea World, Wet'n'Wild, and Paradise Country.

- Price: $189.00
5. Single Day Pass
This one day pass allows visitors to enjoy at one of the four theme parks - Warner Bros. Movie World, Sea World, Wet'n'Wild, and Paradise Country for a day.

- Price: $ 79.00
6. Village RoadShow One Pass
This is the most expensive pass at SeaWorld; nevertheless, it comes with a truckload of benefits. The best part is that with this pass, tourists can enjoy 12 months unlimited entry to all the four theme parks.

- Price: $230.00
- Apart from these passes, there is also a gift card that can be purchased for $50.00. It is highly recommended to book your tickets online in advance as the tickets at the gate could be $20.00 more than their online counterparts.
Food at Sea World

1. Dockside Tavern
This spacious bar and restaurant located overlooking the Nickelodeon Land is the best place to much on fresh fish, chips, and gulp down a bottle of beer, wine or soft drinks.
2. Lakeside Cafe
This cafe is situated right at the main entrance and serves mouth watering renditions of seafood, crumbed fish & chips, prawns and calamari, and burger. If you are visiting SeaWorld with kids, this cafe could be your hunger savior.
3. Fresh Focus Cafe
Head to this cafe to satisfy your hunger between rides and activities with coffee, cakes, muffins and other snacks.
4. Village Bean
This coffee shop has the best coffee that you would fall in love with! At this place, you can enjoy a hot cup of coffee over some light snacks.
5. Prime Burgers
Serving delectable burgers and fries, this restaurant offers a sumptuous meal for that hungry you.
6. Pizza Shack
This pizza shack has all the classic flavors of freshly, daily made pizzas that can get you drooling over with its taste.
7. Plaza Ice Cream Parlour
This parlor has mind-blowing collections of frozen treats to help you beat the heat.
8. Frozen Coke Zone
The frozen coke served in this plaza in various flavors like Bubblegum, Raspberry, and Coca Cola are a true delight that is relished by both adults and children.
9. Terrace Ice Cream Parlour
This parlor has a wide range of huge variety of creamy Streets Ice Creams that will keep the kids busy while the parents hop on to a ride!
10. Sea World Resort Lobby Lounge
Overlooking the Broadwater, this lounge restaurant serves filling lunch that will keep you recharged for the remainder of the day.
11. Drink Refill Station
Fill your bottles here between the rides.
Shopping at Sea World

SeaWorld has a number of shops where visitors get inked with a temporary tattoo, grab colourful hair wraps, and get the photos from your rides printed and framed. To make the trip to SeaWorld more memorable, visitors can shop for souvenirs at SeaWorld Exit Shop and The Jelly Box.

While most of the shops are permanent, Nickelodeon Outfitters & Ride Photos is seasonal. The comprehensive list of shops at this park are -
- Midway Games
- Nickelodeon Store
- Ocean Zones
- Billabong
- Trade Winds
- Photo Lab
- Nickelodeon Outfitters & Ride Photos
- Sea World Resort Store
- Custom Airbrush Caps
- Hair Wraps & Braids
- Storm Coaster Ride Photos
- Sea World Exit Shop
- 
The Jelly Box
Traveller's tips before visiting Sea World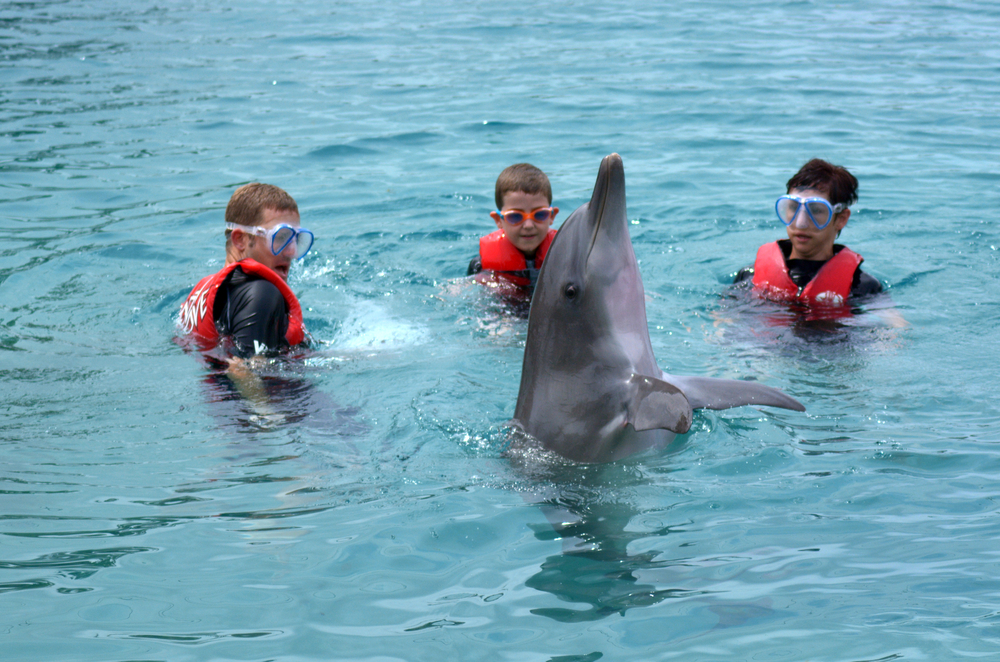 - Do not forget to carry your ticket to the park. Park entry is not permitted without a ticket. However, you can buy a replacement pass at an additional cost of $5.00

- The barcode of the Sea World ticket cas to be downloaded from your booking confirmation mail. This barcode on your smartphone/tablet device can be used at entry as pass.

- Children under the age of 3 can enter the park free of charge.

- Adhere to height and weight restrictions of every ride to ensure your safety.

- Book your passes online to grab a deal.