About San Maurizio al Monastero Maggiore
San Maurizio al Monastero Maggiore is a treasured gem of Italy and is known for its breathtaking and well-preserved artwork, awe-inspiring frescos, and luxurious gold embellished interior. It is placed in Milan city center and is in close vicinity of some of the ancient historical places in Milan.

San Maurizio al Monastero Maggiore is one of the most lovely churches in Milano and has significant heritage value attached to it. It was built during Renaissance times and its building presents a perfect example of 16th-century paintings, expertise, and architects.

The church is also known as the 'Sistine Chapel of Milan' as it possesses stunning frescoes designed by the artists of the Leonardo era. It served as an ex-convent and was the most important Benedictine convent in Milan. 

This preserved treasure of Milan attracts history enthusiasts and art lovers from all over the world for its well-conserved beauty and best kept secrets. The church is actually a complex with two different parts separated by a decorated central wall.

The front part is small but serves as the place for worship for the public. Masses and other religious practices are held here regularly. The bigger part was earlier a monastery and was known as the Hall of the Nuns. This monastery of the church has developed into Milan's Civic Archaeological Museum. The museum has in store a huge collection of marvelous artifacts from ancient Etruscan and Mediolanum times.  Now the place is also used for hosting ceremonies and concerts as well.
How to Reach San Maurizio al Monastero Maggiore


Milan Linate Airport is nearest to the church and is Milan's second airport for short-haul, domestic and international destinations. The San Maurizio al Monastero Maggiore church is about 9.3 Km from the airport and you can easily reach the church by using any of the public or private transportation means available at the airport. 

Bus: Line 73 Bus leaves the terminal every 15 minutes and drops at Missori m3 stop which is a few minutes' walk away from the church. It takes a total of 45 minutes, including walking time to cover the distance. It is a comfortable and cost-effective means to reach the church from the airport.

Car/ Taxi/ Car Sharing: You can also choose from taxis, cabs, or hired cars like options that are more comfortable and less time-consuming. But the cost of traveling is on the higher side.
Best Time to Visit San Maurizio al Monastero Maggiore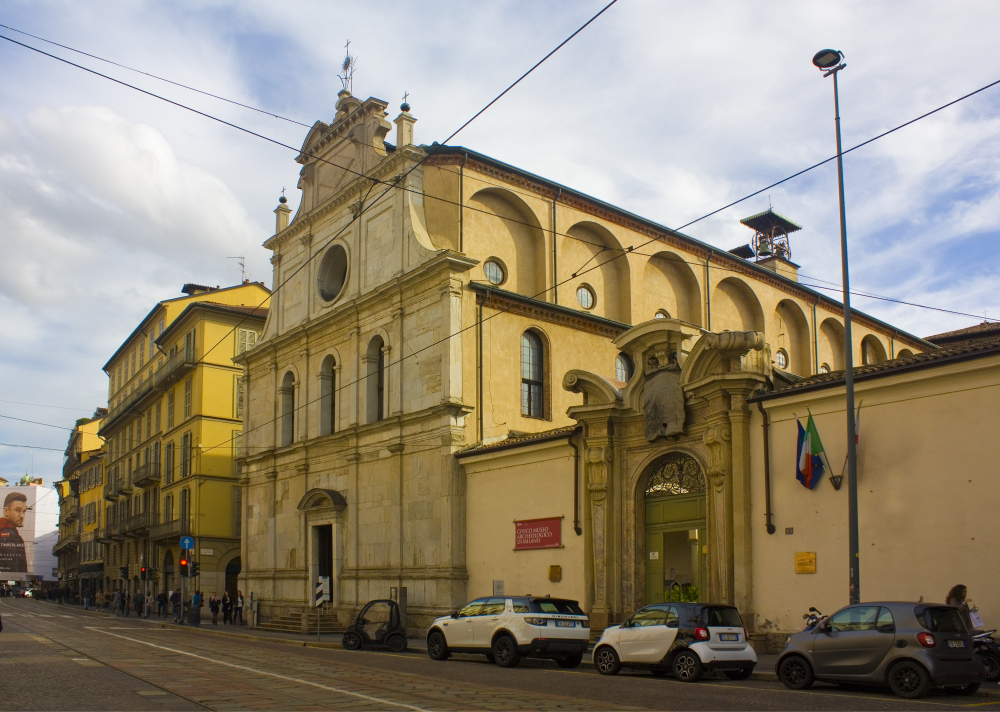 The best time to visit this historic church lies between April and May or September and October. These months are spring and fall months when the temperatures are mild and pleasant. 

Spring Season (April-May): Spring season proves to be the best bet to visit the church as the weather is pleasant and the city is not filled with loads of tourists

Summer Season (June-August): This is considered to be the peak season in terms of tourism and the weather becomes hot and humid. Visiting during this season can make you wait in long queues and meeting loads of tourists rather than local Italians.

Fall Season (September-October): This is another good time to visit the church as temperatures lower down to mild and climate conditions become hospitable. Rains are also expected during this season, as the church is indoors so there is no stress of getting wet. 

Winter Season (November-March): Very cold and foggy weather makes this season not an advisable time to visit the city. But if you can brave the chill and expected rains then the trip to the church is an unforgettable one.
What Not to Miss at San Maurizio al Monastero Maggiore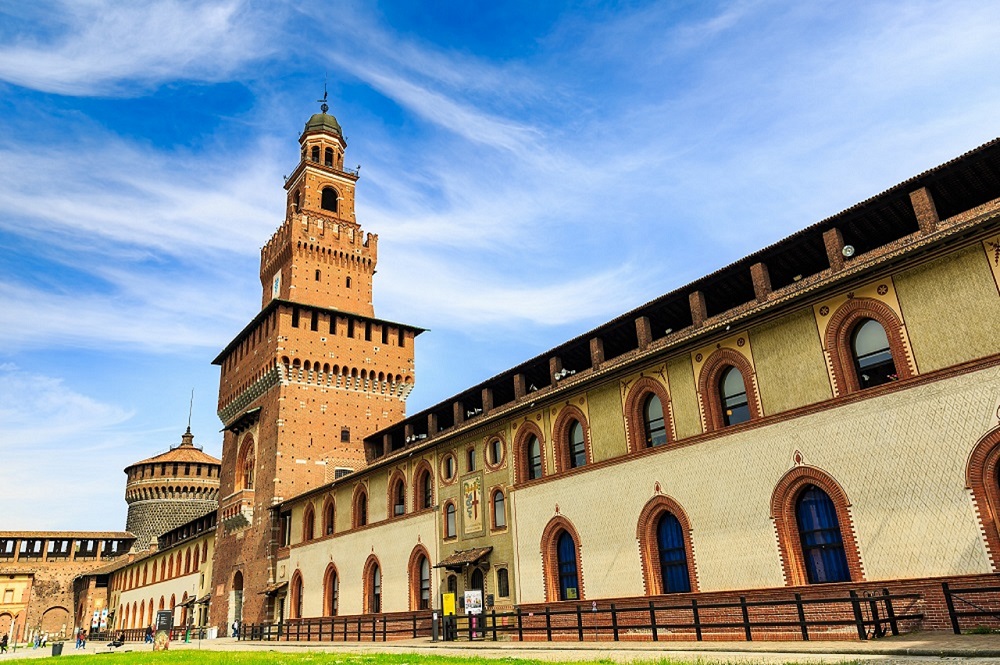 This historic church in Milan is close to many prominent tourist attractions of the city, which boasts of rich heritage, artistic display, and scenic views. Few of these famous locations are:

1) Duomo di Milano: It is also known as the Milan Cathedral and is dedicated to the Nativity of St Mary. It also serves as the seat of the Archbishop of Milan. It is the largest church in Italy and attracts a multitude of visitors from all over the world for its unique architecture, beautiful interiors, and historic values.

2) Sforza Castle: It is another heritage structure in Milan near San Maurizio church and is one of the largest citadels in Europe. It dates back to the 15th century and was built by Francesco Sforza, Duke of Milan, on the remains of a 14th-century fortification.

3) Basilica di Sant'Ambrogio: Milan is a city of magnificent churches and this church is another example of architecture and beauty. It is one of the oldest in Milan and is believed to be built in 1129. The architecture style used is Romanesque and is very impressive and outstanding.

4) Santa Maria Delle Grazie: It serves as a church and Dominican convent in Milan and is famous for being a UNESCO World Heritage Site. The church boasts of Gothic and Renaissance architecture, captivating frescoes and mural of The Last Supper by Leonardo da Vinci, which lies in the refectory of the convent.

5) Sempione Park: It is located very near to the church and is a perfect place to spend some leisure time with your family, friends or lover. It is one of the largest city parks in Milan and is spread over an area of 38.6 hectares. It lets you relax in tranquil ambiance after spending time visiting nearby tourist places.

6) Quadrilatero Della Moda: It is an elite shopping area in the Centro Storico district. It houses several designer fashion boutiques, antique shops, and opulent cafes, restaurants, etc.
Other Essential Information About San Maurizio al Monastero Maggiore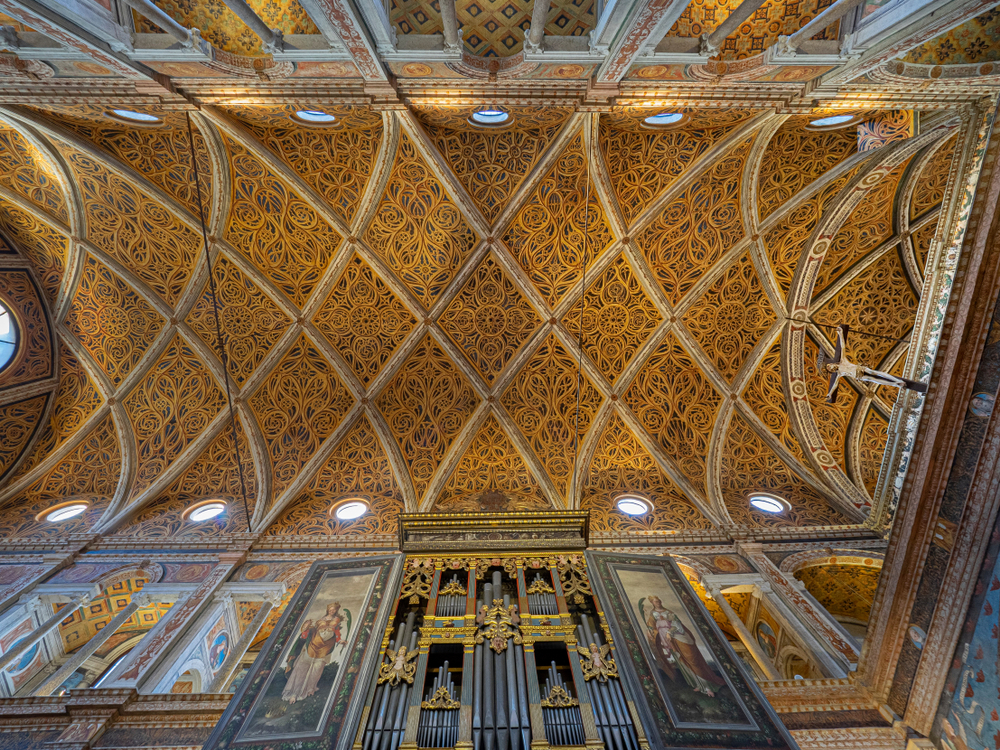 Location: Corso Magenta, 15, 20123 Milano MI, Italy 

Timing: Tue-Sun 9.30 am-5.30 pm, closed on Monday

Entry fee: No entry cost

Distance from Nearest Airport: The nearest airport to this historic church is Milan Linate Airport which is approximately 9.2 Km away via Viale Enrico Forlanini. It takes about 15 minutes to cover the distance if traveling by car or taxi.

History of San Maurizio al Monastero Maggiore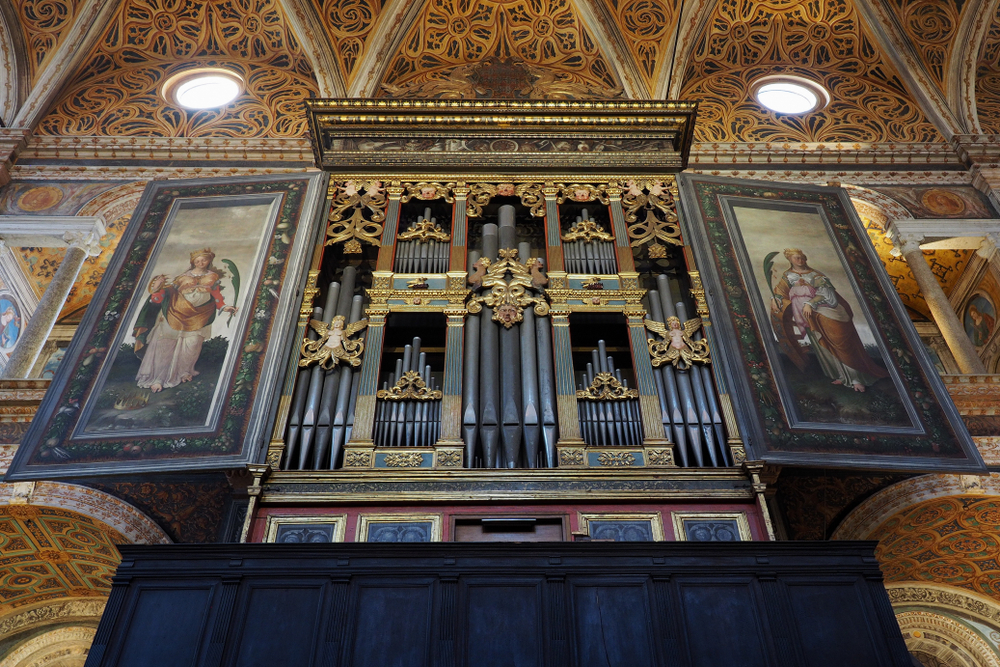 The church is an outstanding ancient structure in Milan and is preserved to keep the heritage alive. It is believed that it was built on pre-existing Roman foundations and its construction started in 1503.
The design of the church was planned by famous Italian architect Gian Giacomo Dolcebuono, who also designed the cathedral of Milan. The complex (Church and Convent) served as the Prayer Room for the public or worshippers, while the convent was made exclusively for the nuns.

For almost three centuries the nuns were not allowed to cross the dividing wall and can attend the masses held in the church only hidden from the views.

 It was earlier part of Monastero Maggiore, Milan's most prominent female convent of the Benedictines and got its name from there. Today, the complex is serving as a church and a museum and is open daily for both prayer offerers and art aficionados.

Public and Convent Halls at San Maurizio al Monastero Maggiore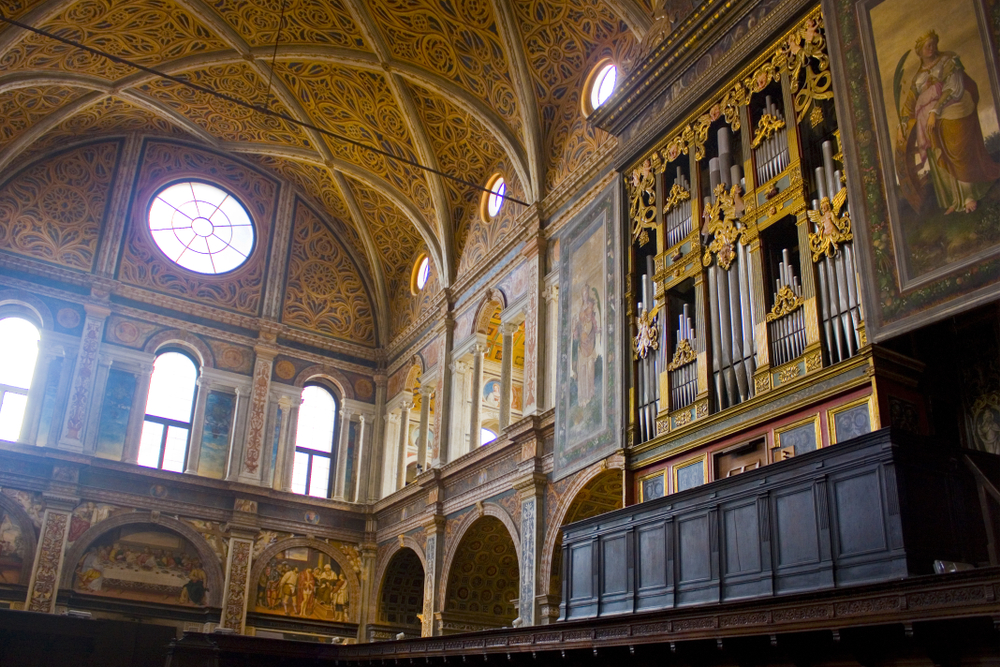 The San Maurizio al Monastero Maggiore is complete with beautiful frescoes and is known for its spectacular paintings by Bernardino Luini. The entrance is through the church and the complex comprises two main parts: 
Public Hall:
This is a smaller hall and is open for the public and the congregation. Eight chapels, distributed on both sides, are mostly painted by the Luinis. It follows a simplistic rectangular floor plan and has ten bays. The roof is covered with the barrel-vaulted ceiling and is decorated with false ribs and other details

Convent Hall:
This part is bigger and is strictly reserved for the nuns. This place is also called the Hall of the Nuns. This place is artistically decorated with the great work of Lunin and his sons. It also has in possession an extraordinary 16th-century organ, which still works despite being so ancient. This large hall has six bays and is used for the nuns for staying and performing choirs. 

Frescoes at San Maurizio al Monastero Maggiore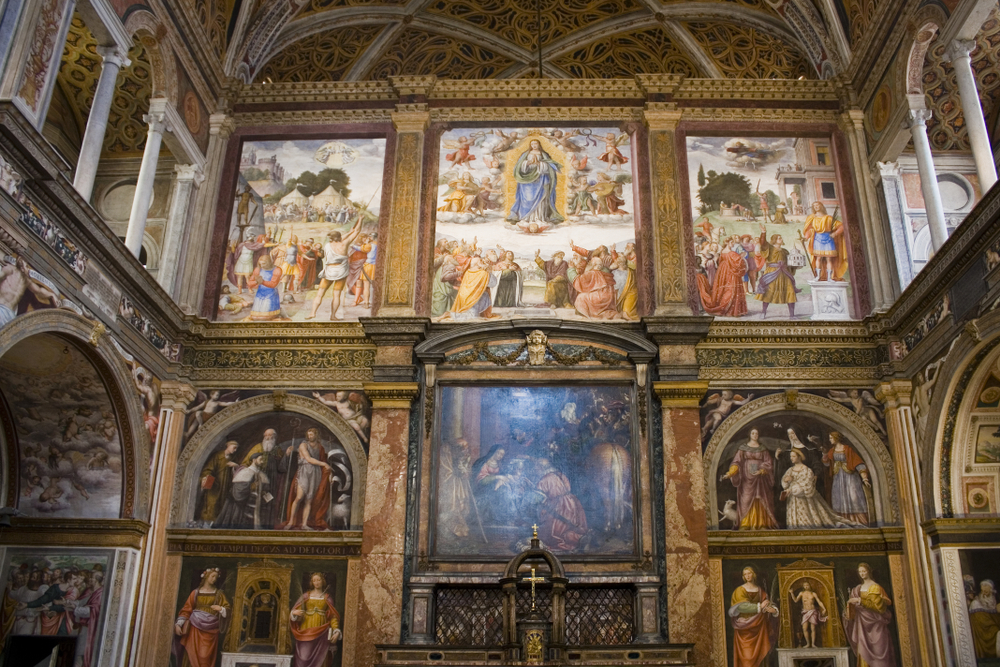 The beautiful San Maurizio church is known worldwide for its stunning frescoes. These art pieces not only beautify the walls and chapels of the church but enhance the heritage value of the structure.

These art pieces date back to the 16th-century and present a marvelous display of the artistry of old times. The most famous frescoes are the works of Bernardino Luini, a student of the famous artist Leonardo da Vinci.

His frescoes include frescoes in the St. Catherine Chapel, on both sides of the partition wall, and the Chapel of St. Catherine of Alexandria, etc. The dividing wall's fresco depicts the
Life of San Maurizio by Bernardino Luini and also has a masterpiece Adoration of the Magi
by artist Antonio Campi (1578).

The public area, the Bergamina chapel also has frescoes of Aurelio Luini, son of Bernardino, and his brothers. There is an array of frescoes and artworks of other artists as well in public areas. The counterfaçade comprises a fresco by Simone Peterzano (1573), while Simonetta chapel has the creativity of the Piazza family.

Tips for Visiting San Maurizio al Monastero Maggiore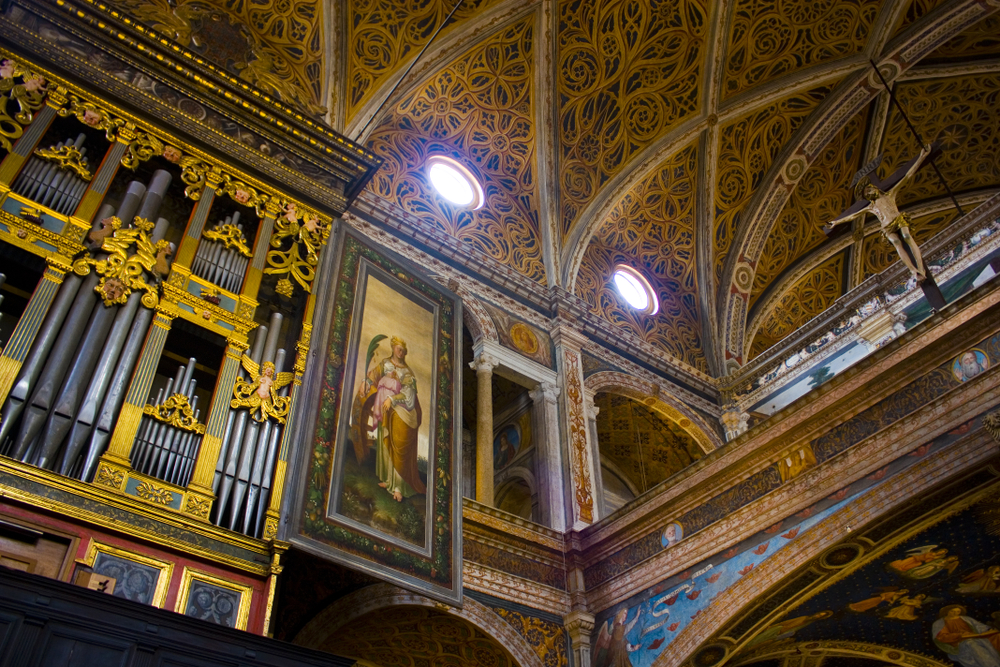 1)
The church gets crowded during peak seasons, so if you do not like visiting crowded places, plan your visit in the off season.

2) Milan being a fashion hub hosts several fashion exhibitions and events so book your hotels in advance to avoid discomfort.


3) Do not forget to keep an umbrella with you if traveling during winters as Milan experience a good amount of rainfall in winters as well.


4) There is a dress code to follow to enter the church as shoulders and bare skin needs to be covered.