About Padang Padang Beach
Situated at the Jalan Labuan Sait, Bali's Padang Padang Beach is one of the best tourist beaches across the globe. This beautiful beach is also known as Pantai Labuan Sait and is famous for its surfing activities.This Bukit peninsula beach actually represents a long stretch of white sand where you can spend some relaxing time building your own sandcastles.

The frequent transitions between high and low tides here drags in the attraction of numerous surfing lovers. So, if you've got that surfing craze in you, this is an ideal adventurous Bali holidaying destination for you.As soon as you start moving in the direction of the beach, its crystal clear water start attracting you with its charm.

The flatbed of the beach makes it an ideal beaching destination of Bali. The shiny white color of the sand contrasts perfectly with the blue waters of the sea and the black rocks that lie across its shore.The tranquillity of the beach and its quiet atmosphere will give you plenty of reasons to calm down all your stresses and have a rejuvenating weekend here.

Visit here early in the morning to treat you eyes with delight when the sparkling rays from the sun fall on to the blue water of the beach. Besides, the beauty created by the white clouds on a bright day can't simply be summed up in words!If you are eager to surf here, first get on to the tents that stand nearby to rent a surfboard and safety gear.

 Close to it are other stalls selling basic foodstuffs and drinks to keep you energetic throughout your visit to the beach.
How to Reach Padang Padang Beach
Padang Padang Beach is located at a distance of 20.2 km from Denpasar Airport. If you opt for the Jl Raya Uluwatu, you will reach your final destination within 43 to 45 minutes. Regular buses are plying between the Denpasar Airport and Padang Padang. Else, you may opt for a transfer in a private cab.
Best Time to Visit Padang Padang Beach


If you love to adore the beaches in the sweltering heat of the Sun, April to July are your months to plan a trip here. People trying to ignore the crowd here can grab on their weekend tickets to Padang Padang anytime between August to October. Make sure that you do not plan your visit to Padang Padang Beach in November as this is the time when Bali witnesses heavy showers.

Once the rainy days are over here at Bali, December to January are again preferable to plan on your visit to this soothing destination when a cool breeze blowing from the beach will caress your face.
What Not to Miss at Padang Padang Beach
Thing to do in Padang Padang Beach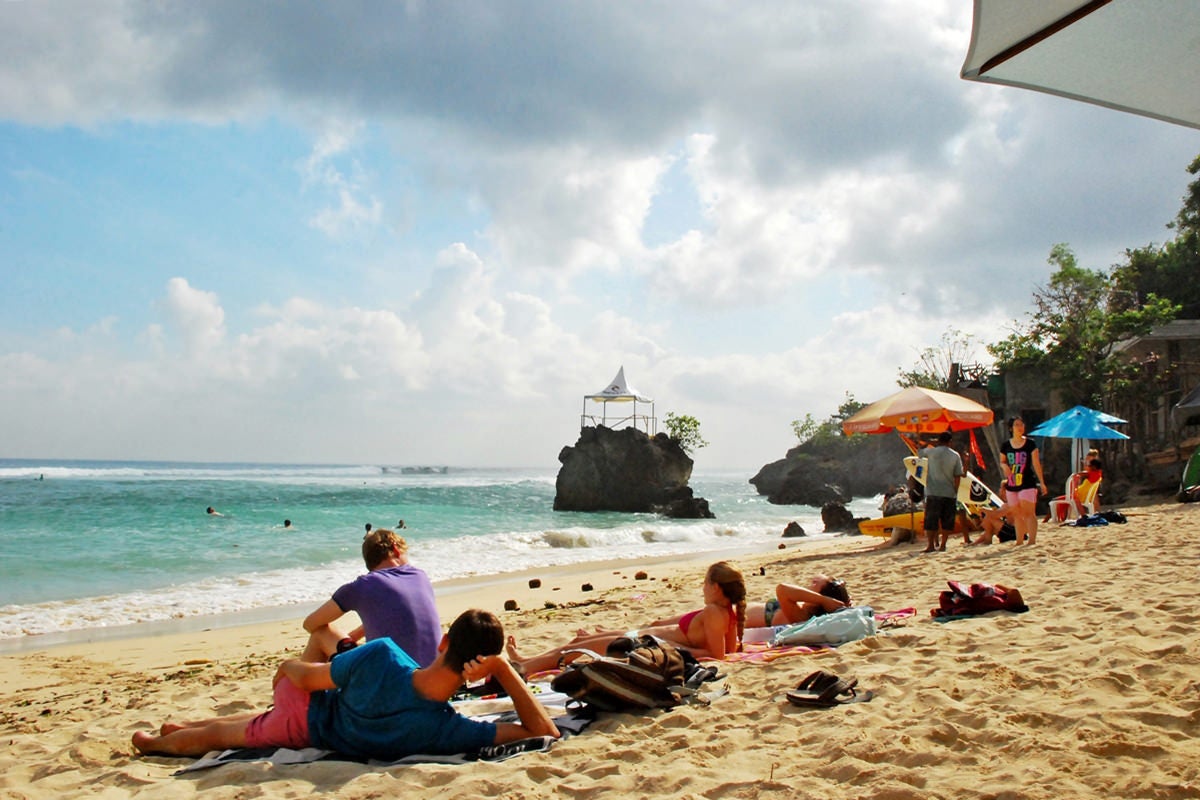 Get some quick details about the things to do at Padang Padang Beach –


Adore the beautiful moment when the rising sun kisses the beach – 


Getting here early in the morning is useful, especially if you want to embrace the charm of the sun kissing the shimmering waters and the crystalline sand of the beach. Photographers may spend a wonderful time here amidst this natural settlement and click some soothing images of the sun kissing the shore. If you feel like swimming here, put on your swimming apparel and get into the waters.

As soon as the water waves of Padang Padang Beach feels the warmth of the sun, it starts turning warm. Once you bathe, you can change your clothes in some nearby changing tent and get yourself into a mood to take a 180-degree tour of the beach by strolling.
Early morning strolls in the open sunlight are enough to load you with plenty of the sun required to optimize your vitamin D levels.

1. Get on your weekend partying mood at Padang Padang Beach –
If you have this weekend off and are planning to roam somewhere else, make sure to check-in for the Padang Padang Beach as a weekend retreat. Although a secluded beach, partying amidst a natural settlement with beach on one side and the thick rocks, on the other hand, is something out of the box. Hosting a beachside tent party here will give you plenty of reasons why the beach stands unparalleled in its charm and beauty.

2. Engage in some water sports –
If you are good at surfing, turn your surfing mode on and get into the waters.
Do not have your personal surfing accessories? Don't worry as you can get some rented surfing gear from the tent selling surfing gears nearby. Surfers from across the world visit this Padang Padang Beach for some unrivaled and sensational surfing experience.

A professional surfer will surely be amazed as the waves turn out to be bigger and longer.
To get the simulated vibes of the underwater world, on board a glass-bottom boat and swim alongside the notorious water creatures.

If you haven't experienced the magnificence of the underwater world, this is the perfect time to remove off your hydrophobic mask and get into an engaging mood.

3. Get along with the local residents – 
Planning to spend an entire day at Padang Padang Beach? It's now time to get along with the locals. As soon as the sun starts shading away, locals from the nearby village can be seen flooding this beach in high numbers. If you want to know more about the place, nothing sounds as exciting as learning from them.

4. Eat your heart out with the local Balinese style cuisines –
The nearby shacks lining up the shore of Padang Padang Beach won't allow you to leave the beach with an empty stomach. Get the hungry soul out of you and feed yourself with the utterly delicious Balinese delicacies and cuisines.

Places to visit near Padang Padang Beach –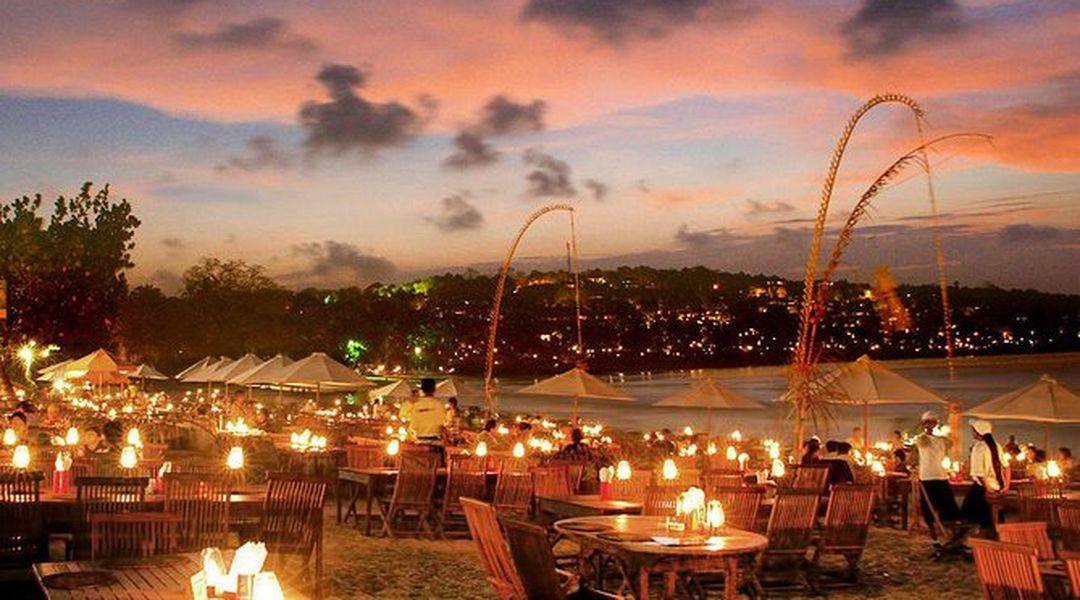 Here's how you can make your Padang Padang Beach visit an interesting one for you – 

1. Watch the sunset at the Uluwatu Beach – 
A visit to the Uluwatu is incomplete without watching the insane surfers out there. Before the gigantic waves surprises you, you will be stunned at the delightful sight of the beautiful sunsets that kiss the beach waters. There are tons and tons of epic viewpoints to choose here, yet Single Finn has been amongst the most popular ones. 

2. Enjoy Single Finn's Sunday Sessions – 
The fun and entertainment at the Single Finn's Sunday Sessions are simply legendary ones. Located at one of the prime tops on the Uluwatu Beach, this spot offers ample of delicious meals and chilled beers. Whether you are addicted to dance or not, as soon as the music loudens here, be prepared to get your toes on the dance floor.

3. Enjoy a special brunch at the Cashew Tree – 
The Cashew Tree is a famous hotspot where you will see innumerable tourists crawling in and around to try some lip-smacking meals and healthy smoothies.

4. Never miss on any beach in and around Uluwatu –
No wonders, Bali is highly acknowledged as a beach destination where you have ample beaches defining its different set of stories. Every single beach in Bali offers some mesmerizing viewpoints to capture some good clicks of nature with the sun setting picturesque backdrop. You basically will feel the need of a moto to explore every beach destination here.

5. Jimbaran Bay Dinner Treat – 
Although not a part of the Uluwatu experiences, a dinner treat at Jimbaran Bay is a must for all. A candlelit dinner setting amidst a cold and natural setting offers you a perfect environment to embrace the elegance of the setting sun.
Other Essential Information About Padang Padang Beach


1. Location – 
Padang Padang Beach, Bali, Indonesia.

2. Timings -
Padang Padang Beach of Bali is accessible round the clock. You can visit the beach as and when you want.

3. Price – 
Entry to the Padang Padang Beach will cost you around 10000 IDR per head and 5000 IDR per car park.

Best Restaurants to Eat at and near Padang Padang Beach -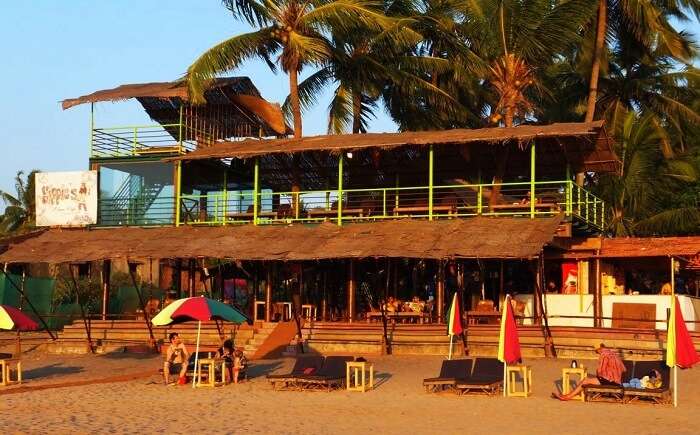 Are you fond of Asian cuisines and delicacies? Then, Padang Padang Beach eateries are the right place for you. In spite of being a popular seashore destination, the fresh and lip-smacking seafood is worthy of being adored here. Almost every restaurant in and around this beach offers some utterly delicious food to satiate the cravings of your stomach in the right way –

1. Beach shacks –
For some quick seafood preparations, the beach shacks lined up at one end of the shore of Padang Padang Beach are the best ones. You can get a hangover for the food available here as they define the richness of Balinese flavors. Close to it are other shacks where you can refresh yourself with some fresh and tender coconut waters or get a chilled soft-drink to quench your thirst.

2. Cempaka Caf and Homestay - 
Cempaka Caf and Homestay is a popular spot for trying some burning hot yellow fish curry. If you are not into trying the characteristic Pecatu Balinese cuisines, you may grab some differently flavored burgers here. 
3. Bukit Cafe – Planning either to visit the Padang Padang Beach during late evenings or returning late from there? Treat yourself with the Bukit Caf signature dishes – fajitas and freshly popped juices. The evening spent here at Bukit Caf is all yours!

4. Hanamaru Japanese Food – In case you are craving for sushi or traditional styled Japanese food flavors, head in the direction of Hanamaru Japanese Food. Locals rate this place as one of the best restaurants to try in Bali.
5. 360 Restaurant –  
Just as the name of the restaurant itself suggests, the 360 restaurant offers you delicacies across the globe. The moment you miss on your home country food, head towards the 360 restaurant and grab a seat there for some sumptuous Indian and Asian cuisines.

Best Hotels to Stay at/near Padang Padang Beach – 
There are many homestay and hotel options for you to accommodate yourself on your Bali tour. Here's a quick look where to stay while visiting the Padang Padang Beach – 

1. Suarga Padang Padang – 
This resort is well-equipped with world-class facilities, such as giving you the comfort of a luxurious stay away from your own home. As soon as you step in the lobby, you will witness the brilliance of the Indonesian architectural style. The staff members here are incredibly hostile in their offering their services. 


Price – Approximately 18300 INR per night 


2. Radisson Blu Bali Uluwatu – There's nothing to mention the luxuriousness and sophistication of the Radisson chain of hotels. The one at Uluwatu, Bali, is known for its excellent customer service and magnificence brilliance of the infrastructure. To keep you energetic throughout your stay here, the Radisson Blu Bali Resort offers multi-cuisine complimentary breakfast. 

Price – Approximate 13500 INR per night 

3. Gravity Bed & Breakfast – Here at the Gravity Bed & Breakfast, you receive a king style treatment, which will inevitably force you to spend some more time in Bali. This place reflects a perfect blend of both the Pecatu Balinese architectural style and sophisticated modernity.Price – 10000 INR per night. 


Tips for Visiting Padang Padang Beach –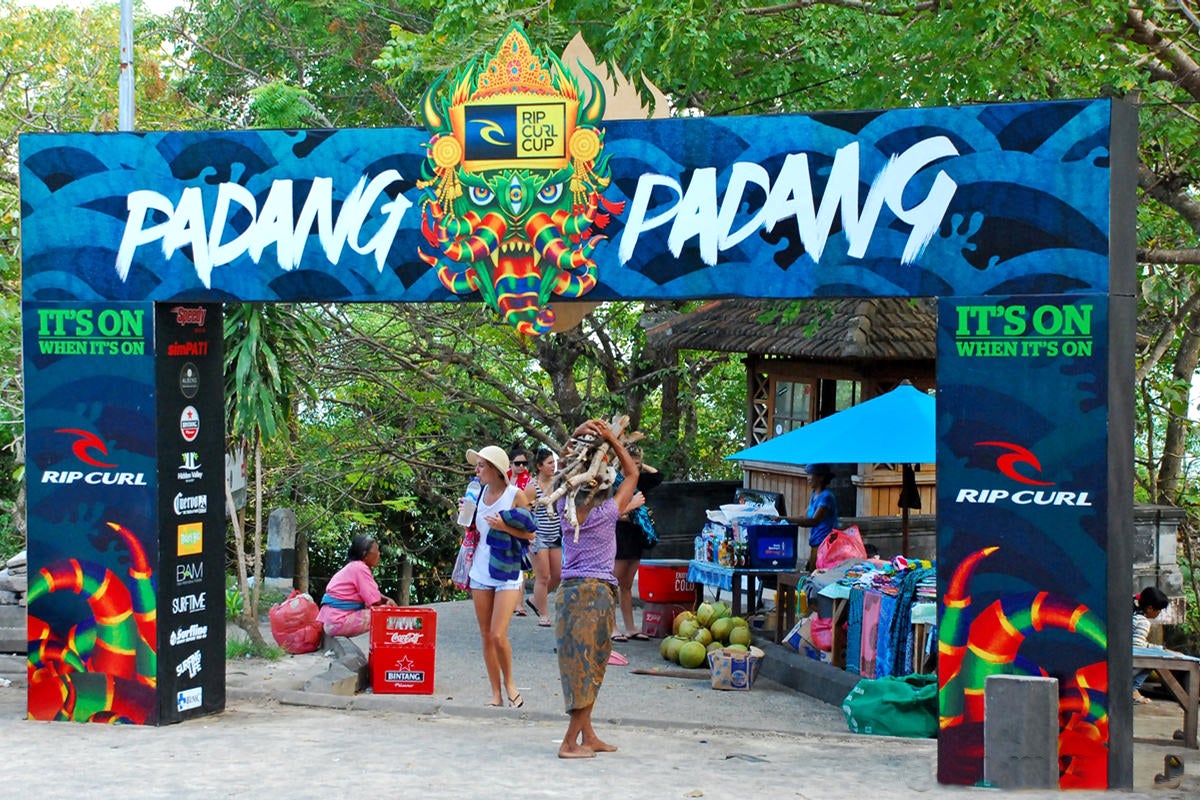 Here are some tips to go through before visiting the Padang Padang Beach – 


1. Along the shores of Padang Padang Beach, you might find the presence of numerous tents and shacks selling heaps of local goodies and souvenirs. Grab a hand on some of the locally crafted stubby coolers, colorful sarongs, t-shirts, friendship bracelets, and so on.


2.
For all those who are here to take an adventurous ride over the water waves, get along the shack selling surfing gears. There's a small shack providing who offers surfboards and additional accessories on a rental basis. As the surfing gears available here are a bit on the costly, be prepared to spend around 100,000 to 150,000 IDR for a surfing engagement of 2 hours. 


3.
If you are at the beginner's level, you may get along with some locals to teach you the basics of surfing lessons. 


4.
The region in and around the foothills of Padang Padang Bali Cliffs offers enormous viewpoints that are unexplored till date. 


5.
The secluded beaches featuring natural rock formations make a perfect backdrop to put all your photography skills to test and trial.


6.
There are around 5+ local warungs here where you can enjoy the local Balinese seafood preparation. You can use either club it with soft drinks of your choice or sip in one unit of coconut water the choice is yours!