About Nanda Devi Peak
A majestic peak nestled in the quaint hill station of Auli, Nanda Devi is renowned as the Goddess of Himalayas. Counted among the many popular UNESCO sites, it is the second tallest peak in India flaunting the surreal backdrops of Garhwal. It stands at an altitude of 7817 meters above the sea level and lures the visitors with its awe-inspiring views.

The peak is surrounded by Nanda Devi National Park where one can bask in nature's glory and catch the bewitching sight of exotic flora and fauna. Nanda Devi mountain range has two peaks including Western and Eastern peaks. While the eastern peak is named after Goddess Nanda, the western peak is popularly known as Sunanda Peak.

Apart from its natural splendour, the place has also gained massive popularity for its religious significance. Nandadevi is hailed as the Goddess of Uttarakhand and abode of Lord Shiva, which is why it is frequented by a large number of devotees.

This Himalayan beauty is equally popular among adventure enthusiasts and travel buffs for its enthralling trekking routes and serene villages which provide the much-needed relaxation after a hectic day of sightseeing. The 55 Km trek to Nanda Devi flags off from the beautiful town of Lata, takes you through Dharansi Pass, Debrugheta, and Hitoli, and ends at Joshimath.

During the trek, you will get an opportunity to interact with the natives of Himalayas and learn about their lifestyle and culture. You will also get to see the confluence of sacred rivers Nandaprayag, Rudraprayag, and Devprayag.
How to Reach Nanda Devi Peak


By Air:
The nearest airport to Nandadevi is Jolly Grant Airport, Dehradun. It is situated at a distance of 295 km from the site. From here, one can either hire a cab or board a bus to reach Joshimath. After reaching Joshimath, you have to head for a trek to reach Nanda Devi.

By Train:
If you are travelling by rail, do board a train from Rishikesh Railway station, which is 276 Km away from Joshimath and after reaching Joshimath, opt for a cab or bus. The route to Nanda Devi takes you through Dehradun, Rishikesh, Devprayag, Rudraprayag, Joshimath, and Lata Village.

By Road:
You can easily reach Joshimath from Auli via roadways. Once you reach Joshimath, you have to embark on a trek towards the Nanda Devi Peak.
Best Time to Visit Nanda Devi Peak
Summer and spring are the best seasons to plan your Nandadevi trip. Though the weather would be slightly cold during this time, you can easily enjoy amidst the majestic Himalayas without any climate disturbances. In the monsoon season, Nandadevi peak appears to be no less than heaven. However, if you are planning a monsoon trip, you might have to face road blockages due to landslides.
What Not to Miss at Nanda Devi Peak

1. Head for a trek to Valley Of Flowers:
If you are at Nandadevi Peak, you can't miss out trekking through this surreal valley of flowers which will light up your mood in no time. Situated at an altitude of 14,400 meters, Valley Of Flowers is a perfect trekking spot for beginners as well as experienced trekkers. July to September is considered as an ideal time to go for this trek.
2. Visit Shalidhar Tapovan:
If exploring quaint hamlets of a hill station has always been in your wishlist, Shaildhar Tapovan is a perfect place to begin. Popularly known as the land of serenity, this village is an unexplored part of Uttarakhand which is perfect for peace seekers. It is predominantly known for its valleys, slopes, and hot water springs.
3. Trek to Khatling Glacier:
An adventurous trek beginning from Tehri district, Khatling Glacier trek offers an alluring view of mighty uplands. From this glacier, you can also take a climb towards Vasuki Tal and Mayali Pass which are the base camps for Gauri Kund and Kedarnath Trek.
Attractions near Nanda Devi Peak

1. Roopkund:
Nestled at an altitude of 5000 meters above the sea level, Roopkund is famous for its Roopkund lake. This glacier lake is known to have a lot of mysteries attached to it. It is believed that when Roopkund Lake melts, one can see a large number of skeletons floating on its surface. Apart from being a mysterious spot, it is also a trekkers paradise.
2. Milam Glacier:
Reckoned among the most famous glaciers of the Kumaon region, Milan is another tourist's favourite. It is situated at a distance of 60 km from Munsiyari and has a southward facing slope. Milan Glacier stands at an altitude of 7065 meters and is an excellent trekking spot.
3. Kalpeshwar:
Another addition to the enticing destinations near Nanda Devi peak, Kalpeshwar is renowned as the abode of Lord Shiva. A large number of tourists visit this spot to offer their prayers at Kalpeshwar Temple. This spot is a 3 Km trek from the beautiful village of Urgam.
4. Bhavishya Badri:
Just 3 Km away from Tapovan, Bhavishya Badri is one of the 5 Badris. The natives believe that this spot will be transformed into Badrinath temple as the primary spot remains inaccessible owing to the weather conditions. This place also offers a vivid view of the Dhauli Ganga river, which is a treat to the eyes.
Other Essential Information About Nanda Devi Peak


Location:
It is situated in Chamoli district of Uttarakhand and is surrounded by Goriganga Valley in the east and Rishiganga Valley in the west.
Timing:
It is a nine days long trek which includes three days of travelling and six days of trekking.
Price:
The average cost for this trek comes to around INR 34,500
Height:
4152 meters
Average:
The average temperature at the Nandadevi peak varies between 25.90 degrees to 12.50 degrees.
Mythological Importance of Nanda Devi Peak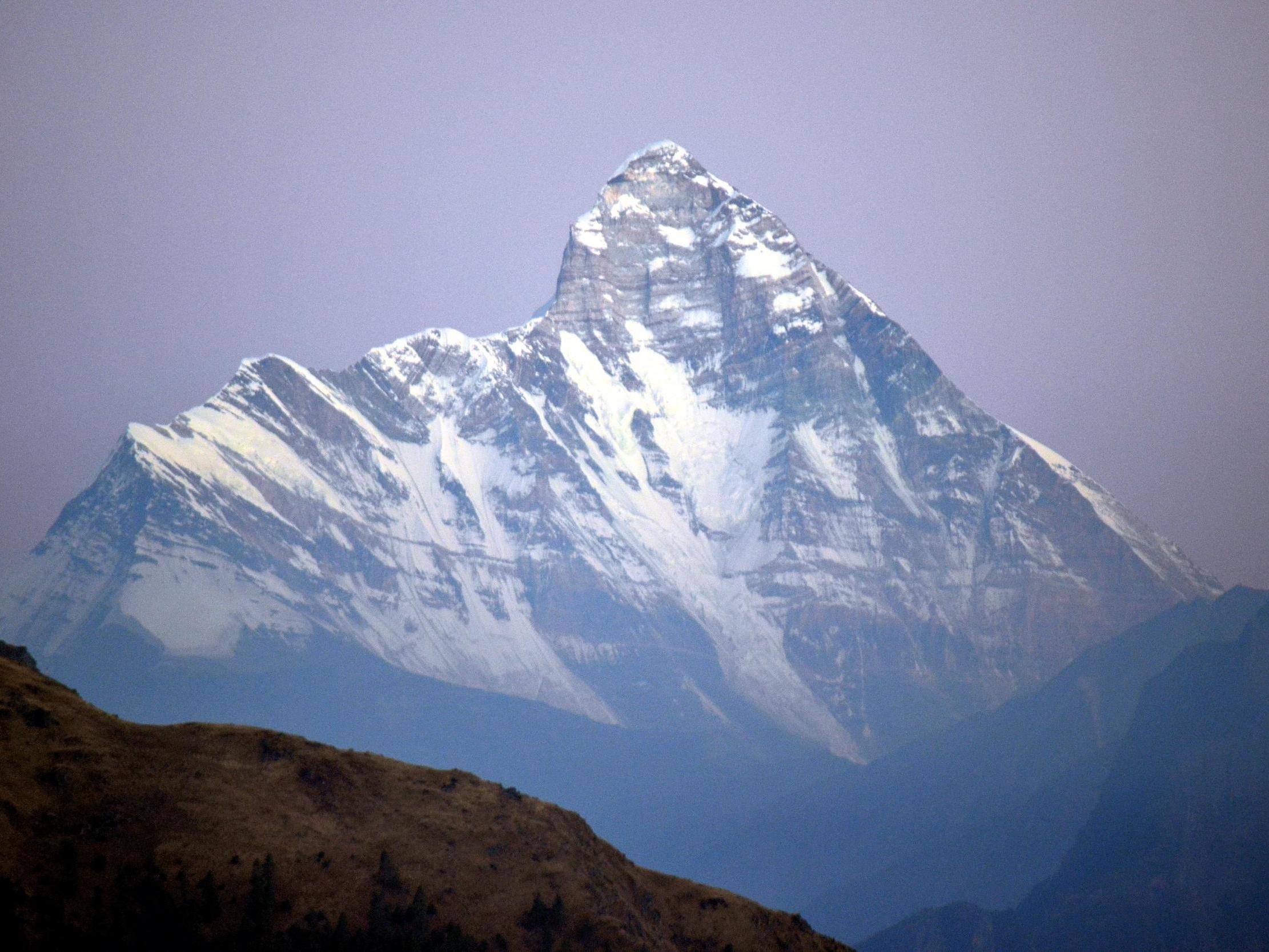 The Garhwal region has many ancient tales woven around Hindu deities. One such folklore is about Nanda Devi Peak. It is said that the Rohilla Prince fell in love with the princess of Chanda Dynasty, Nanda. He asked for her hand in marriage from her father but, the king denied his proposal.

The prince couldn't take the refusal and took this matter to the battlefield to defeat the Kumaon king. To save herself from the clutches of the wicked prince, Nanda Devi climbed her way to the mountains and merged with them. Due to this folklore, this mountain is recognized as a temple for Nanda.


Places to Eat in and near Nandadevi Peak

1. Auli 'D' Food Plaza:
If you are looking for a chilled out space with a great vibe amidst the Himalayas, this food plaza is your best bet. The place is a standard hub for youngsters who want to satiate their taste buds with something delicious. It is just 8 km away from Nanda Devi and is a perfect spot to munch on your favourite delicacies.
2. Panchvati Inn:
If you want to experience the local taste of the Himalayas, here is an ideal restaurant for you. Situated close to the Nandadevi National Park, Panchvati Inn is a great pick for folks who can't give up on their wholesome meals. In addition to their scrumptious delicacies, you can also spend a relaxing evening sipping on their signature mocktails which are prepared by the experienced chefs.
3. JMS Restaurant:
Perched at a distance of 11.3 Km from Nandadevi National Park, this restaurant will amuse you with its variety and classic interiors. From continental food to Indian delicacies, the restaurant has it all covered. It is a viable dining option for people who are travelling with their families or friends. The posh décor of this place further adds to its charm.