About Nako Village
One of India's best-kept secrets, Nako village is situated on the Indo-Tibetan border, 360 m above sea level in the Himalayan range of Kinnaur District in Himachal Pradesh. Nako Village can be considered as the last spot on your way to the famous Nalling Mullah and acts as a halting stop for tourists heading there.

As Nako lies really close to the Tibetan border, visitors need to have an Inner Line permit to visit and stay in any part of this secluded village. Due to the small extent of this beautifully remote village, all the major attractions there can be explored on foot itself.Any tourist crossing this remote village tends to take a stop at least for a while. Many others tend to reach this peaceful place by evening to spend a night here to move to other destinations in Kinnaur or Tabo Village, the next day.

However, if you are amidst those keen travelers who wish to experience the true essence of the Himalayan and Tibetan cultures, this very place is a must visit for you.Exploring this beautiful village and listening to the stories and experiences of the villagers will take you back in time. The hidden gems of Nako Village and its untouched natural beauty will make you fall in love with this place. Experiencing the mind soothing calmness of the village under the village sky full of sparkling stars holds the capability of providing you with a life-changing experience.
How to Reach Nako Village
- If you are traveling via Manali, you can hire a cab from Reckong Peo to Nako or get on the bus to Spiti. The ride from Reckong Peo to Nako shall take an approximate of 4 hours.

- Alternatively, if you are traveling from Spiti, you can get onto a cab or bus from Nalling Mullah going to Nako or Reckong Peo.

- As Nako is a restricted area, all the international tourists need to get a permit to visit this place. You can either get a permit from Reckong Peo worth INR50 or from Shimla and Kaza for free.
Best Time to Visit Nako Village


The months from April to October are most favorable for visiting the Nako Village. The beauty of the village is at its peak and the temperatures are moderate during these months. Prevent visiting Nako during peak winters. The roads to Nako get blocked after heavy snowfall from 15th of October and remains closed till it reopens in the end of May or by the second week of June.

You should also prevent visiting Nako during monsoon as the routes receive heavy rainfall. The steep slopes on the way to Nako with patches of poor roads make it challenging as well as dangerous for tourists to travel by road.
What Not to Miss at Nako Village



1. Chitkul: Chitkul is the last location beyond which tourists cannot go without a permit. This beautiful village is situated at the banks of the Baspa River and is snow-covered throughout the year, making it a favorite amongst young travelers.


2. Chango Gompa: Situated just a few kilometers from Nako, Chango Gompa is famous for its 500-year-old prayer wheel, made of yak skin. It is amongst the most famous monasteries in the region.


3. Lipa-Asrang Sanctuary: Not very far away from Nako is Lipa Asrang sanctuary which is famous for its huge variety of plants. You can get a chance to witness some of the rarest species of conifers, alpine scrubs, and dwarf juniper shrubs.


4. Kinnaur Kailash: Also known as the mountain of Lord Shiva, the breathtaking landscape and the natural beauty of this place makes it worth a visit. A whole lot of pilgrims visit this place to complete the "parikrama" which starts from Morang and goes up to Kalpa.


5. Sarhan: Also known as the "Gateway to Kinnaur", Sarhan serves as a base for a lot of treks in the majestic Himalayas. The major attraction of the village is the centrally located temple of Bimkali and Devi kali. The mesmerizing view of the peak of "Mount Shrikhand" is what makes this place more special. Do not forget to spot the rare and beautiful Jujurana bird species, in the peasantry close to Devi Kali Temple.


6. Sangla Valley: Covered with evergreen forest range and snow-clad mountain peaks, Sangla valley acts as a perfect getaway from the concrete jungles. Red apple orchards and cherry trees are what make this place more interesting. You can also get a chance to try out your hands on some interesting adventure sports activities in the valley.
Other Essential Information About Nako Village


1. Location: Nako is situated amidst the Trans-Himalayan region of Kinnaur District of Himachal Pradesh in India with close proximity to the Tibetan border.

2. Distance from Spiti: 116.6 Kilometers, connected via NH-505.

3. Distance from Manali: 312.9 Kilometers, connected via NH-505.

4. Mobile Connectivity: BSNL is the only network provider who provides connectivity in Nako. However, do not expect even that to be working all day long. You may catch the network during the odd hours of late at night.

5. Temperature: The lowest temperatures in Nako drop down to an average of -5.6 degrees Celsius. Whereas, the highest average temperatures are during the month of July which goes up to 14 degrees Celsius.


Nako Lake at Nako Village:


Nako Lake is amongst one of the major tourist attractions in the whole of Kinnaur. It is famous for its splendid location with the snow-capped Himalayas all around. Its serene surroundings make it one of the most picturesque locations in the whole world, attracting a lot of nature lovers as well as photographers.

The lake is surrounded by 4 Tibetan Temples and 4 caves, which are believed to be the meditation spot for saint Padmasambhava.There is also a waterfall situated near to the lake which is considered to be an abode to the fairies from heaven. Moreover, it could quite be an adventure locating the falls as there is no trail leading to it.


This remotely situated lake remains frozen during the months of December and January, thus, making it a spot for playing ice hockey and ice skating.
During the rest of the months, visitors can enjoy a calming boat ride amidst the beauty of the surrounding Himalayas. There are a lot of options for eating as well as homestays and lodging options near the lake itself, making it a tourist hub.
Nako Monastery at Nako Village:

One of the most visited Buddhist Monasteries in the state of Himachal Pradesh; the Nako Monastery attracts a lot of pilgrims as well as tourists to the remote village of Nako. The Monastery holds a lot of Buddhist paintings and ancient murals dating way back to the 11th Century.The unique architectural style of the Nako monastery comprises 4 Buddhist temples along with a few other buildings within the Monastery complex.

The exteriors of the Monastery are laid down with the simplicity of Victorian-style architecture, whereas the interiors shout out vast contrast.
The main temple and the upper temple are the oldest structures in the complex, thus, most significant too. The beautiful interiors of the temples would leave you astonished and would provide you with a feeling of calm and peace.

The main temple is also considered to be the oldest building in the whole of Nako, more commonly known as the Translator's Temple.The small white temple in the Monastery complex speaks about the life and teachings of Lord Buddha through its intricate carvings and murals. The last and the fourth temple situated within the complex is known as the Temple of Wide Proportions.

Nako Gompa at Nako Village:
Nako Gompa is another of the hidden attractions of the Nako Village. It is situated on the western edge of the village and perfectly exemplifies an amalgamation of new architectural style with the elements of architecture of the 11th Century. Inside the Gompa are some spell bounding Buddhist murals and sculptures, along with festive dance masks.

Nako Gompa is also believed to be one amongst the 100 monasteries that were founded by "The Great Translator". He was the most important person who brought about the second propagation of Buddhism in Tibet during the 10th and 11th centuries.

Festivals and Celebrations at Nako Village: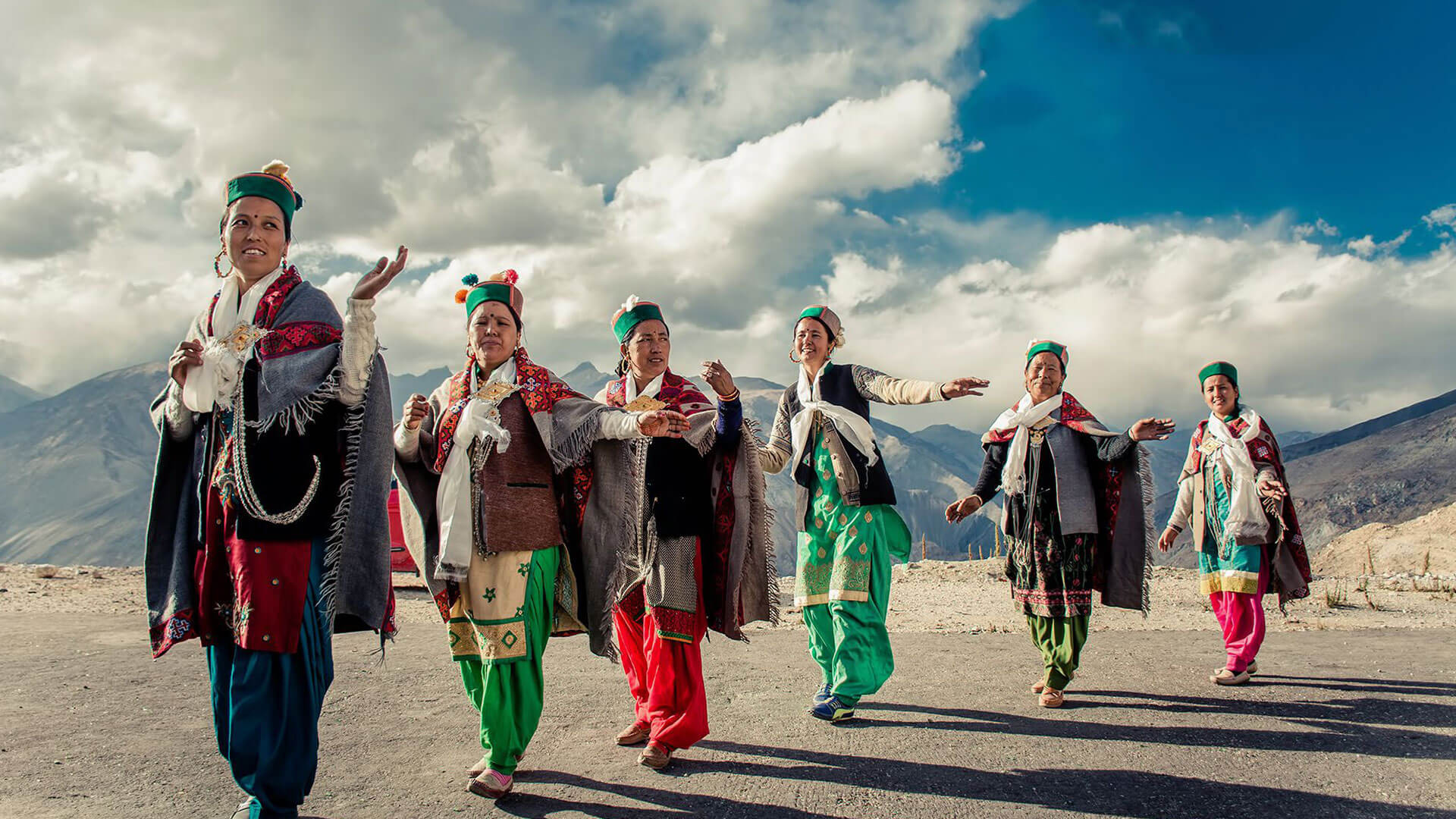 1. Sazo: Sazo is the major festival that is celebrated in the month of January in Nako Village. It is believed that during this day, the gods stay in paradise and shower good things from heaven to their followers. Locals celebrate by indulging in traditionally prepared delicacies and joyfully practice their locally famous stepping dance during this day.


2. Phagul: Phagul is another major festival that is celebrated during the month of February and lasts for at least 3-4 days. It fills up the locals with a whole lot of joy and ecstasy. People worship their local deities, Kali and fast for days to gain their blessings. Each day during this period is signified by a different name. On the last day, people celebrate by preparing a huge feast.


A few other festivals which are also celebrated locally in Nako include Baisakhi, Darkrai, and Beesh.


Places to Eat in Nako Village:
1. Lake View Hotel & Restaurant: Situated just in front of the Nako Lake, the place offers great food with outdoor seating, facing the lake. You can expect great hospitality and freshly cooked delicious food at the restaurant.

2. Traveler's Point Café & Restaurant: If you wish to take a break and enjoy some warm and soothing snacks, with a sizzling cup of tea, the traveler's point café could be a really good option. Do not forget to try out there deliciously cooked Maggi.


3. Himalayan Paradise Restaurant: You can spot the whole Nako village from the restaurant. The restaurant is quite famous for its hospitality as well as for serving traditional local delicacies. You can gorge on their delicious food with an amazing view without burning a hole in your pockets.


4. Nako Gompa: Do not forget to try out the traditional snacks and tea offered by the locals at Nako Gompa. You can also expect some freshly made North Indian delicacies being served at the eateries near Nako Gompa.


5. Lovon Hotel & Restaurant: This place acts as a perfect place to stay as well as to grab a tummy soothing meal. It is situated within a small market offering a lot more to explore.

Places to Stay in Nako Village:


1. Lovon Hotel & Restaurant: A decent hotel situated in the heart of Nako. You can either avail of their private rooms or go for a dormitory, if traveling alone or with friends.


2. Reo Purguil: The accommodation provides its guests with a 24*7 front desk help. The place also features a shared lounge, restaurant, as well as a terrace. Currency Exchange, as well as laundry service is also provided by the host.


3. RIKPA Homestay: A home away from home, RIKPA Homestay offers you free parking as well as a delicious vegetarian breakfast alongside all the other basic amenities.


4. NoyOnMap-Tashi's Home: The property offers a huge balcony with a view of the river. You can enjoy free private parking as well as a beautiful garden to yourself. The buffet option is also available for breakfast. The beautiful views from this homestay make your stay more special.


5. The Norbuling Hotel Pooh: This great accommodation comes along a decent restaurant, terrace, garden, and free WiFi! The hotel sits right in front of the river and provides great views.

Things you will not get in Nako:


Due to the remote location of the village as well as the nearing borders, you shall not be able to avail of some of the luxuries while your visit to Nako. Some of the most significant ones are as mentioned below:


1. Phone Connectivity: Do not expect your phone network to be in place on your visit to Nako, leave apart good internet! You may not even spot any phone booths from where you can make a call. BSNL is known to fetch some network in the village during late hours of the night.


2. Medicare: Try to stay fit and do not fall sick! There is only one medical treatment center in Nako, next to Gompa which can help you only with minor health issues. No well equipped Medicare available anywhere nearby.


3. Bike Rentals: No authorized or local bike rentals are available in the village. However, if you wish to try your hands out, try cracking a deal with some of the locals who may agree upon lending his bike for a day or two!


4. Electricity: Keep your electronic essentials on charging whenever you get a chance. You will find the village out of electricity most of the time throughout the day.


Things in Nako Village which may leave you Surprised:


1. Food: You will spot restaurants serving freshly cooked food from local delicacies to international dishes. Some of the famous restaurants even serve Falafel and Shakshuka. Do not miss a chance to gorge on delicious Momos, Thenthuk, and Thukpa prepared by locals.


2. Shopping: You can spot a lot of small shops selling from products of daily use to souvenirs. You can also shop for Tibetan and Chinese crockery, incense, as well as some decorative and meditative stuff.


3. Locals Speak English: Most of the locals of Nako are well versed with English alongside their local Tibetan dialect and Hindi. You shall be able to communicate easily if you know any of the above-mentioned languages.


4. Women are Head of House: You will find local women dealing with most of the stuff from selling, cooking, handling accommodations, to doing all the fieldwork.


5. Environmentally Conscious Locals: You will find dustbins placed almost every nook of Nako. Most of the households and businesses in Nako make use of Solar Energy to fulfill their electricity needs.


Tips for Visiting Nako Village:


1. Inform your peer: You may not get any internet or phone connectivity in Nako. Therefore, it is advisable to inform you dear ones well in advance about your whereabouts and travel plans.


2. Carry Extra Batteries: Try to carry extra batteries and power banks as you will find no electricity in Nako most of the time.


3. Do Not Litter: Do not litter anywhere in the village, you will easily spot a dustbin nearby. Also, avoid using plastics as it becomes really difficult to recycle for such a remote location.


4. Carry Essential Medicines: Do carry the basic medicines as there is no well-equipped medicare infrastructure in or near Nako.