About Manly Beach
Manly Beach is Sydney's most popular spot to balance the liberty of beach life and the urban charm with a difference. Whether it is surfing you are looking for, or to swim down the deep clutches of the ocean or to shop and dine, you will enjoy Manly.

Situated amidst tranquil interior harbor beach on one side and a popular surfing beach spot on the other, Manly combines a trip laden with fun and adventure.One can take a ferry ride from Circular Quay across the dynamic Sydney harbor to Manly. Corso acts as a bridge that connects the wharf to the surfing beach.

It acts as the primal part of Manly as a part pedestrian place lined with malls, surf shops, bars and pubs.The Corso also has a full-fledged shopping zone and an open space to walk to the tree-lined promenade and a fine stretch of sand. For backpackers and family crowds the beach proves as a great destination to explore.The QueensCliff headland is situated at the northern end of the beach which has a submerged reef located offshore.

The waves created as a result of the reefs provide an exhilarating experience for the surfers. If you stroll down the Corso you likely reach the enigmatic Shelly beach which is a great place water sports like Snorkelling, diving, and picnic. The dive center in Manly also offers Scuba diving classes with certified divers.

If you are interested in taking up the course, it is advisable to opt for the accommodation available close to the Manly surf school.You will also find plenty of beach cafes, bars, and restaurants here. There are some prominent pubs on Corso, which overlook the Sydney harbor.
How to Reach Manly Beach
The Airport is located close to 28.5 km from Manly beach. It takes an average of 30-40 minutes to reach depending on the mode of transportation.

1. Train and Ferry: You can catch a train from the International Airport station which runs every ten minutes. The entire destination will take close to 50 minutes from here. If you like to take a Ferry you can catch a ferry from Circular Quay Wharf 2 and reach the Manly Wharf in about 20 minutes. There is a ferry every 15 minutes.

2. By cab: You can take a cab ride directly from the airport to the beach which will take 30 minutes.

3. By shuttle: You can also take the airport shuttle. There are shuttle tickets available at the airport and it takes close to 30 minutes to reach.
Best Time to Visit Manly Beach
Sydney is blessed with a temperate climate due to the abundant beaches on its turf. The summers are warm but we recommend you to plan your visit in summers between December and February. Every traveler might have a different set of preferences and priorities for a visit.

Hence, if you are looking at enjoying the water sports and other adventure activities, then summers seem a favorable period to visit. But if you like tranquillity and do not want to encounter crowd and noise, you can try the off-peak season.

The autumn season is a good time to experience a peaceful beach surrounding. The sunny weather and warm winds stay a little in the autumn months of May and June too.Based on your preference you can choose the purpose and then visit accordingly.
What Not to Miss at Manly Beach
Manly beach is the highlight of Sydney and it comes as no surprise that you will find umpteen things to do here.

1. Engage in a coastal walk: The cliff top rail connecting Bondi and Coogee is extremely famous for its coastal walks. There is a 10 km track that links the split bridge with Manly via a bundle of clandestine beaches like Fisher Bay, Forty baskets, Sandy beach, etc. The walk along the beach proves to be a meditating experience with fresh views of lovely sea engulfed in enthusiastic waves.

2. Take a ride on the ferry: The ferry ride from Circular Quay to Manly Wharf takes a close 30 minutes. Among the locals and new travelers, this commute is the hot favorite.
3. Eat-out at Manly Wharf: Manly Wharf is a place that exudes leisure and luxury. Over here, you will find innumerable options for hunger pangs. There are several cafes, bistros and high-end restaurants here which will tempt you to pay a visit here. You will find a host of options from fine dining to grab-me on the move options depending on what you want to eat and money you can spurt out.

4. Visit the Quarantine Station: The erstwhile quarantine station has been transformed into a beautiful hotel replete with a cafe, restaurant, and a visitor center. If you want to enjoy the experience, there is no compulsion to become the hotel guest. You will also enjoy the quarantine exhibition center in the visitor's center to enjoy the rich history of the place.

5. Take a cycling tour: There are cycle paths constructed for a stretch of 20 km making it an enjoyable thing to do when you are here. There are cycling guided tours organized here to provide the best tours taking you to extremes of manly. You can also choose to hire a cycle and take a self-guided tour to Manly.

6. Visit the Art Gallery and Museum: The art gallery at Manly doubles up as a museum which is a perfect identity of Manly and Sydney. There are more than 6000 artifacts on display here. These pieces of art are a great way to recollect the enriching history of Australia.

7. Snorkeling: For a surge into the deep blue sea away from the complexities of life, go for the snorkeling expedition. There is also a walk and talk tour organized for snorkelers in which you will love getting to know the rarest of ocean species. After the snorkeling tour, you will then be stationed at the adjoining land where you will be allowed to explore wildlife. The walk and talk tour lasts for not more than 2 hours but it is a thorough exploratory tour that will rejuvenate you.

8. Visit the sea life sanctuary: Yet another thing to do here is to visit the sea life sanctuary which is a repository of diverse species of fishes of the Sydney harbor. The establishment of the sanctuary was done so with the motive of preservation of rare species. You can also take a guided tour in which you can collect information about these rare species.
Other Essential Information About Manly Beach
Clubs and Bars at Manly Beach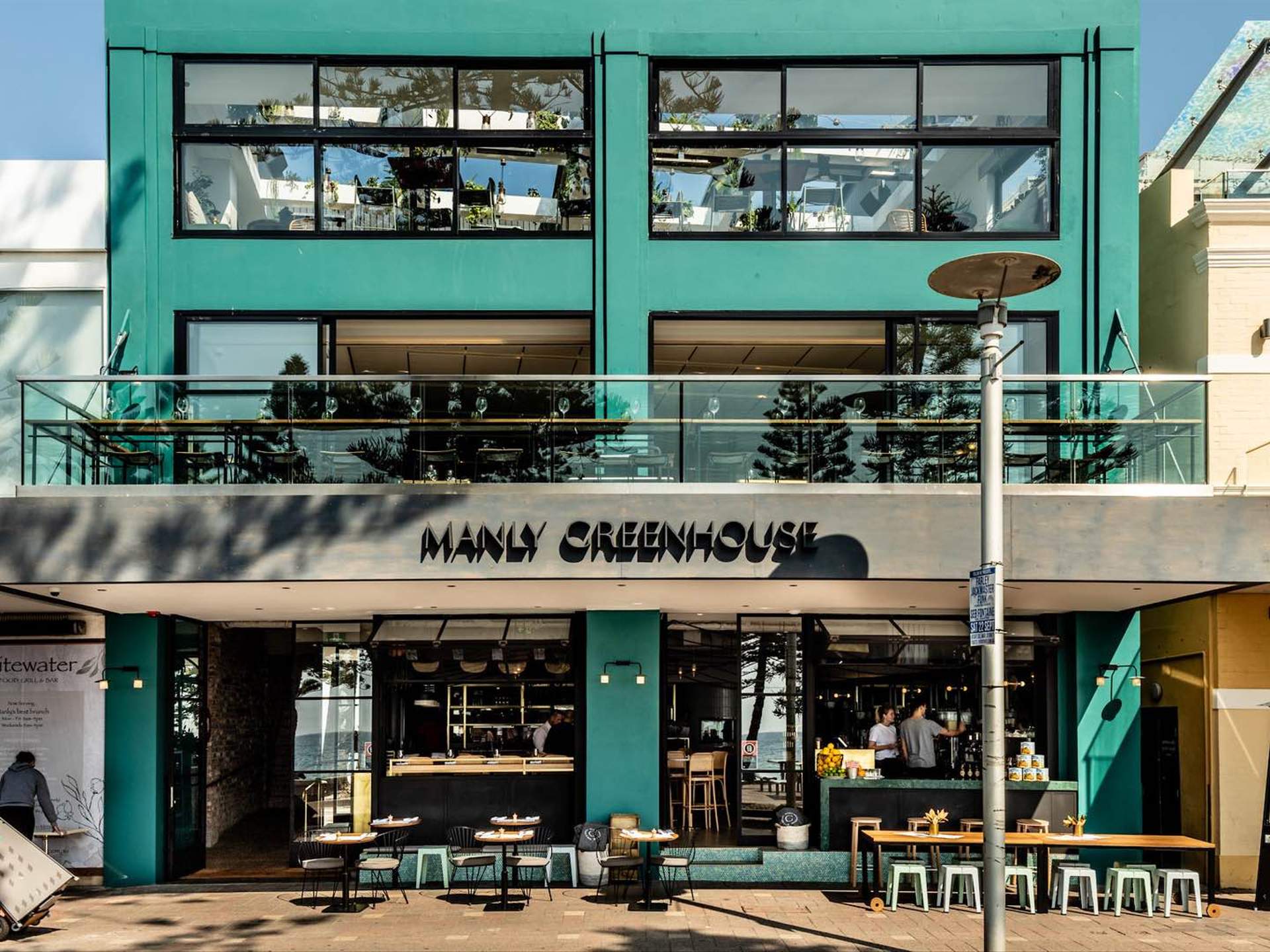 Manly has a great assortment of pubs and bars on its territory. Let us explore a few places which you can enjoy any time of the day, especially the nights.

1. Manly Greenhouse: Located in the Shore Club hotel, the Manly greenhouse is a sophisticated hangout that has a fine-dining option with a rooftop bar and a charcoal grill restaurant. You will enjoy the magnanimous sea views from atop. If you are looking at enjoying some sea-side delicacies then the ground floor is abundant with seafood preparation.

2. The Glasshouse: This green outing has a well-stocked bar with your favorite poison and with food that will leave you wanting for more. The ocean-facing rooftop bar will become your favorite spot when you visit here.

3. Manly wine: To enjoy a cool and casual atmosphere, experience a vast spread of sea treasures ready to be served on your plate. A good company and some great food is the highlight here.

4. Donny's Bar: To get a feel of both cocktails and mocktail with innovation, visit here. The comfort food served here is reasonably priced and offers great taste.

5. Hotel Steyne: This is perhaps the most popular place here. The rooftop bar is right opposite the beach which is why the hotel is one of the most preferred places to go bar hopping.

6. Pines Brewing company: Manly and Pines have a symbiotic relation going for them. And this is perhaps the best way to explain how popular this place is to enjoy your drinks and the aura of the place surrounding you.

7. Sunset Sabi: The list is incomplete without us mentioning this place. You will find a great assortment of drinks from Japanese beers to curated whiskeys.


Places to Stay at Manly Beach


Manly has become one of the popular spots among avid travelers. There are many places in and around Manly beach where you can stay and save up on your traveling costs.

1. Quest Manly: Located adjacent to Manly Wharf, the hotel is a home away from home. You will love the ambiance here and its proximity to the beach and the ferry is the highlight of this accommodation.

2. Novotel Sydney Manly Pacific: You will love the stylish facade of the building which speaks at lengths about the Australian lifestyle. The hotel is located directly opposite the beach and is a mere 18 minutes away from Sydney's CBD.

3. Jacaranda Bed and Breakfast: This tranquil garden setting is one hell of a place to live. Located near the golf course the Jacaranda consists of a kitchenette, fridge, rooms with a BBQ. The Manly beach is only 5 minutes from here.

4. Manly Beach holidays and executive apartments: For business and pleasure this place is apt for those who are looking for affordable solutions. The range of rooms varies from one bedroom to suite to studio place depending on your budget and idea of comfort.

5. Q Station: This is a contemporary take on luxury and privacy. The rooms are done intricately with panoramic views of Sydney harbor. The hotel also has a harbor-side restaurant with a bar.


Manly Beach public facilities


Manly beach being one of the most sought after places in Sydney has sufficient public facilities to put the visitors at ease. The beach has several facilities for the public that include

1. A committed beach patrol community for security.

2. Clean public toilets on the beach premises.

3. Several bin stations to ensure the beach is clean.

4. Many picnic places within the perimeters for you to hang out and enjoy with family.

5. Sufficient parking space which is extremely useful in summers crowd packed time.

6. Electric BBQ to enjoy your smoky wonders.

7. Ocean swimming pools are constructed to give you the leisure of a quiet swim.

8. Several eat-outs and take away joints located close.

9. Sheltered areas present in different spots just in case you need it to save yourself from rains and heat.