About Mall Road
Often acknowledged as the heart of Manali, the Mall Road in Manali is the most attractive tourist destination for the Himachal travelers. Renowned for its street shopping adventure and bustled with heaps of activities, the Mall Road of Manali has got a lot of things to keep you busy for the day. Lined with multiple restaurants, cafes, and dhabas, this place is ideal for those who have got a flavor of bargaining skills deeply rooted in them.

Start your journey through the Mall Road by paying homage at the Nyingmapa Buddhist Temple. It has got the right blend of both architectural flavor and vibrant tones to capture with your DSLRs'.  The Sakyamuni idol is the main shrine here.

Next, this famous commercial center has got a lot of emporiums and shops lined up for you to buy some exquisite souvenirs. The Tibetan Style Handicrafts found here are simply astounding.

You can even the sweet smelling Tibetan-styled incense sticks and intriguing singing bowls at some of the shops here. There are some shops at the Mall Road selling Kullu and Kinnauri shawls in a wide array of flamboyant patterns and colors.

Some other local souvenirs to dig at the Mall Road are prayer wheels, Kullu Caps, Thangkas, Dorjes, Bamboo souvenirs, Buddhist paintings, keychains, nameplates, and turquoise and silver jewelry, etc.

Shawls, Tibetan jewelry, tweed jackets, and handicrafts are somethings you should never miss on while strolling here. Apart from these, the Mall Road in Manali features Thai Market, Dragon Shopping Complex, Hong Kong Market, New NAC Market, Shangri La Shopping Complex, and Snow Lion Underground Market.
How to Reach Mall Road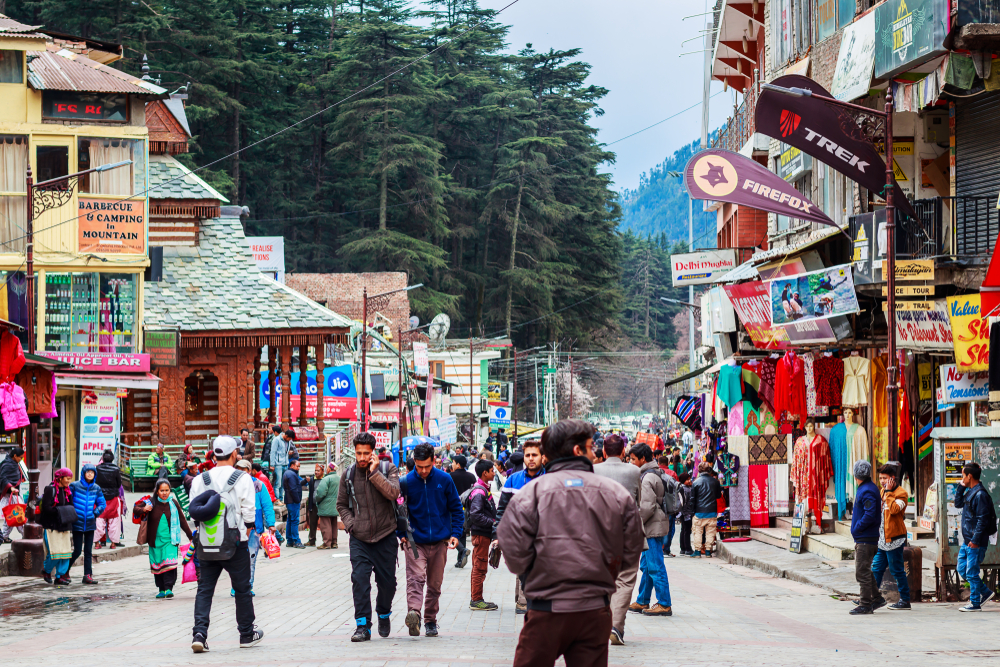 The Mall Roa, Manali is located within a range of 200.0 metres from the city centre. You can easily traverse this distance by a rental cab ride and get transferred from the city center to the Mall Road within 5 to 10 minutes. Else, as the distance is quite short, walking will be the most convenient option for you to reach your final destination.
Best Time to Visit Mall Road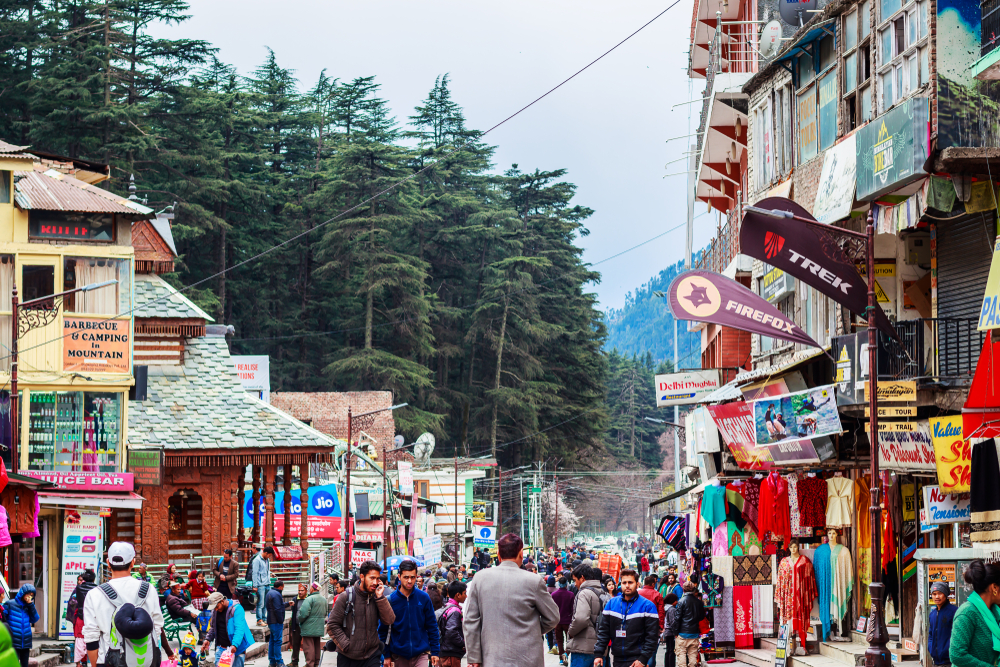 Manali experiences its winter session from October to February. The chilling pleasure of fresh snow creates a pleasing atmosphere for you to plan on a weekend journey to the Mall Road, Manali. This is the time when the scenic beauty of Manali is amplified ten-folds.
What Not to Miss at Mall Road
Things to do near Mall Road Manali –



Here are some outstanding ideas to enjoy at the Mall Road in Manali –

1. Shop some Tibetan and Himalayan Handicrafts at the Mall Road – Right from Tibetan style incense sticks to intricately carved furniture, Tibetan and Himalayan Handicrafts Stores at the Mall Road, Manali has got it all.

2. Get some woolen clothing for upcoming winters – Whether you are in search of cardigans or sweaters or mufflers or warm wool caps, Mall Road of Manali is nowhere less than a real woolen shoppers paradise. A showroom named Himachal Emporium selling branded clothes, locally designed woolen clothes, wooden products, and jewelry is located here on the Mall Road.

3. Buy some exquisite Kullu shawls – Kullu shawls available at the Mall Road market of Manali are simply gorgeous! The vendors here sells a plethora of designer shawls to perfectly twin in with your dress.

4. Imbibe religious vibes with the high-quality prayer wheels – Grab hold of some exquisite prayer wheels from the Mall Road in Manali. Tibetan-style prayer wheel is a cylindrical object which turns around its axle fixed atop a long handle.

5. Kullu Caps – Now, when you've finally landed at Manali, take full advantage of this opportunity and grab some traditional Kullu Caps from the shops at Mall Road in Manali. There are numerous counts of shops selling attractive Kullu Caps at the Mall Road.

6. Dorje's – Tibetan-style dorje's are weapon-like structures. They are occasionally used as ritual objects for symbolizing the properties of both a thunderbolt and a diamond. The Dorje's sold at the Mall Road makes a perfect backpacker gift for all your friends, family, and relatives.

7. Eat your heart out at the restaurants and cafes on the Mall Road in Manali – Apart from being a renowned shoppers paradise, the Mall Road of Manali is equally well-known for the eateries and cafes it shelters.

After a tiring stroll through the Mall Road, you can seek some relaxation at these places and sip a cup of your favorite drink or grab a sumptuous local meal. Besides, Mall Road has got a wide array of dhabas to stalls and fancy restaurants for every foodie to fulfill the cravings of their stomachs.

8. Seek blessings at the Nyingmapa Buddhist Temple, Mall Road, Manali – Situated amidst a busy road of Manali, this temple still has got a soothing silence to calm your frazzled nerves. You can click as many pictures of this temple from outside as it features the brilliance of a Pagoda architectural style.

9. Go for a night stroll along the Mall Road – 
The Mall Road of Manali is a famous night market too. So, if you are here on a Manali tour and find it difficult to visit the Mall Road in the daytime, you may take a night stroll. Just make sure that in the dim light, you thoroughly check for all the items that are sold there. 

Attractions near Mall Road Manali - 


Being acknowledged as a popular backpacking destination, Manali features a wide array of tourist spots suitable for every age group. Here's a list of some of the best attractions to explore while you are on your go-to the Mall Road in Manali –

1. Hadimba Temple – This is one of the most beautiful shrines entirely dedicated to the Hadimba – wife of Bhima. Situated amidst the pine cover of Dhungri Forests, Hadimba Temple is known both for its architectural brilliance and religious sanctity.

Timings – 08:00 am to 06:00 pm.

2. Museum of Himachal Culture and Folk Art – This museum is located within the close proximity of the Hadimba Temple. It showcases a wide array of ancient and modern antiques. There are religious relics, instruments, weapons, household objects, and scale models here.

Timings – 08:00 am to 08: 00 pm.

3. Tibetan Monasteries – This place is acknowledged as one of the most important settlements of the Tibetan community in Manali. You can find a wide array of beautifully crafted Tibetan arts and craft exquisites here.

Timings – 07:00 am to 07:00 pm.

4. Vashisht Temple – The Vashisht temple of Manali is a popular tourist destination for its hot water springs. The temple is shaped in the form of a giant pyramid stone.

Timings – 07:00 am to 02:00 pm and then from 02:00 pm to 10:00 pm.

5. Jogini Falls –  Jogini Falls of Manali has a breath-taking view and is widely acknowledged as a top-rated tourist destination of Manali. The stunning views in the backdrop, melodious tune of Mother Nature, and sumptuous Himachali delicacies together make this place an adorable one for both nature lovers and backpackers.

Timings – Before sunsets 
Other Essential Information About Mall Road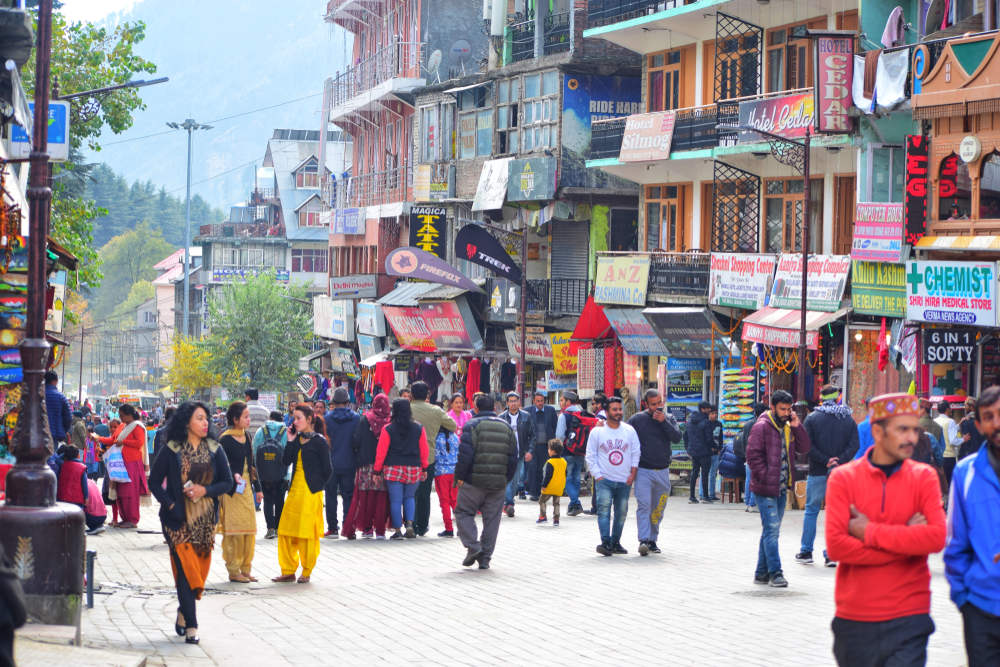 Location – The Mall Road is located at the Main Street of Manali in Himachal Pradesh.

Timings – The Mall Road in Manali remains functional on all days of the week from 09:00 am to 09:00 pm.

Average Temperature – Manali faces an average temperature of 15.1 degrees Celsius throughout.

Minimum Duration Required – You just need a day to explore the entire Mall Road of Manali.

Distance from Nearest Airport - Bhuntar Airport is the nearest airport to travel to the Mall Road in Manali. It is located at a distance of 50 km from Manali City center. From the city center, Manali Mall Road is located at a distance of 200 meters, which is easily traversed by a walk.


Places to Stay near Mall Road Manali - 



Here's a list of some of the best places to settle down during your visit to the Mall Road, Manali –

1. Hotel Central View – Understanding the requirements of their guests for a distinctive nationalities and cultures, Hotel Central View offers comfortable accommodation and fine dining option. The availability of the best services, facilities, and hygiene makes it a first choice for the Manali travellers. Apart from this, the staff of this hotel, takes sufficient care of their guests entertainment with their sightseeing and adventurous activities.

Location – Mall Road
Price – 530 INR per night

2. Apple Blossom – Apple Blossoms is tucked in such a beautiful spot where every room serves you with some delightful views of the surrounding mountain ranges. Rooms are well-equipped both with flat screen TVs and air conditioning systems. Some rooms even have a separate dining facility.

Location – Mall Road
Price – 494 INR per night

3. Hotel Shingar Model Town Mall Road Manali – Hotel Shingar Model Town at the Mall Road Manali is a straightforward budget-friendly hotel featuring a good restaurant, free Wi-Fi connectivity, recreation and other sightseeing adventures. Every room here features rivers and the surrounding scenic views.

Location – Mall Road 
Price – 400 INR per night

4. Goroomgo Adarsh Annexe Manali –  Goroomgo Adarsh Annexe Manali Hotel is situated amidst a hustling town and is perfect pick for all those who are seeking an affordable option. This amazing hotel features deluxe rooms, super deluxe rooms, honeymoon suites, and family suites.

Location – Mall Road
Price – 2750 INR per night

5. Hotel Pushpak Mall Road – At Hotel Pushpak, every room has got its personal closet, flat-screen TV, a private bathroom, and a 24/7 room services to ensure the comfort of their guests. Some rooms may even have their personal seating areas while others may have it on shared basis. Here, the guests enjoy kosher breakfast every morning to start their day with.

Location – Mall Road
Price – 3359 INR per night


Places to Eat near Mall Road Manali - 



As hard you fall for the scenic, and panoramic beauty of Manali, so will be the case with eateries. Here's a list of some of the best dining places to head towards after your tired return from Mall Road in Manali –

1. Mount View Restaurant – This is a representative of the oldest elegant dining outlet available in Manali. It is known to serve some of the supreme quality exquisites – Indian, Tibetan, Japanese, Chinese, Italian, Continental.

Location – Mall Road

2. The Open Air and Multi-Cuisine Restaurant – It is a part of The Orchids Green – a 3-star hotel where you can sit and enjoy your family lunch with the picturesque beauty of the hills in its backdrop. Besides its elegant ambiance, it serves utterly delicious local cuisines and other international variants.

Location – Log Huts Area

3. Renaissance Manali – This hotel is situated amidst a busy locality in Manali. Be it either a sumptuous meal or merely grabbing some munchies over fine music, this place is undoubtedly going to be a win-win situation for you.

Location – Old Manali Road

4. Rooftop Restaurant – Rooftop Restaurant has got calm and serene ambiance, and some picturesque views in its backdrop. The cuisines served here are simply delectable and you can enjoy it while embracing the hilly beauty of Manali.

Location – Naggar Road

5. Basil Leaf Restaurant – This restaurant is the classiest choice for romantic couples to enjoy a candlelight date on their tour to Manali.. If you had a chance to reach here in late evenings, do not miss on their bonfire and barbecue combo. It is always better to pre-book your outdoor seating so that you don't end up losing this barbecue treat.

Location – Naggar Road


Tips for Visiting Mall Road Manali – 



1. The Mall Road of Manali is equally famous for night shopping as it is for the day shopping.

2. There are numerous restaurants there on Mall Road to satiate the appetite of your stomach cravings.

3. Mall Road Manali shelters several national and international brands. It has also got a wide array of local handicrafts of the Manali residents. So, to get it at the best price, make sure to imbibe excellent bargaining skills.This will help you to get your desired items at a reasonable price.

4. You do not need to carry heavy loads of paper money in your wallet. Most of the shops on the Mall Road offers cashless services where you can make payments via UPI transfer or credit/debit cards.

5. There have been robbery and pickpocketing incidences in the near past at the Mall Road of Manali. It is therefore better to avoid carrying expensive stuff to the market during your visit there.