About Lamington National Park
Lamington National Park is well known for its natural environment and furthermore for its immaculate mountains, strolling tracks, birdlife, antiquated trees, and rainforests. It lies on the Plateau of Lamington, Queensland fringe, Australia which is spread over 51,000 sections of land. Lamington National Park is home to more than 180 species, some of which are about to go extinct and this is one of the best places to go in Gold Coast.        
The National Park is 30 kilometers from the Pacific Ocean and is built 3000 feet above sea level. It is constituted with two segments that are Binna Burra and the Green Mountains. Green Mountain stands on the Western Lamington plateau area, known as O'Reilly, a major natural attraction of Australia. On the other hand, Binna Burra is a mountain lodge, situated in the midst of the national park, surrounded by all kinds of flora and fauna. It is the first Ecolodge to be established in Australia.
The park is famous for hiking and bird watching. In addition to these, the tourists come here for bushwalking camping, for a picnic with friends and family. Along with nature retreat, the park also offers many activities such as mountain biking and cycling, four-wheel driving, horse riding, fishing, rock climbing, and more such activities. The National Park was featured in the Australian National Heritage List in 2007 and is now a UNESCO world heritage site.
How to Reach Lamington National Park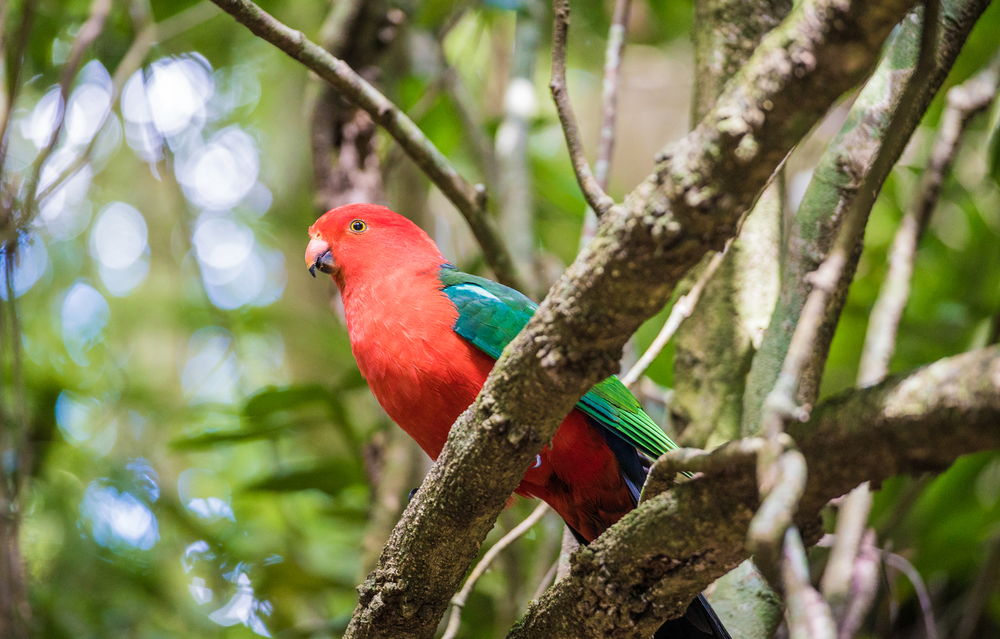 Lamington Park is 65 kilometres from Gold Coast Airport, which is 1 hour 22 minutes drive via the Beechmont Road. You can hire a bus, taxi or a car from the airport to reach the park. The fare will cost Rs. 7,000 to Rs. 9,000. The most economical way to reach the park is self-drive, which will have a total cost of Rs. 600.
Best Time to Visit Lamington National Park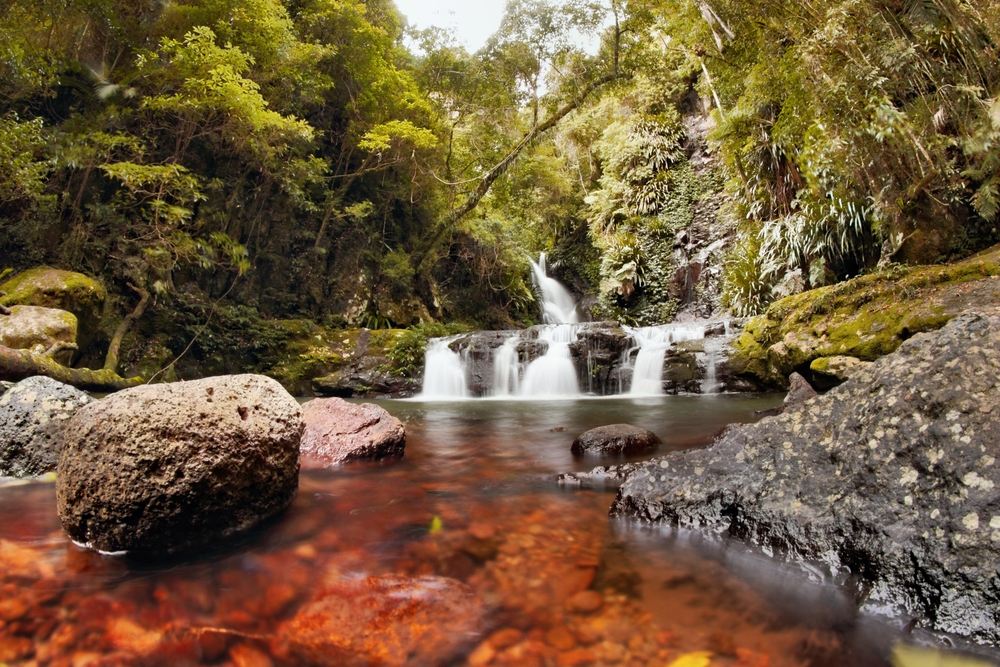 The best time to explore the national park is in the winter season which lasts from June to August. The humidity is low at this time and the cold winds make it an ideal season to explore the natural habitat. 
The second favourable month is September to November which is the springtime. It also rains or snows 2-3 days a month which makes it a suitable time for exploration. The fall time is a less favourable season among tourists, which begins in March and lasts until May. The weather is hot and humid at this time. However, this is a good time to get budgetary deals. 

Travellers who want to enjoy the hot weather can also travel in summer, December to February, when the right amount of rain and snowfall occurs and the weather is mildly hot. It is also the right season to get a good deal as the tourist season is low during this period.

What Not to Miss at Lamington National Park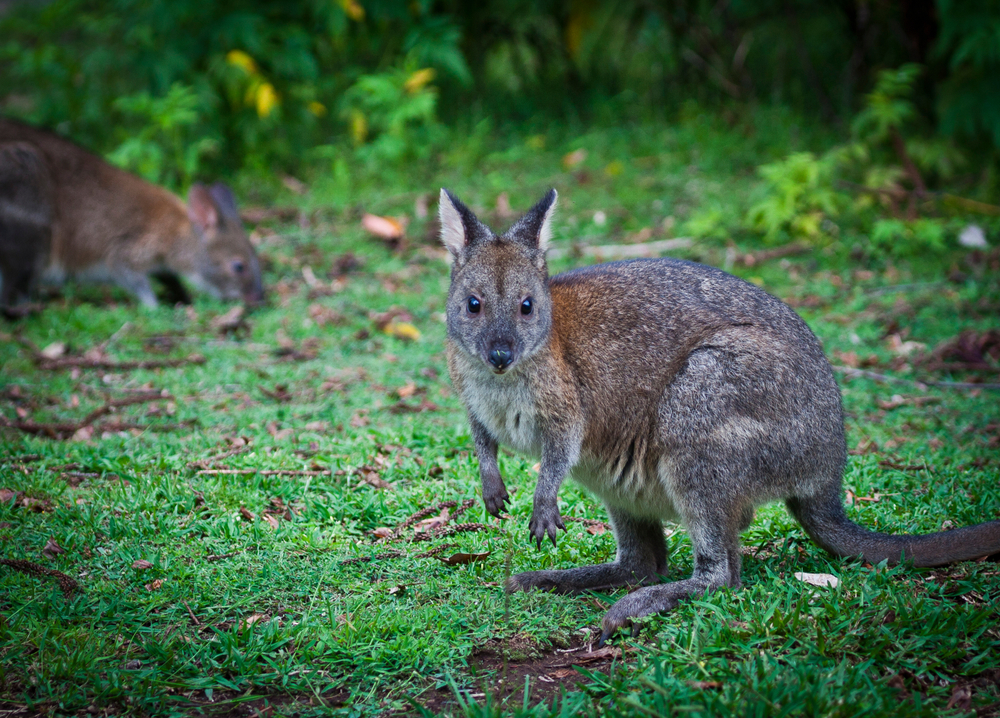 Following are the things to do in Sea World Gold Coast to make the most of your trip-
1. Meet Nickelodeon Characters

Meet your favourite Nickelodeon Characters from SpongeBob to Teenage Mutant Ninja Turtles in Nickelodeon land at Sea World Gold Coast. The kids also enjoy the Nickelodeon theme ride, Donatello's Ninja Flyer.

2. Meet Canadian Polar Bear

One of the major attractions of the Sea World Gold Coast is the Canadian polar bears. The two brothers, Nelson and Hudson, and Henry Polar Bear with his mother Lia show viewers their talent of diving and hunting fishing. You can watch their every movement, from eating to sleeping, through the long window pane, which gives an unrestrained view of the bear family. To get to know better about polar bears, the shores also have an in-park education table that teaches guests about the species and the threat of their extinction.

3. Castaway Bay

Castaway Bay is a complete family adventure boat featuring many exciting rides including Sky Fortress, Battle Boats, and Sky Climbing. The ride is filled with exciting levels where children can climb and creep through ropes, slides, and bridges. Not only children but also adults can enjoy this pirate ship to the fullest.

4. Get on a Jet Rescue

Jet Rescue is the rollercoaster ride that will make your adrenaline rush with its 70 km/hr speed. All you have to do is plump on the jet ski and go on a rescue mission to rescue a sea lion trapped in a cave. You will pass through rock pools and caves which will make this rescue mission more exciting.

5. Watch SpongeBob 3D Show

SpongeBob 3D Show is a hilarious adventure show where you can enjoy underwater adventure with Patrick, Plankton and their friends as they go on a rescue mission of Bikini Bottom Jellyfish.

6. Shark Bay

In Shark Bay, you can meet and see some of the most dangerous and beautiful sea creatures such as tiger sharks, sea turtles from the glass window. These immense glass windows offer a look into the life of sharks as they float past in the gigantic Shark Lagoon.
This impressive two-tier display offers two viewing options- underwater and top. Furthermore, there is a touch pool, a snorkel, and a plunge tidal pond pool, and if you are a certified diver then you can also take a dive with sharks.

7. Meet The Penguins

You will get to meet the world's largest species of penguins, the King penguins and the enthusiastic and enlivened Gentoo penguins at Sea World Gold Coast.  You can watch these staggering birds diving, walking, and having fun.

8. Meet the Dolphins

Visit the dolphins to get the most fascinating experience. There are two other huge tide ponds that are home to offshore bottlenose dolphins and some other baby dolphins. You can also click pictures with them and get it as a souvenir.

9. Sea Jellies Illuminated

One of the best exhibits of Sea World Gold Coast is Sea Jellies, where children will learn about the life of Jelly Fish.

10. Witness The New Atlantis 

Sea World has now opened The New Atlantis for thrill lovers, in which you will get to experience three new rides inside the theme park. The Trident, The Vortex, and The Leviathan. These powerful and thrilling rides will give you a different adventure where you'll discover fun like never before.
The Trails of Lamington National Park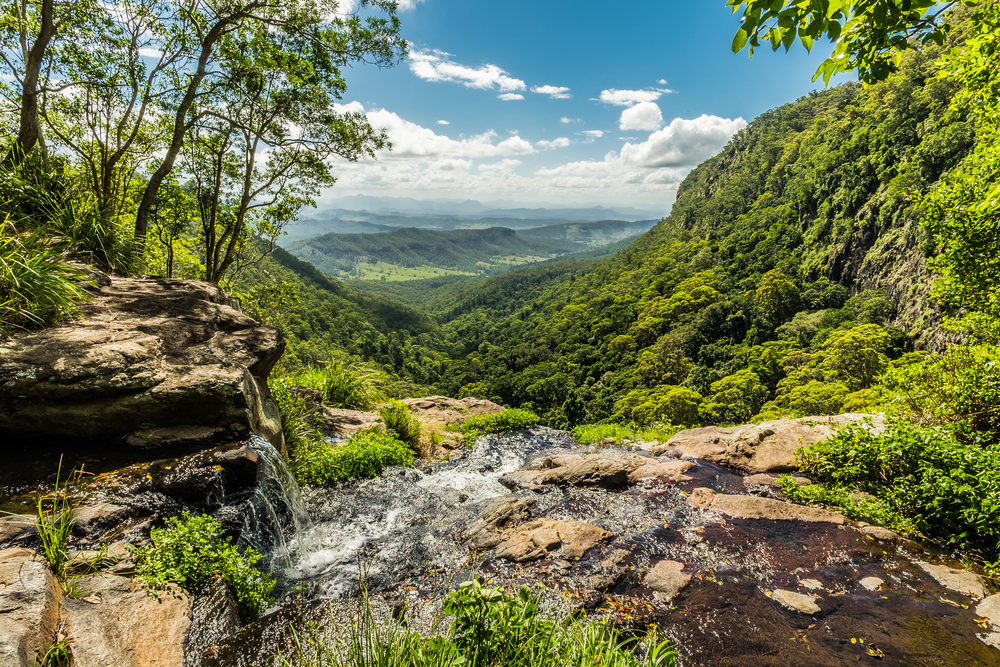 Lamington National Park has more than 10 trails. Here is a list of some of the best trails in Lamington Park.
1. Booyong and Treetop Walk
Booyong and Treetop Walk is the easiest trail in Lamington National Park. It's 9 km which can be accessed by anyone. It also provides wheelchair facilities for the needy. There is no fee required for this trail, it is free of cost. 
There is a bridge on Booyong Walk from where you can enjoy bird watching. Birds can be seen here in the morning and afternoon. The Booyong Walk also includes a picnic facility and a washroom facility. This trail takes 5-6 hours to complete so it is advisable to bring sunscreen, water and a cap with you.

2. Border Track
The border track is located between Binna Burra Lodge and O'Reillys Rainforest Retreat, which is a 22 km route. It takes 7 hours to complete one way. Here you can enjoy the spectacular view of wildlife and waterfalls.

3. Moran Falls
Moran Fall offers a spectacular view of Moran Falls and Moran's Creek Gorge. It has a maximum height of 912 meters and a total climb of 250 meters. It is an easy trail with a short hike with a total distance of 6.2 km which will take approximately 2 hours to complete.

4. Mick Tower and the Wishing Tree
Located below O'Reilly's Retreat, the wishing tree track is  2.4 km.  Here you will also find an observation tower that will help you to see many species of birds. Mick's Tower is an observation deck that is 18 m high and from here you can see all the flora and fauna surrounding the breathtaking natural environment.
5. Picnic Rock and Elabana Falls
Picnic Rock and Elabana Falls is a 7.2 km trail. The road to the trail is hilly and the roads here are irregular. It is a moderate level trail, so you need to be fit to complete it. This trail is best for walking, hiking, and bird watching.
Places to Visit near Lamington National Park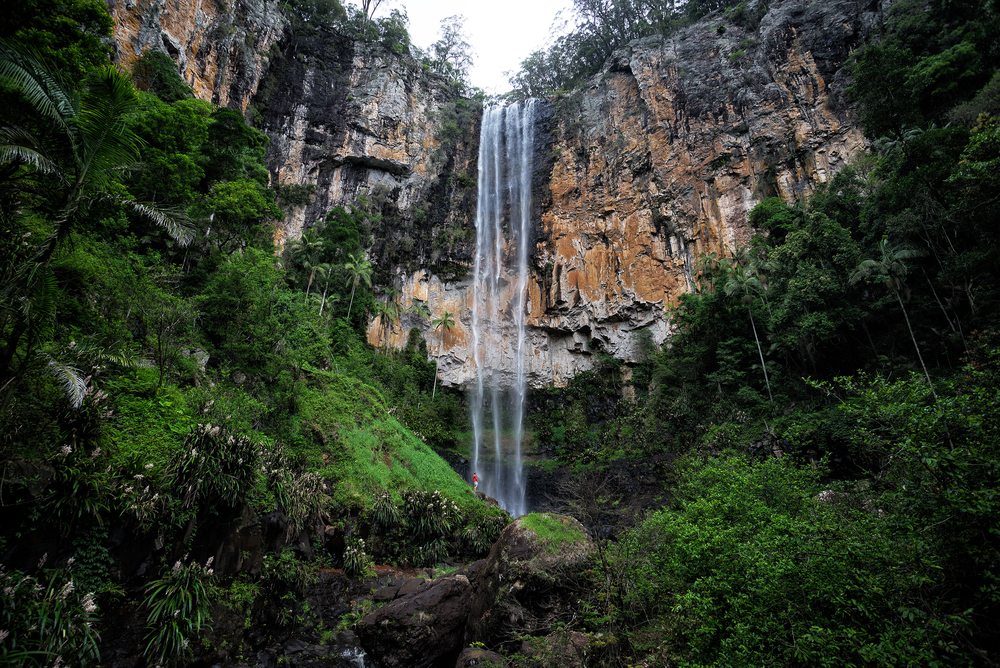 1. Hinterland Regional Park

Located 45 km from Lamington National Park, it is a regional botanical park where you can learn about various plants as well as how to restore and repair them. Other activities that can be done here are horse riding, and bushwalking. The park is open 24 hours and has the facility of barbecue, picnic tables, as well as toilets for differently-abled.
2. Elabana Fall

Located 2 km from the National Park, Elabana Fall is a wonderful beauty of nature. The fastest and easiest way to reach this waterfall is by walking through O'Reilly's track. Walking through this track you will witness many animals and birds.
3. Purling Brook Falls

Purling Brook Falls is a horsetail fall, from where water falls like a river. It is located in Springbrook National Park, 14.5 km from Lamington National Park. Purling fall is open for swimmers. The beautiful view of this waterfall nestled among the forest fascinates all tourists. It is open 24 hours, but it is advisable to return before the evening.
4. Morans Falls
Located in Morans Creek, Morans Fall is located in the Gondwana rainforests. The falling waterfall of 80 meters appears like a falling rainbow, that captivates the eye of the viewer. It can be reached via the Morons Falls track, which is a 4 km track, which will take about 1.5 hours to reach. It is open 24 hours.
5. O'Reilly's Rainforest Retreat, Bird Feeding

O'Reilly's Rainforest Retreat is full of activity areas. One of which is bird feeding. Here you will find 230 species of birds. The beauty of this place is that birds are not kept captive and they fly in the open sky where you can play with them and feed them. There is a feeding area in the park where birds will swoop in your hand in search of food. The area is open from 11 am to 3 pm. The feeding bowl is priced at $ 4 i.e. approximately 196 Indian rupees.
6. Egg Rock

The Egg Rock, also known as the Kurraragin, is located in the Numinbah Valley. It is the best place for rock climbing and to get a panoramic ​​view of the national park. It is within walking distance from Binna Burra.
Other Essential Information About Lamington National Park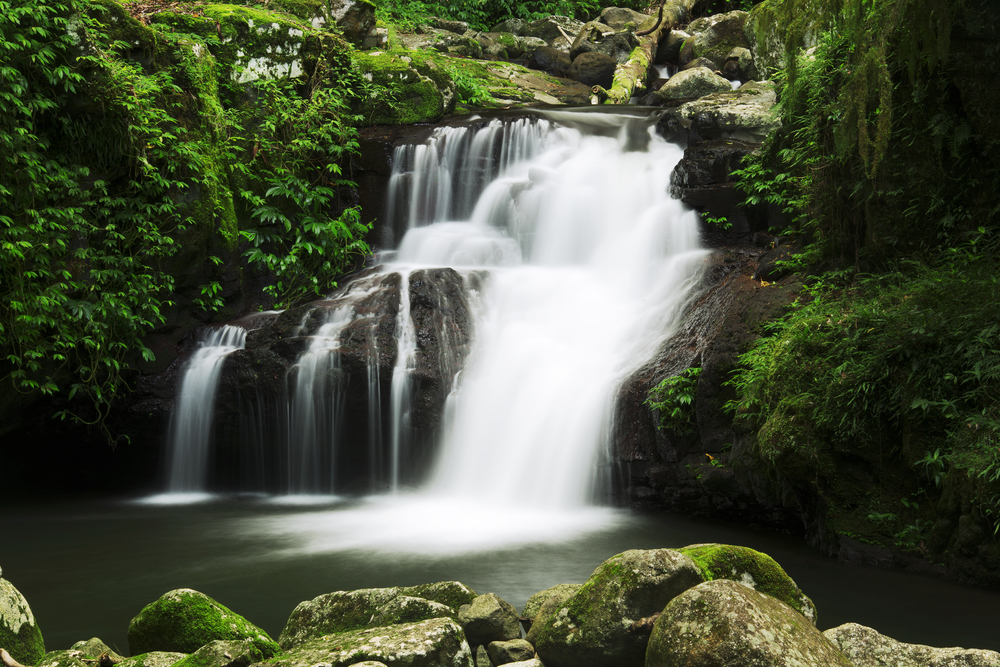 Location: 
It is located in Queensland, Australia. It's 110 km from South Brisbane. 

Timings:

Lamington National Park is open 24 hours. The park has two offices in Binna Burra and Green Mountains which open from 7:30 am to 4:00 pm Monday-Friday. Whereas from 8:30 am to 3.30 pm on weekends.

Entry fee:

You must book in advance for camping locations. The per-person price for the night is $ 6.65 and for a family night, it is $ 26.60.

Distance from Gold Coast Airport:

The distance of Lamington National Park from Gold Coast Airport is  65 km. The fastest route to reach the park is by Beechmont Road.

Flora and Fauna of Lamington National Park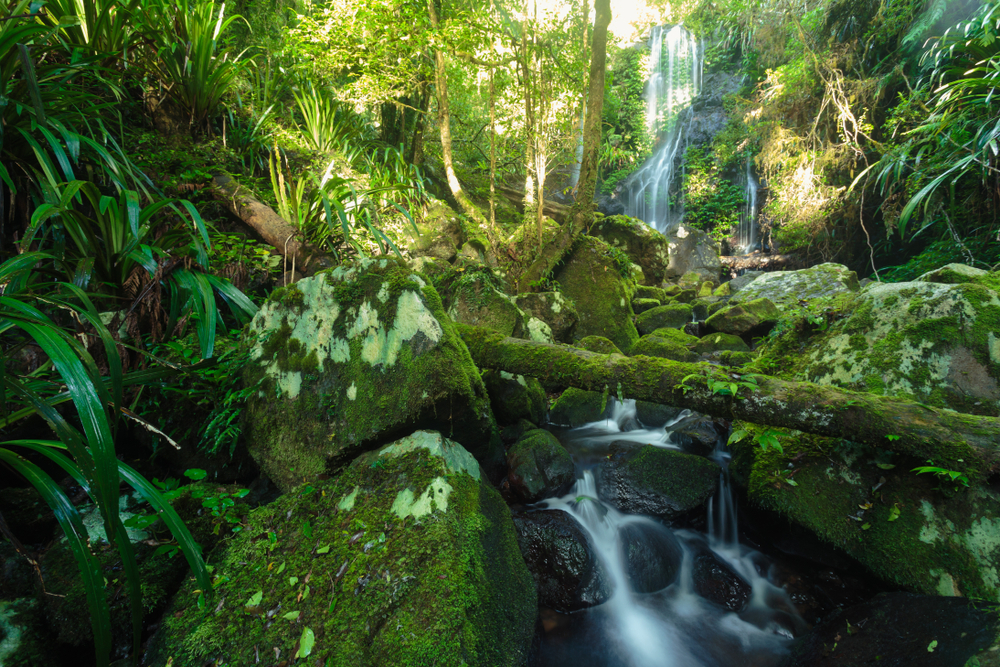 Lamington National Park has diverse environments and subtropical forests that preserve some distinctive flora and fauna. 
-
Flora

Lamington National Park has rich plantations that are found only here. Here one can witness a variety of rainforest with a 3000-year-old tree. The Lamington National park also rescues Araucaria cunninghamii, Australia's largest remnant of hoop pine.


The major tree species found in the warm subtropical rainforest is Argyrodendron Trifoliolatum which is also commonly known as White Boyong in New South Wales. Along with this, Argyrodendron Actinophyllum is also found here, which is commonly called Black Boyong. It is the largest rainforest tree in Australia. Apart from these Karrabina benthamiana, Sloanea woollsii, Pigeonberry ash, Caldcluvia paniculosa, and Rosewood can be found.


A rare species of sweet-smelling plant called Pittosporum will also be found here. The last flora of the ice age, Peach Myrtle and Euphrasia are also found among these dense forests. Endangered species can also be seen in Lamington such as strangler figs, and Sarchochilus orchids.


- Fauna

Lamington National Park has a rich fauna where sightings of variegated animals can be seen. It is home to many bird species and animals, which are found only here. The park also preserves many species that are on extinction. This large wildlife has also protected prehistoric reptiles such as land mullets, carpet pythons, and lace monitors.


The National Park is known for its rich birdlife where more than 100 species of birds are found, including the smallest Australian parrot, and southern fig parrot. Along with these, they share a home with the second-smallest bird species, Richmond birdwing, and Albert's lyrebird.


In the wildlife of Lamington, the world's weirdest creature, the blue Lamington crayfish, is also seen, which only be found in the Lamington Plateau. These Crayfish are also known as Yabby.
Other threatened mammals such as a large-eye pied bat, from the family of Vespertilionidae, beech skink, platypus, regent bowerbird can also be spotted in the park. 
Where to Stay in Lamington National Park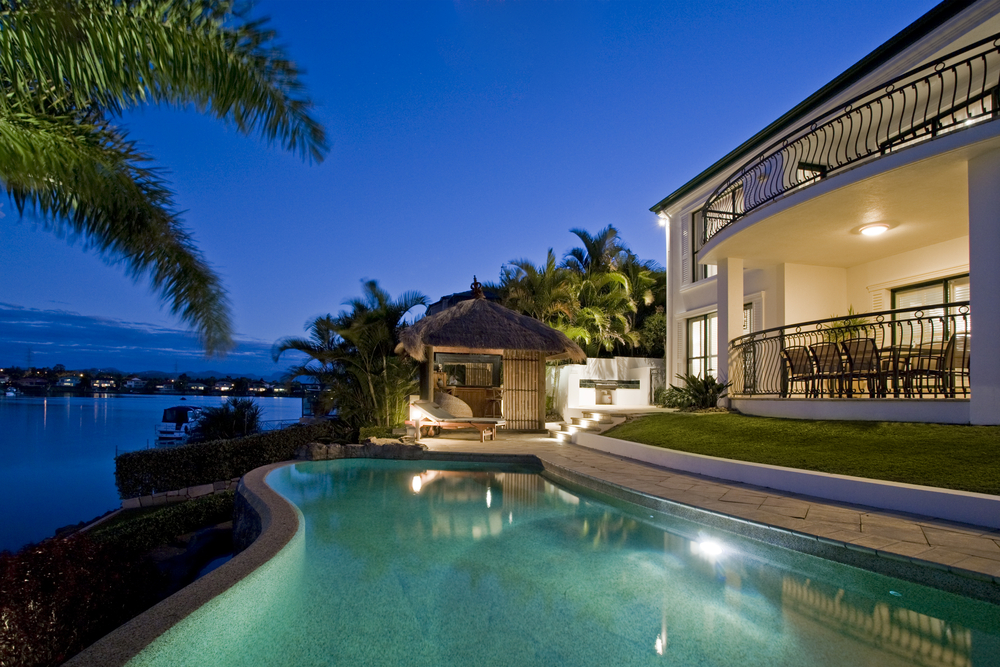 1. O'Reilly's Rainforest Retreat
O'Reilly's guesthouse is located a short distance away in Lamington National Park. It provides Mountain View Studio, Mountain View Room, and a three-room villa. To provide an unforgettable experience to their guests O'Reilly's also offers some of the best activities in the middle of the forest including glow worm experience, sunset experience, tea walks, Segway safari and many more.

Price: ₹6000 per night.
2. Wongari Eco Retreat
Located a short distance from Lamington National Park, Wongari Eco Retreat offers cabin accommodation in the midst of the wilderness. It is also a pet-friendly resort. All the cabins here are river-facing and you can also enjoy the lush green gardens, barbecue, and a sun terrace in Wongari Eco.

Price: ₹12000.

3. Binna Burra Lodge
The campus of Binna Burra is wrapped in the subtropical rainforest of Lamington National Park. Binna Burra Lodge offers Eco-friendly studios and apartments and campsites for stay. The lodge has free wifi, a free parking area, a spa, and many other facilities. You will also find a golf activity area in the Binna Burra campus.

4. Ridge Cottage National Park
Built-in stone, Ridge Cottage is situated in a natural setting of Lamington Park which provides you with facilities like kitchen, dining area, fireplace, etc. The cottage offers you to stay a minimum for 2 days to enjoy the tranquility and calmness of the park.

Price: ₹7000 per night.

5. A Rainforest Cottage 
A Rainforest Cottage is a hideout set in the birding paradise of Lamington National Park, Australia. The Cottage is fully equipped with a heater, barbecue, and a private garden. The cottage also has a free parking facility on its premises. 

Price: ₹6000 per night.
Traveler's tips before Visiting Lamington National Park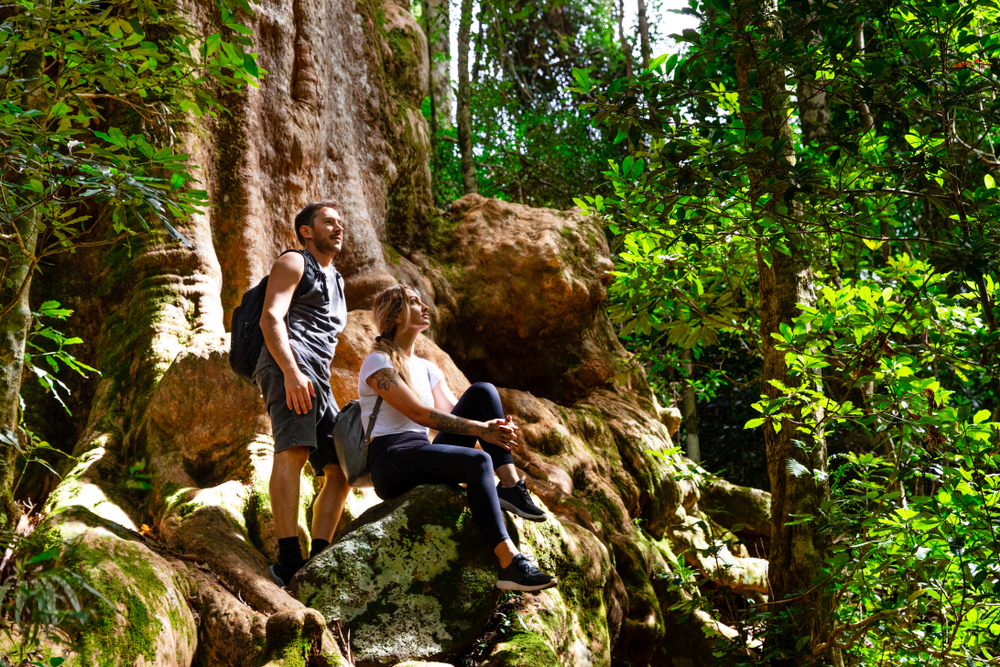 1.
Take raincoats and warm clothes with you as the weather in Queensland can change anytime.

2. Take comfortable shoes with you. Since the road is not smooth, it is better that you wear hiking shoes and not any fancy shoes.


3. Do not forget to carry sunscreen and a hat with you because the scorching sun here can burn your skin.


4. Pack some instant food, torch and first aid kit with you.


5. Domestic animals are not allowed in the park. So don't bother to take them with you.


6. Because it is wildlife, it is dangerous to walk here at night, especially when you do not keep any lighting with you.


7. Always carry a park guide and map with you and bring binoculars and a camera to watch and capture wildlife animals.