About Lake Geneva
One of the largest lakes in Western Europe, Lake Geneva is shared between Switzerland and France. Located on the north side of the Alps, the natural beauty of the lake and its surrounding area, make it a popular tourist attraction.

Shaped like a crescent moon, Lake Geneva is home to different landscapes, depending on where you are. When coming from the eastern side, you can enjoy the breath-taking view of the Alps. While on the northern side, you can enjoy vine-covered slopes with villages and castles. The lake is also home to varied wildlife. The common buzzard and the red kite can be found in plenty.

Covering an area of 7975 square kilometres, Lake Geneva is also popular for a number of water sports. From sailing, windsurfing and boating to rowing and scuba diving, one can enjoy a number of leisurely activities. Swimming events and yacht racing are two of the most popular events at Lake Geneva, and are major crowd pullers. In fact, the yacht racing festival is a much-awaited festival in the area where participants develop high-performance catamarans just to compete.
How to Reach Lake Geneva


Lake Geneva is approximately 46 kms from the Geneva Airport in Switzerland. There are multiple ways of travelling from the airport to the lake.

Bus- Regular buses are available at the airport that will take you directly to Lake Geneva. You can also choose to step out of the airport, and then take a bus from the Geneva stop to the lake. Get off at Mottay or Cedres, the closest bus stops to Lake Geneva.

Railways- Geneva airport has its own railway station that serves various destinations in Switzerland. You will easily find trains that will take you to Lake Geneva. Evian-les-Bains is the closest train station.

Taxi- If you don't want to wait for trains or buses, simply hire a taxi at the airport. Enjoy the local beauty and nature as you reach Lake Geneva in comfort.
Best Time to Visit Lake Geneva


Summer (June - August) is the best time to visit Lake Geneva. The weather is mild and breezy, with cool evenings. You will get plenty of sun, with occasional rains, that makes it the best time to enjoy water sports. You can also enjoy a cruise in Lake Geneva at this time. If you plan it in advance, you can attend two key festivals of Geneva - Lake Parade in July, and Fetes de Geneve in August.

But if you are a fan of snow-covered mountains then December to April is the time for you to visit. The temperature can dip below -2 degree Celsius, and Alps appears in its full beauty. Skiing is a major event, and tourist attraction at this time of the year.
What Not to Miss at Lake Geneva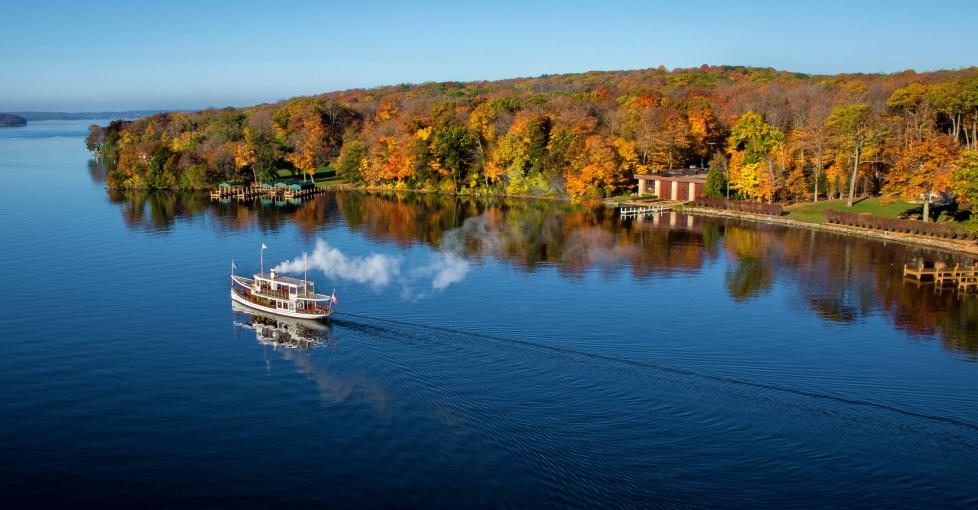 From adventure sports to winery visits, Lake Geneva has a number of things to enjoy for all age groups. When visiting Lake Geneva, don't miss these fun things to do.

1. Skiing at mountain top- Thanks to the surrounding hills, Geneva is the best destination to fulfil all your skiing fantasies. Whether you travel alone or with friends, skiing in Geneva will always be a memorable experience. You can carry your skiing gear or hire from the local shops. If you have never tried skiing before, this is the best place to start. There are a number of skiing lessons available for beginners. Follow your instructor, and you will keep returning every year.

2. Walk along Lake Geneva Riviera Beach- Take a break from your busy life, and go for a long walk along Lake Geneva Riviera Beach, or go swimming in the cool water. We promise you, this is the best form of therapy that you will ever find. There is an admission fee for the beach. But if you intend to come here often, getting a beach pass would prove to be more cost-effective. We recommend consulting the lifeguard on duty before you enter the water.

3. Geneva Lake Sailing School- Get started on your sailing lessons, or brush up your skills. If you have come to Geneva then you must get close to the water. Geneva Lake Sailing School offers classes for all ages, starting from 4-year old. They also rent sailboats for experienced sailors, and organise sailing trips for families and large groups.

4. Tristan Crist Magic Theatre- This is Lake Geneva's original magic theatre. The 60-minute performance by award-winning illusionist Tristan Crist is a regular crowd-puller. You can purchase tickets for one of the shows, or request full booking for a private show. We promise you this is more than just pulling rabbits out of the hat. Tickets sell fast, so we recommend booking in advance.

5. Lake Geneva Cruise Line- Cruising in Lake Geneva is bound to become one of your most memorable holiday experiences. With a number of tour packages available, you can choose to visit beautiful mansions or historic sites. The cruise liners are equipped with all modern audio-visual facilities so you can even book them for private celebrations.

6. Apple Barn Orchard and Winery- Pick your own apples, and make your own, apple wine, apple cider, caramel apples, and everything that you can think of with apples. Apple Barn Orchard and Winery is the ideal place to spend time with friends or your significant other. Engage in group activities, enjoy the warm hospitality of the owners, and take home your own wine.

7. Dan Patch Stables- Go pony riding or horse riding, or get your first riding lessons. Dan Patch Stables allows visitors to take care of their horses. You can pet them, feed them, and spend as much time as you want with your furry friends. But there are a limited number of horses available. We recommend calling and booking in advance. Since the stable is located at the entrance of The Grand Geneva Resort & Spa, guests at the resort can request the front desk to make the bookings as well.

8. Lake Geneva Ghost Walks- If looking for some thrills and chills, take the Lake Geneva Ghost Walk, and discover real ghost stories, native American folklore, and haunted history of landmarks. Public tours require prior booking. If travelling with a large group, you can also request for private walk bookings. We recommend carrying your own medication, or informing the tour guide about any possible medical uncertainty.

9. Ten Chimneys- The holy grail of theatre enthusiast, Ten Chimneys is the home of Broadway legends, Alfred Lunt and Lynn Fontanne. Open to the public as a museum, you get a guided tour of the entire estate, and can explore the unique family collection amassed over the years. Regular talks and seminars by prominent theatre personalities are helpful here. Prior booking is mandatory to attend any of the scheduled programs. Lodging and dining is also available.

10. Timber Ridge Lodge and Waterpark- Spread over 50,000 square feet, the indoor and outdoor waterpark at Timber Lodge is perfect for spending some fun time with family and friends. Their 35-foot high slide, that will take you on a 300-foot journey of twists and turns, is a must-try for the pure adrenaline rush. But if you are looking for some mild fun, we recommend The Lazy River that will take you on a 500-feet relaxing drift.


Places to Visit near Lake Geneva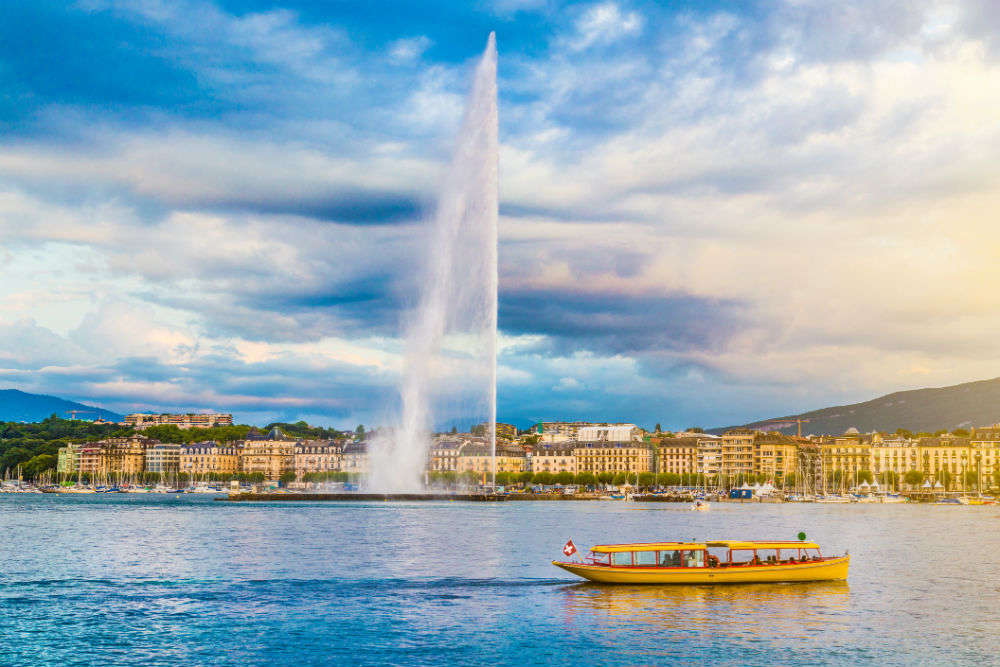 Lake Geneva is close to a number of landmark destinations that can be visited during a day trip. When visiting Lake Geneva, we recommend you try these places as well.

1. The Jet d'Eau fountain- What was built as a technical solution to a water problem of Geneva is today one of the most-visited landmarks in the city. The Jet d'Eau fountain is actually a safety valve for a water facility in the city. Every second, more than 500 litres of water is expelled, forming a magnificent water jet, perfect for an insta-story selfie.

2. St. Peter's Cathedral of Geneva- Not just a place of worship, St. Peter's Cathedral of Geneva is also a major tourist attraction due to its architecture. Situated in the old city, St. Peter's was once a Catholic church that was later taken over by the Protestants.

The archaeological site at the basement of the church still holds the foundation of the original church. And if you are up for it, climb 157 steps to the top of the tower for the most beautiful view of Geneva.

3. Treille Promenade- Standing right outside the old city, Treille Promenade is the oldest promenade of Geneva. But locals and tourists visit the spot for more than that. Treille Promenade has the longest wooden bench in the world (approx. 120 meters). So, you can sit here for hours without being disturbed by the crowd. It is also home to the official chestnut tree of Geneva whose first leaf is considered the official announcement for the arrival of spring.

4. Bastions Park- Located near the foot of Treille Promenade, Bastions Park is especially popular with students due to its proximity to the university. But there are two other attractions here that have tourists lining up every year. The first is the 100-meter long Reformation Wall that was built in honour of the people who worked in the Reformation Age to build Protestantism. The second is a set of six giant chess boards. You can either play or watch an ongoing match.

6. The Jardin Anglais and the Flower Clock- Very close to Lake Geneva, The Jardin Anglais is an ideal place to spend quality time with family and friends. This popular public park is frequented by both locals and tourists.

Commemorating the clock-making tradition of the city, the famous Flower Clock is perfect for an Instagram story. Walk over the Mont-Blanc Bridge and cross right over Lake Geneva. Plan a trip in summer to attend the annual music concert, for free.

7. Parc de La Grange and Parc des Eaux-vives- Two beautifully manicured and maintained public parks in Geneva, Parc de La Grange and Parc des Eaux-vives are the perfect location for family picnics. Both have their own unique attractions as well. Parc de La Grange has a rose garden, the Théâtre de l' Orangerie and Théâtre de Verdure, and the ruins of an ancient Roman villa.

Parc des Eaux-vives is popular for the mouth-watering food served at Hotel des Eaux-Vives, manicured flower beds with a small waterfall, and small wooden bridges that add to the beauty of the place.
Other Essential Information About Lake Geneva


Location: Shared between Switzerland and France

Entry fee: There is no entry fee

Distance from Geneva Airport: Lake Geneva is 46 kms (approx.) from Geneva Airport. It takes almost 60 minutes to reach from the airport to the lake.


Explore the Streets of Lake Geneva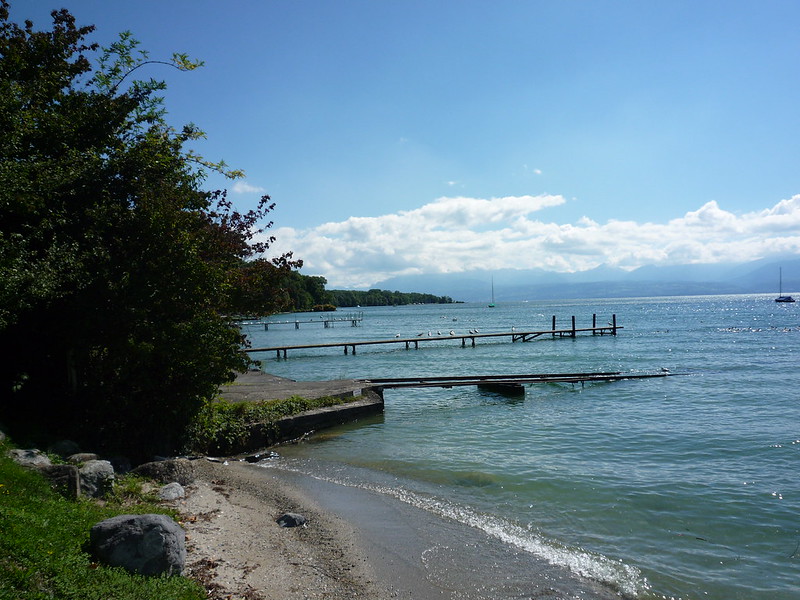 Created in 1991, the Streets of Lake Geneva is the Lake Geneva Business Improvement District. The community aims to increase tourism in downtown Lake Geneva, and maintain the natural beauty of the place. This is a mini city in itself. From row houses to shops to eating joints, you will find everything in one place. With five gorgeous stay options, and a variety of amenities, Streets of Lake Geneva is ideal for family vacations.

You can even bring your pets! For those staying in other destinations, this is worth a drive and a weekend stay. Ample parking is available, which means that you don't have to rely on public transport. When visiting Streets of Lake Geneva, don't miss out on these:

1. Go shopping- From clothes to handicrafts, you will find a shop for everything. You just need the patience to look around.

2. Try local cuisine- Whether you want to try local, Swiss delicacies, or just want your fill of good food, Streets of Lake Geneva will not disappoint you.

3. Get entertained- Movies can be seen anywhere. But here you can enjoy magic shows and performances by illusionists. Prior booking is recommended.

4. Relax- Spend quality time with your family and friends in the well-maintained parks. Go for long walks on Lake Geneva Beach. Or treat yourself to a spa-day.


Places to Stay at Lake Geneva


From pocket-friendly to luxury stay, Lake Geneva has a number of options for all kinds of visitors. Here are our picks for places to stay at Lake Geneva.

1. Big Foot Beach State Park- If you love to spend time with nature then Big Foot Beach State Park is the ideal place to stay. You can camp outdoors, and go swimming and fishing. Alcohol is not allowed inside the park, but you can enjoy a bonfire or a barbeque. All the campsites are fitted with showers, toilets, and electrical hook-ups. So, you can enjoy nature while you stay connected with your loved ones back home. Firewood is available for purchase at the campsite itself.

2. French Country Inn- Standing right on the edge of Lake Como, French Country Inn is a place out of the movies. With solid oak hand-carved staircases, and parquet flooring, staying here will transport you back to Denmark of the 1880s. Whether you choose to stay in a cottage room or a luxury suite, you will always wake up to the gorgeous sights of Lake Como.

3. T.C. Smith Historic Bed & Breakfast- One of the most popular bed & breakfasts in Lake Geneva, T.C. Smith was built in 1865. This was once a private home that today welcomes guests with the best facilities possible. Complete with 19th century decorations, and a fireplace in each room, this bed & breakfast will transport you to the Victorian era. If you come here during winter, don't miss the Winterfest Ice Sculpture Competition.

4. Grand Geneva Resort & Spa- If you are looking to stay in luxury, there's no better place than the Grand Geneva Resort & Spa. Situated away from the busy city crowds, in the heart of the woodlands, Grand Geneva Resort & Spa is surrounded by hills, and offers a number of activities to enjoy.

You can choose to stay in rooms facing the hills, or rooms facing a private lake. Go skiing with family and friends, or get your first skiing lesson. With a wide array of dining options and spa facilities, this is the ideal getaway for honeymoon couples, or for those looking for a romantic destination.

5. Maxwell Mansion- Living in style doesn't get any better than this. Maxwell Mansion was the first mansion to be built in Lake Geneva, and has ever since hosted both national & international dignitaries, and tourists. This upscale, bespoke hotel offers the best of modern amenities, while keeping its historic roots intact.

If looking for the old-world charm, book one of the six traditional rooms with en-suite bath. But if looking for something a little more modern, take a look at their carriage house and stable suites. Complete with a world-class terrace lounge and a bar, Maxwell Mansion is also the ideal setting for an event or celebration.


Food & Drink at Lake Geneva


Whether you want to enjoy hamburgers and cold beer with friends, or luxury dining with family, Lake Geneva is sure to have something for you. Try these places when visiting Lake Geneva.

1. Oakfire- Craving Pizza? Head to Oakfire. Famous for their Neapolitan pizza, here you can grab fresh pizzas with unobstructed views of Lake Geneva. This two-floor building provides an open patio where you can relax with friends as you sip one of the house cocktails.

2. Sopra Bistro- When looking for seasonal delicacies, there is no place better than Sopra Bistro. This upscale bistro maintains a casual atmosphere so that you can relax and spend some quality time with friends and loved ones. Their shrimp pasta and Scottish trout are must-try.

3. Hunt Club Steakhouse- A 100-year old farmhouse, Hunt Club Steakhouse is ideal for large groups. Situated at the entrance to Geneva National Resort and Club, the old wood panelling is enough to remind you of any good, old American steakhouse. But there are also large windows that allow a lot of light inside, and give you a breath-taking view of Lake Como. Although a steakhouse, they also offer a large variety of fish dishes. Seared tuna and crab cakes will disappear from the table as soon as they are served.

4. Lake Geneva School of Cooking- You can cook your meals and eat it too! Lake Geneva School of Cooking, and the instructor, Chef John Bogan, will take you through the entire process. Starting from a visit to the farmer's market to pick up fresh produce, to cooking some popular dishes like gnocchi and brisket, this is a food lover's paradise.

5. Studio Winery- She is a painter, he is a musician, together they are wine makers! Wineries in urban settings are mostly unheard of. But Studio Winery welcomes guests to not only taste and purchase wine, but also to make wine with them. You can also join one of the painting or jam classes with the owners.

6. Kilwins Chocolate & Ice Cream- If you look through the window, and see the chef making warm fudge, there is no way you will not step inside. This family business is popular for their Mackinac Island fudge, which is their own recipe. You must also try their peanut brittle, another local favourite that is made right there at the store.


Tips for visiting Lake Geneva


If this is your first time to Lake Geneva, here are some quick tips to get you ready for the trip.

1. Get the Geneva Transport Card to travel in and around Lake Geneva. This will allow you to use all forms of public transport at concessional rates.

2. Boat taxis are the best, and unique mode of transport in Lake Geneva. Avail boat taxis, wherever possible.

3. Walking is the best way to explore Lake Geneva. With so much natural beauty on all sides, walking on foot is the best way to enjoy the place.

4. Don't miss Geneva Old Town, complete with winding, cobblestone streets. This is where the city actually comes alive.

5. You must explore the city at night. The way the city lights up after sunset is worth a walk

6. As soon as you reach Lake Geneva, hire a bike. And by bikes, they mean scooters. These are an interesting way to experience the city on your own.