About Lake Como
Lake Como is regarded as the pride of Italy as it offers the most picturesque views. It is the third-largest lake in Italy and is touted as one of the deepest lakes in the European region. It is located in Northern Italy in the foothill of the Alps, and it has enchanted travelers for centuries.

This magnificent lake is famed for its inverted Y shape due to the melting of gigantic glaciers combined with Adda river's erosive action. This leads to the formation of two distinct Southern branches, and halfway between these branches, you can witness Bellagio, which is renowned for its pristine villas.

The lake is known for offering a stunning mirror-like view of the mountains surrounding it and is also famed as one of the most photographed spots in the entire world. The azure blue water of this lake contrasting with the lush greenery surrounding it is a sight to behold.

With its Riva-lined marinas, sprawling villas and romantic promenades, it has become the favorite spot of the biggest celebrities. You can hire cruises or take a boat trip to experience the beauty of this lake in the best way.

It is also considered to be the best wedding point, and some of the famous celebrities like Linda Phan and Drew Scott, Ryan Biegel, and Kattie Lee have exchanged the vows of marriage with their partner here. Many blockbuster movies like Casino Royale and Star Wars have also been shot here. If you're a nature lover, then Lake Como is the ideal haunt to lose yourself in its surreal views and splendid beauty.
How to Reach Lake Como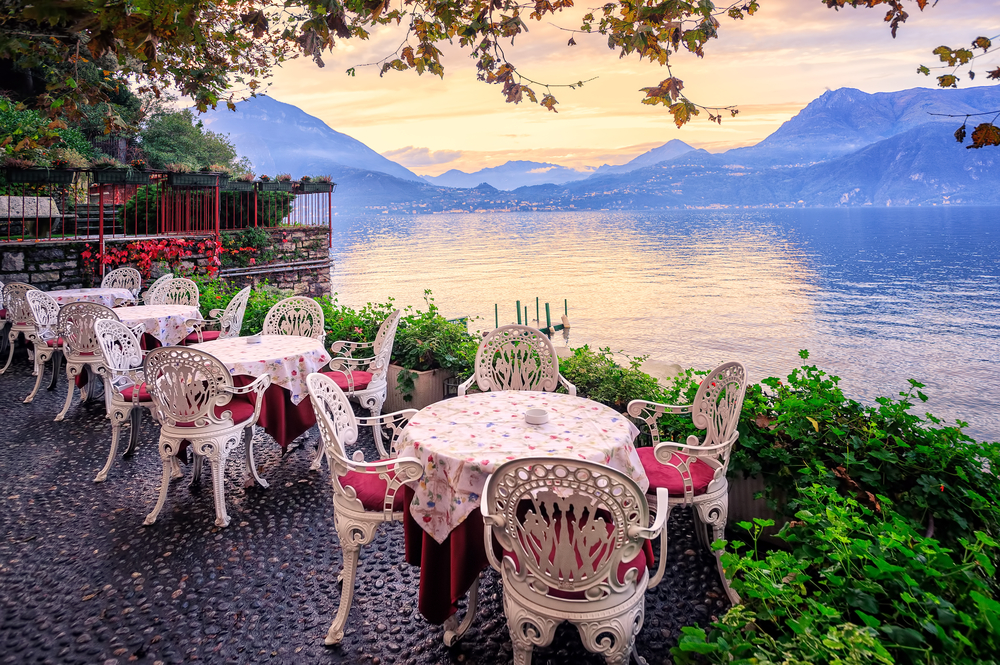 There are various options to commute from Milan to Lake Como:

By Train:
Many trains run frequently from Milan to Lake Como, and they are run by Trenitalia. Most of the Trenitalia trains run directly from either Milano Porta Garibaldi train station or Milano Centrale and arrive at Como S Giovanni station. It takes around 36 minutes to reach from Milan to Lake Como by train. The average ticket price to reach from Milan to Lake Como is around $ 7.

By Air:
Malpensa airport is the main airport in Milan that is closest to Lake Como. Once you reach the airport, you can take a cab or taxi outside the airport that will drop you directly at Lake Como. You can also reach from Malpensa to Como by train by traveling along two different routes. One of the easiest routes is taking one of the direct TILO trains that travel daily from the Malpensa airport to Como S. Giovanni.

By Bus:
The cheapest way to reach Lake Como from Milan is by taking a bus. There is only one bus that travels daily from Lake Como from Milan. These buses depart from Centrale bus station of Milan and take around 1:30 h to reach S. Giovanni bus station of Lake Como.
Best Time to Visit Lake Como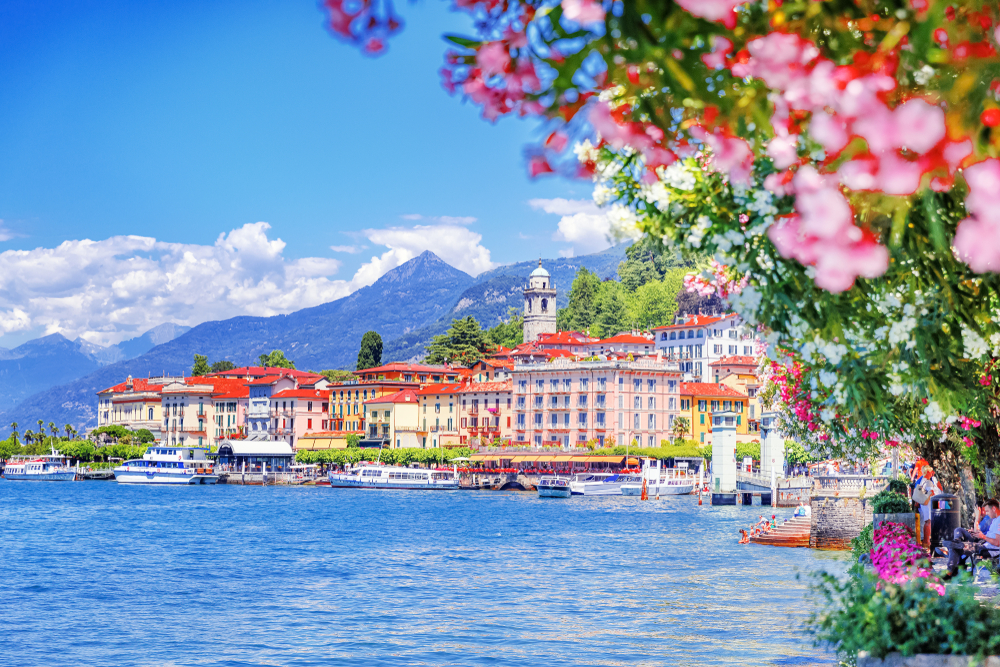 July and August is the best time to visit Lake Como as the temperature remains warm during these months, and you get some respite from the chilly weather here. Here are few other seasons when you might visit Lake Como:

Monsoon(October to November)
October and November are the rainiest months at Lake Como. The tourists refrain from visiting Lake Como during this season as the incessant rain doesn't offer the best possibilities to explore the beauty of this lake in the best manner.

Winter(November to February)
Lake Como seems to be a paradise for honeymoon seekers during winters as it is not so heavily crowded by the tourists as in summers. This gives the couples much space to get intimate and spend some cozy moments together. The average temperature ranges between -5 – +5°C at Lake Como in winter.

Summer(May to August)
Lake Como experiences relatively warm weather during the summer season. The average temperature ranges between 20 – 30°C. This is also considered to be the peak season to visit Lake Como as the sun shines the whole day, which gives you some respite from the chilled weather that prevails mostly in other months here.
What Not to Miss at Lake Como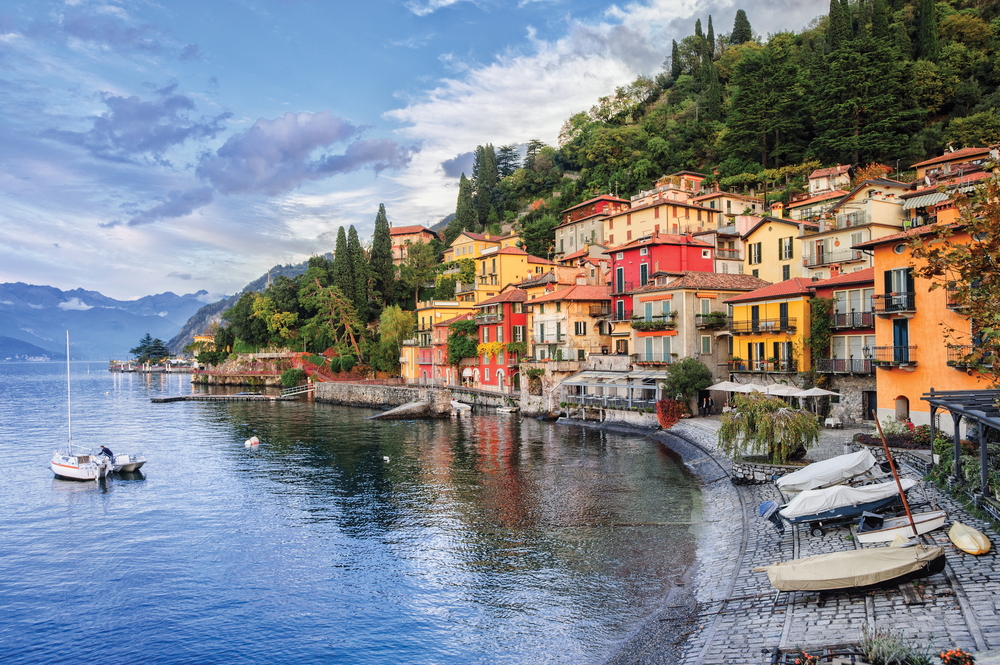 Make the most of your trip to Lake Como by trying out these activities that will exhilarate the fun of your trip:

1. Opt for a boat trip
If you wish to explore the beauty of Lake Como in the best manner, then taking a boat ride should be your go-to option. You can hire a private boat that will take you through the glittering shorelines of this lake that is studded with picturesque villages.

During the tour, the guide will tell you about the history of this place and how this lake rose to so much prominence. So jump on a boat, relax and enjoy the idyllic view of this lake and numerous villas and villages along its shoreline. 

2. Relax on the beach
Lake Como is the home to many beautiful beaches that are situated along its shoreline. If you're visiting Lake Como, don't forget to take a refreshing dip on these beaches. During summertime, these beaches become the perfect spot for visitors to relax and unwind.

You can also try adrenaline rushing water sports activities here like windsurfing and sailing. The beaches that are located in the northern and central parts of this lake have the cleanest water and are also less crowded than the other beaches. So you can explore them for the unadulterated view of nature. 

3. Have a memorable time at the historic villas
Lake Como is dotted with many historic residences and mansions that have their unique history. You can visit these villas to enjoy their enticing architecture and picture-perfect setting. Three of the main villas that you must visit if you're planning your tour to Lake Como are- Villa Melzi, Villa Balbianello, and Villa Monastero. They have beautiful parks, themed gardens, and bamboo forests, and they seem to give the view of heaven on Earth.

4. Have an enticing walk
Lake Como is the dream of every explorer, and there are few quintessential hikes and walks over here where you're greeted with an endless panorama of nature. San Primo is one such walk that offers a spectacular view, but you need to have a good level of fitness to walk over it.

You can also have a leisurely walk along Lake Como Greenway that winds through historic villas medieval towns scenic gardens and churches. There are many other gentle flat walks along Lake Como that have garnered the title of the best walking trails in entire Europe. So don't forget to explore the mesmerizing beauty of Lake Como by walking on your foot over these accessible walking trails.

5. Enjoy the adrenaline rushing water sports activities
Lake Como offers tons of water sports activities to the visitors that can accelerate their adrenaline levels. From kayaking to jet skiing and paddle boarding, you can try plenty of exciting water sports activities here. Swimming is also considered to be the favorite pastime of the visitors here in summers.
The whole area is full of sailing clubs which offer lessons in wakeboarding, waterskiing and other popular water sports activities. So even if you're a novice, you can polish up your skills at these training centers and get set to dive into the crystal-clear water of Lake Como.
Lake Como's Towns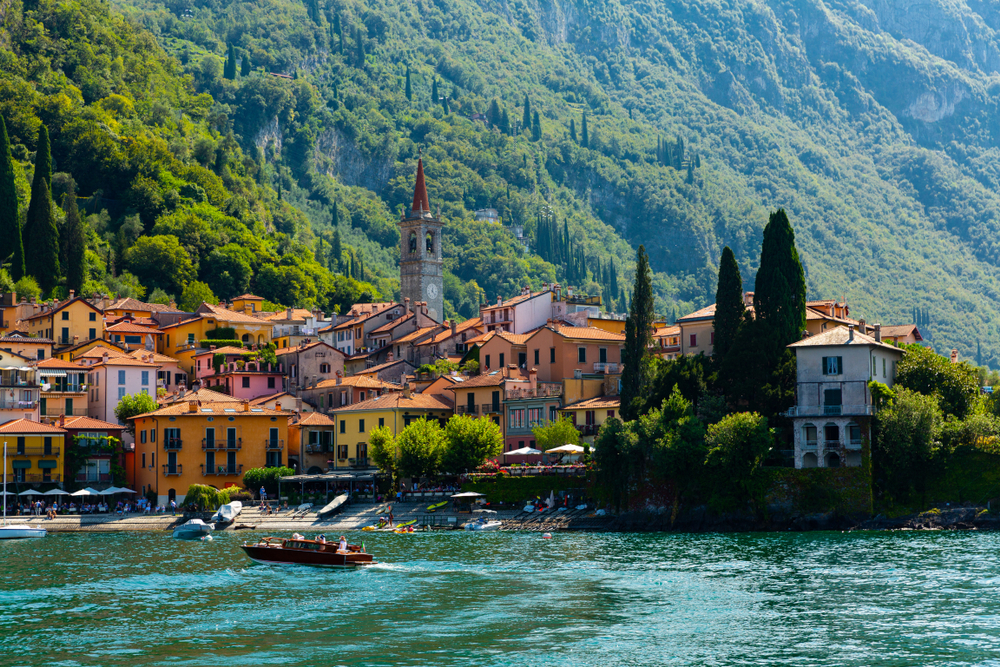 Here is the list of some of the scenic Lake Como towns that need to be in the bucket list of every traveler.

1. Bellagio
This town is located at the northern end of the triangular landmass that divides the southern half of Lake Como into two distinct branches. This is hailed to be the most picturesque town in entire Europe and offers a panoramic view to the visitors.

It has flower-lined streets and dozens of shops where you can buy perfume, leather goods, and clothing.  Piazza della Chiesa, the famous Roman Catholic church, is located in the center of this town where you can spend some blissful time. You can also stroll along its waterfront promenade, admire the gardens, and have a scrumptious lunch at the restaurants over here.

2. Tremezzo
This is a dreamy town that is known for its elegant villas and picturesque tourist resorts. It is located on the bank of Lake Como and is not less than a paradise on Earth. The major attraction of this town is it's incredible Villa Carlotta that is the seventeenth-century villa surrounded by gorgeous gardens and scenic parks.

You can also witness an art museum at the villa that gives a reflection of the history of this town. The second main attraction of this town is the Grand Hotel Tremezzo that has lavish rooms and an outdoor jacuzzi. The property also features heated swimming pools and a lush park. 

3. Varenna
Varenna was traditionally a fishing village and is considered to be less touristy than the other scenic towns on Lake Como. It is a quaint town that has bright colored villas and houses that are lined by a boardwalk. You can witness the spellbinding garden of Villa Monastero, and you can even hike up to the Vezio Castle to immerse into its beautiful views.

You can also find here an aviary that has a huge collection of birds. The permanent exhibitions that are set up at Lariosaurus further lure the travelers to visit this beautiful town. 

4. Lecco
This town is located at the Southeastern tip of Lake Como and is inhabited predominantly by the locals. Lecco is extremely renowned all over the world for its homemade olive oil. If you wish to have an enthralling view of all three branches of the Lake Como, then this town should be your final stop.

Villa del Balbianello is the most famous attraction of this town known for its surreal beauty. It is a gorgeous eighteenth-century villa that has terraced gardens and lush green parks. It was also a shooting location for Hollywood movies like Star Wars and Casino Royale. 

5. Menaggio
This is touted to be one of the largest towns on Lake Como that is known for its ethereal beauty. It was a walled town in the medieval era, but now it has transformed into a bustling resort that is replete with hotels, restaurants, shops, and entertainment arcades.
Its lakefront promenade has huge palm trees and flower beds, and it looks aesthetically pleasing from every corner. It is also considered to be the base point for people who wish to explore the northern and southern areas of Lake Como.
Discover the best beaches around Lake Como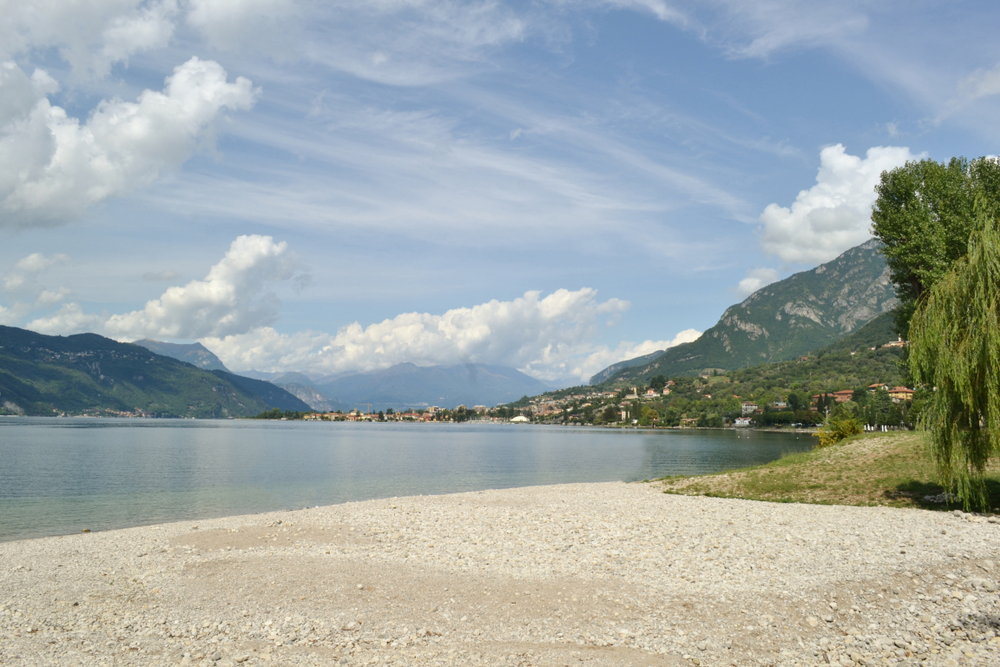 Here are some of the most magnificent beaches around Lake Como that appeal to all sorts of travelers.

1. Abbadia Lariana Beach
This is a magnificent beach located on the eastern tip of Lake Como.  It has numerous remote spots for relaxation, and you can also have the best drinks and food over here at the beachside shacks. It is a long beach with numerous white stones, tons of green areas, and willow trees. You can sunbathe and stroll along the sandy shores of this beach.

2. Lido di Lenno Beach
This is acclaimed to be one of the best beaches in Lake Como. It is decked out with cabanas, lounge chairs, and umbrellas to offer the best dose of relaxation to the visitors. You can also spot a bar and a few restaurants over here that offer you the best drinks and food. It offers you panoramic views and is quieter than all the other nearby beaches.
3. San Giovanni Bellagio Beach
This beach is located 1.5 kilometers from Bellagio. It is dotted with beautiful white pebbles all across its shoreline that gives it a very pristine look. You can also find here a seasonal snack bar that offers lip-smacking food and other refreshments.
Places to visit near Lake Como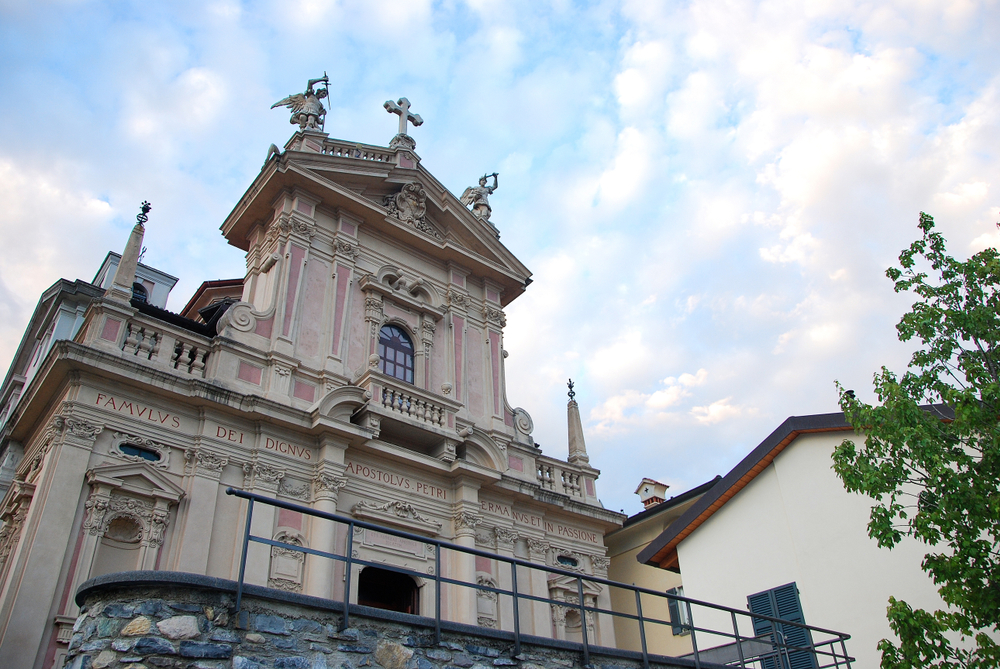 There are numerous attractions near Lake Como that rank high on every traveler's bucket list.

1. Como
This is a beautiful town near Lake Como that has an urban setting, and an extremely lively environment. It has some of the magnificent churches and grand villas where you can have the best time of your life. Its delightful streets are lined with small shops where you can buy everything that you have ever dreamt of.

Piazza Vittoria is the most famous site here that houses the monument of Giuseppe Garibaldi, who was the famous Italian general. The incredible amount of restaurants and cafes here will make your holiday unforgettable. 

2. Brunate
It is widely recognized as "the balcony of the Alps" due to its breathtaking location and splendid views. Brunate is a beautiful town that gives the allure and feel of the classic Italian village. It is flanked on the eastern and western side by steep hills, and you can have a bird's eye view of Lake Como from its hilltop. 

The baroque of Chiesa di San Andrea is the most famous attraction of this place, and it is known for its giant bell tower. It has many splendid hikes and trails where you can try trekking and hiking for an adrenaline-rushing experience.

3. Bellagio
This magnificent town is known for its wine cafes and stylish boutiques that attract globetrotters from all across the world. It's cobblestone paths are lined with numerous local shops where you can buy everything under the sun at best rates.

The Villa Melzi gardens are the prime attraction of this town, where you can witness all sorts of botanic plants. The picturesque sceneries that this town offers will make you feel as if you have entered a wonderland whenever you're here.
Other Essential Information About Lake Como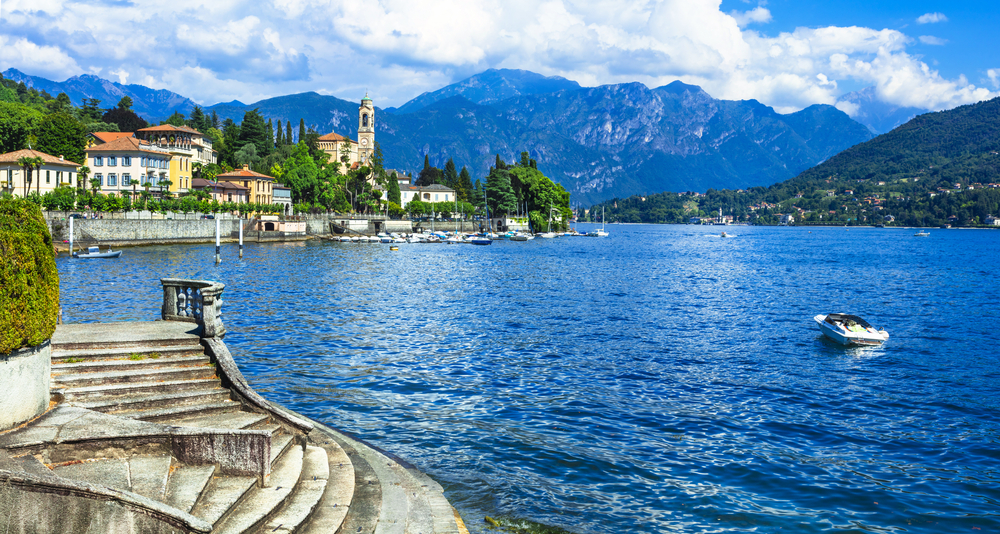 Location:
Lombard, Italy

Average Temperature: 
1. 20 – 30°C (68 – 86°F) in summer. 
2. -5 – +5°C (23 – 41°F) in winter 

Distance from Nearest Airport: 34.1 km via SS340


Discover the best villas on Lake Como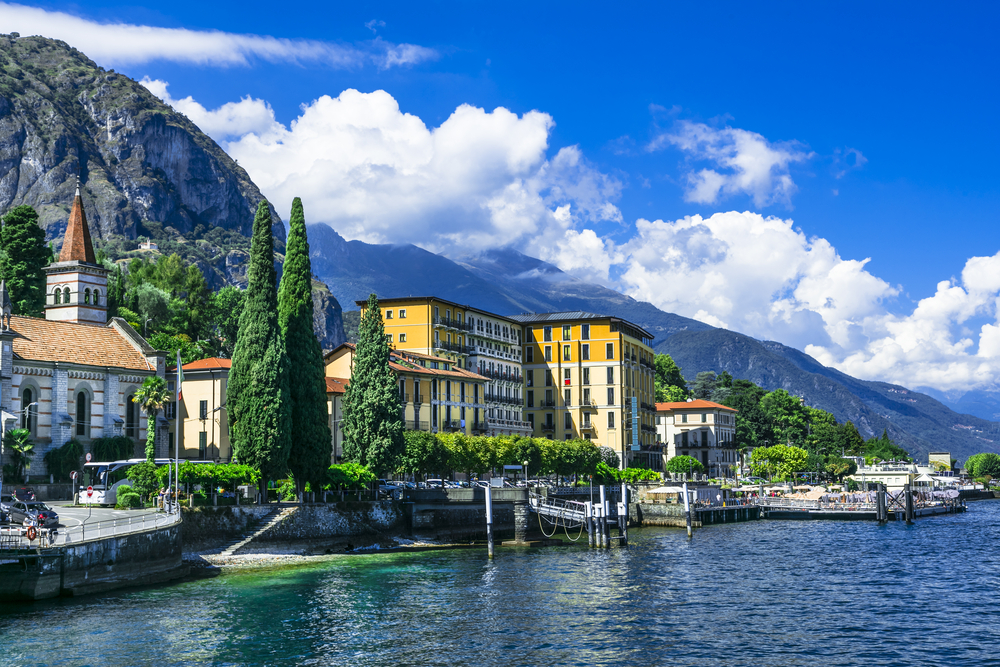 If you're looking for a luxurious staycation, then here is the list of the best villas on Lake Como.

1. Villa Melzi d'Eril 
This splendid villa used to be the summer residence of vice president of Italy and was founded in the early 1800s by Napoleon. It is not open for the public visit, but you can have an enchanting walk in its garden. The villa has been built in classic neoclassical style, and it hosts the valuable decorations by Giovan Battista, Giuseppe Bossi, and Antonio Canada.

The current owner of this villa is the family of Gallarati Scotti, who has maintained this villa in a great condition.

2. Villa Monastero
It is a classic villa located on the eastern shore of Lake Como and is considered to be the perfect holiday retreat for the visitors. It has a beautiful botanical garden where you can witness the collection of many rare species of plants.

It is currently regarded as a conference center, and famous universities, institutions, and companies hold conferences over here. It has several rooms and a museum that reflects the rich history of this villa. 

3. Villa Bernasconi 
Davide Bernasconi, who was the famous textile industrialist, commissioned this villa. It is located on the street that connects Cernobbio to Como. The façade of the villa features the decorative motif that recalls the entire process of silk production. Over time, this villa has become the most important cultural center for events and art exhibitions.


Traveler's tip for visiting Lake Como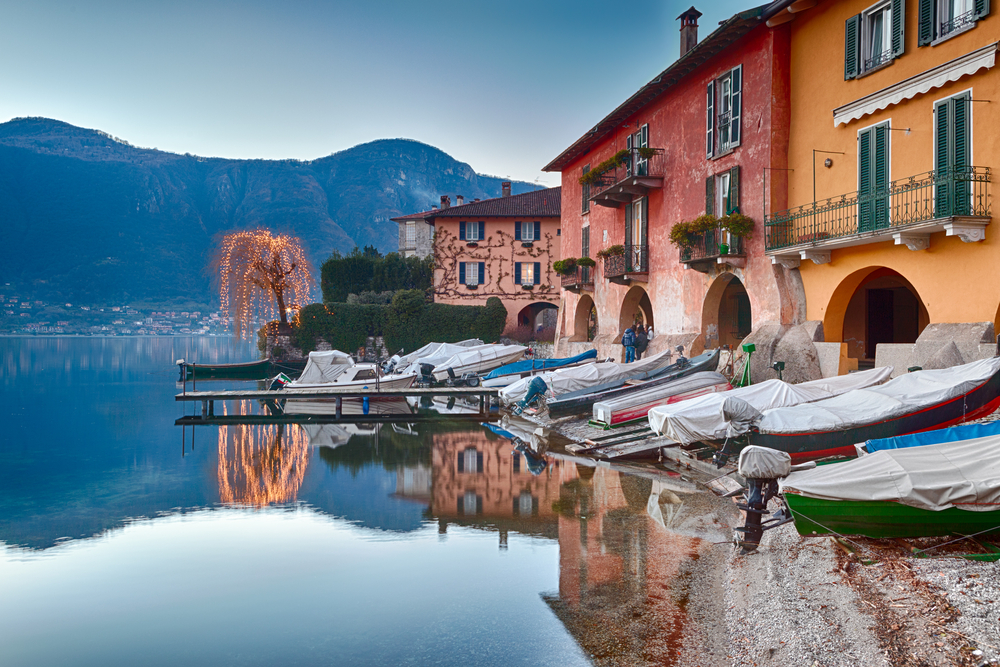 If you wish to have a hassle-free trip of Lake Como, then do keep in mind these important tips.

- If you wish to save some bucks while visiting Lake Como, then it's best to walk on foot. You can take the rugged paths that start at the Lake and wind up at the craggy mountains. 

- Summertime is the best to visit Lake Como as the weather remains warm and you can try various water sports activities here.

- Don't forget to visit Lake Como's Golden Triangle that has been named after the three gorgeous towns- Menaggio, Bellagio, and Varenna.

- Carry all your important medicines before visiting Lake Como.