About Gulaba Manali
A small village located a few kilometres from Manali, Gulaba is situated on the way to Rohtang Pass, on the Leh-Manali Highway. Named after Raja Gulab Singh of Kashmir, the village is tucked in amidst picturesque snow-capped mountains and verdant green meadows, with the Beas River adding opulence and serenity to its beauty.

Known as a great snowy region, Gulaba is also famous amongst sports and adventure enthusiasts, who drive in large numbers to the village to partake in adventure activities. Some of the major activities one can enjoy here include skiing, trekking and hiking, as well as paragliding and snow-scooter riding.

The natural landscape of the village of Gulaba attracts a large number of tourists every year, who come here to soak in the beauty of the place. Furthermore, the views from here are nothing less than enchanting, guaranteed to make you feel peaceful here. A lot of the tourists who visit the Bhrigu Lake tend to stop by at Gulaba. It is here in the meadows of Gulaba, where you can even set up camps and enjoy the stunning sunset while stargazing at the glittery night sky.

Additionally, it is here at Gulaba where some scenes of the famous Bollywood movie, Yeh Jawaani Hai Deewani, were shot. Subsequently, the village has become a top spot for all types of travellers, from picnickers and naturalists, to those who love adventure. Yet, Gulaba remains one of the few places in Himachal Pradesh where you can simply escape from your busy and hectic lifestyle and experience the serenity and tranquillity.
How to Reach Gulaba Manali
The distance between Gulaba Manali and Manali City Centre is around 12.5 kilometres, which takes anywhere between 30 minutes to an hour, depending on the conditions of the roads as well as the weather and traffic.

The best way to reach Gulaba Manali from Manali City Centre is by taking a car, or by hiring a private car or taxi. Even jeeps operate around the state which can take you to Gulaba. Alternatively, the cheapest way to reach Gulaba from the Manali City Centre is by availing the state bus services. By saying so, the HPTDC runs regular bus services from Manali City Centre to Gulaba on the way to Rohtang Pass. 

If you are on a tight budget, yet wish to reach Gulaba located almost 20 kilometres from Manali City Centre much faster, you can also avail shared taxis from here. That way, you can conveniently reach Gulaba yet save money.
Best Time to Visit Gulaba Manali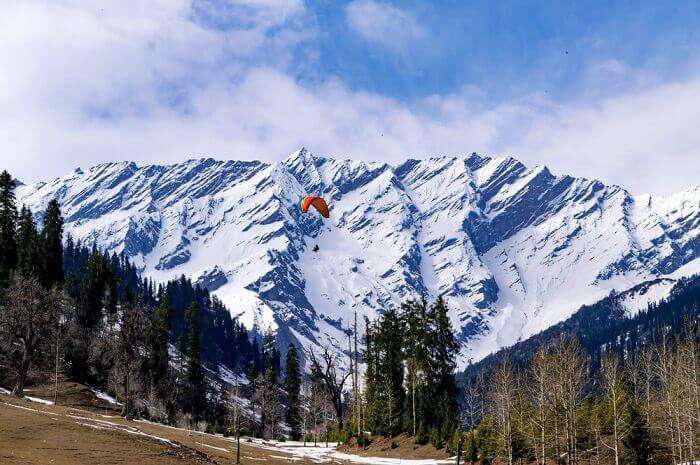 The best time to visit Gulaba Manali is in the summer as well as winter months.

The winter months, between the months of November and February, are amongst the best times to visit the village. This is when the entire region is covered with a thick layer of snow, making it perfect for enjoying a wide range of exciting adventure activities, such as ice skating, skiing, paragliding, trekking and much more. 

Following this, from March to the month of June, Gulaba experiences summer. This season is again quite good for visiting the village, when the entire village is filled with lush greenery, verdant trees as well as a pleasant weather. This is also the best time if you wish to enjoy zorbing, river rafting or other mountain sports.

However, the only time which is unfit for a visit to Gulaba is the monsoon season, from July till September. These are times when the entire region experiences heavy downpours, which may lead to landslides and other accidents. 
What Not to Miss at Gulaba Manali
Things to do in Gulaba Manali 


There are a lot of things that you can enjoy doing in Gulaba Manali. Some of these are:

1. Stargazing from a camp:
There are many areas in the village of Gulaba where you can enjoy camping. But what makes a camping experience exciting in Gulaba is the fact that on a clear night, the sky is nothing less than a treat for lovers of stargazing. From numerous stars to other constellations and celestial bodies, you can gaze at the glittering sky for hours, till the stars give way to the early morning sun. 

2. Adventure activities:
Gulaba is a great place for a wide array of adventure activities which you can partake in and enjoy. These include trekking, hiking, camping, paragliding and even skiing and zorbing, among others. 

3. Riding a yak and a horse:
Gulaba is a great place for experiencing a yak or a horse ride. You can have a great time riding on these animals, while they walk on ice. This is definitely an adventure of a lifetime. 

Attractions in Gulaba Manali


In addition to visiting Gulaba and enjoying its one-of-a-kind ambience, there are many other places in and around Gulaba which you can visit. Some of these are:

1. Rohtang Pass:
Located close to Gulaba, Rohtang Pass is amongst the most famous tourist attractions in Manali. Offering tourists views of snow all-round the year, it is also a great place for adventure sports. You can also see many beautiful glaciers, mountain peaks as well as streams and rivers from Rohtang Pass. These include the Sonapani Glacier, Dashahr Lake and the River Chandra. You can also enjoy skiing and snow-scooter riding here. 

2. Solang Valley:
Again, offering stunning views of the snow-capped mountain ranges and picturesque glaciers is the Solang Valley. Known as the skiing destination of Himachal, you can also enjoy zorbing, paragliding as well as horse-riding in the scenic Solang Valley. You can also visit an ancient temple at the top of the valley, which is dedicated to Lord Shiva. In addition to that, you can also get professional skiing training here, at the Atal Bihari Vajpayee Institute of Mountaineering and Allied Sports. 

3. Kothi
: 
Yet another picturesque village like Gulaba, the village of Kothi is known for its amazing gorges which are home to the Beas River. In addition to that, you can also find numerous natural geothermal springs emerging from the rocks here. Perfect for shutterbugs, Kothi boasts of many scintillating sights, along with those of the Kothi Gorge. One of the best things about this village is that it is still quite idyllic and tranquil, along with being unspoilt. It is also a great destination for paragliding enthusiasts. 

Places to Stay in Gulaba Manali


When visiting Gulaba, you come across a lot of places where you can stay in and enjoy the most of the little scenic town. These places are:

1. Solang Valley Resort: Located near the ski slopes of the spectacular Solang Valley, this resort is an idyllic place to spend your holiday in peace and tranquillity. You can also enjoy many adventure activities, such as trekking, water rappelling, camping, paragliding and more here. 

2. The Tranquil Inn: Located a few kilometres from Gulaba, The Tranquil Inn is situated along the Beas River, with the majestic mountains acting as a backdrop. The ambience of this place is calm and tranquil, and a stay here will be very comfortable and luxurious. 

3. The Cider: Tucked in amidst scintillating orchards in Manali, this wooden chalet overlooks the Beas River, and offers 360-degree views of the snow-capped mountains surrounding Manali. The rooms here are spacious, and come equipped with all top-notch modern amenities. 
Other Essential Information About Gulaba Manali


- Location: Gulaba is located 20 kilometres away from the main bus stand in Manali, on the way to Rohtang Pass, on the Leh-Manali Highway. 

- Height: Gulaba is situated at an elevation of 4,000 metres above the sea level. 

- Average Temperature: Gulaba experiences a warm and temperate climate, with the average temperature being 16.3 degrees Celsius. 

- Distance from Manali: The distance to Gulaba from Manali is around 20 kilometres, which can be covered in around half an hour to an hour, depending upon the traffic and/or road conditions. 


History of Gulaba Manali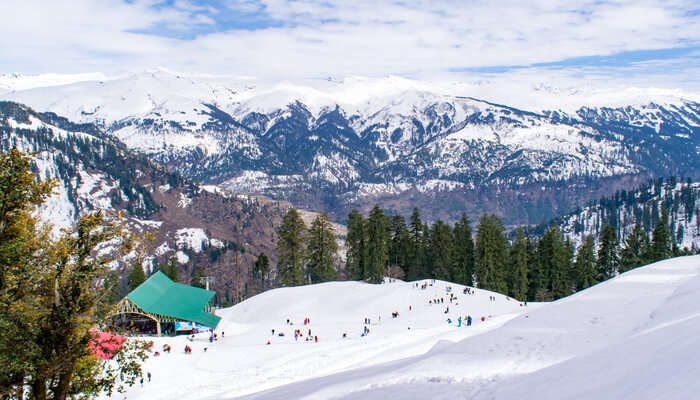 Amongst the most beautiful places in the country, the village of Gulaba is located in Manali, on the road to the iconic Rohtang Pass. The village gets its name from Raja Gulab Singh of Kashmir, who used to stay here during his invasion of China in the early 1800s. He was the founder of the Dogra Dynasty.


Located around 4000 meters above sea level, the village is a haven for skiing and adventure sports, perfect for the adrenaline junkies as well as nature lovers. Situated in the Pir Panjal ranges of the mighty Himalayas, the village is managed and designed according to the guidelines of the National Green Tribunal Act. 
The village rose to fame, especially for Indians, after the popular Ranbir Kapoor movie Yeh Jawaani Hai Deewani, featured some scenes that were shot here. 

Places to Eat in Gulaba Manali


There are many places in Gulaba, Manali, where you can eat good food and spend a great time with friends and family during your visit. Some of these are:

1. Ride Inn Café:
Known for offering a wide range of lip-smacking food from India, Italian, Chinese as well as Thai cuisines, the Ride Inn Café is a hub for the youth in Manali. The entire restaurant is based on a motorcycle-theme, with asphalt floors as well as lane markings. 

2. La Plage: 
Amongst the best restaurants in Manali, La Plage boasts of rhea best European and French food in town. With a fine ambience, the restaurant also boasts of a friendly and warm staff, and great hospitality. Their desserts are a hit here. 

3. Rose Garden Restaurant:
Overlooking the beautiful valleys and situated amidst lush greenery, the Rose Garden Restaurant is a great place to eat when in Gulaba. Boasting of great Italian food, the restaurant also offers European food. You must definitely try their pizza when you visit. 


Tips for Visiting Gulaba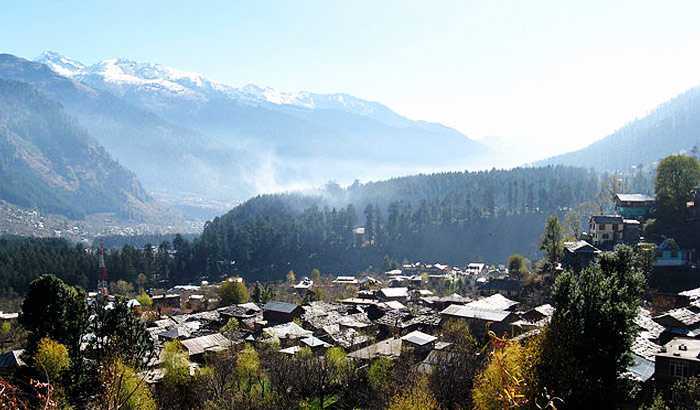 1. While visiting Manali and going on your way to the spectacular Rohtang Pass, you come across the scenic village of Gulaba. However, there are a few tips you need to keep in mind when visiting Gulaba. These tips are:


2. Situated at an elevation of 4000 metres above the sea level, Gulaba has a few places where you can enjoy skiing. However, it is advisable to rent skiing equipment from local shops rather than the bigger ones on the outskirts of the village since these are cheaper. 


3. Always carry extra warm and woollen clothes with yourself when you are in Gulaba, since the temperature can suddenly drop and become colder in the day. 


4. Instead of passing through the village, opt for places in Gulaba where you can avail an overnight stay. There are several homestays, hotels as well as resorts where you can spend the night in Gulaba.