About Gold Souk
The largest, oldest and one-of-a-kind gold market happens to be in Dubai. In spite of the fact that the commodity is gold, it is the only market in the whole wide world that has no security outside the shops. A maze of covered walkways having glittering shops on either side is surely a breathtaking place to visit even if you are not buying anything from here. Fun fact: the largest gold necklace is displayed right here in the Gold Souk. 

It is located in an area called Deira which comes under the old part of Dubai. You can come here by crossing the creek by sitting in the frequently running abras (water taxis) in the creek. While window shopping through the shops, you will be able to see the market price of gold displayed outside the shops in Dirhams and it is constantly updated each time it changes. The variety starts from the mixed 18 carats gold, going up to 21, 22 and then to the pure 24-carat gold. After you select the piece(s) of jewellery, the retailer weighs the piece and lets you know the price. The making charges are added as well with the product. 

You will find a vast variety of intricate gold jewellery sometimes studded with precious stones like rubies, emeralds, and diamonds. Other than gold, you can also buy genuine and carefully inspected diamonds, pearls, and other precious metals from a few shops. The visitors do not have to worry about the quality and authenticity of gold here because of the regulation of prices by the Dubai government. But the price isn't. Believe it or not, you have a scope to bargain for this precious metal as the shops sometimes set a high price for their products mostly for the reason that there is a high tourist turnover at the market.
How to Reach Gold Souk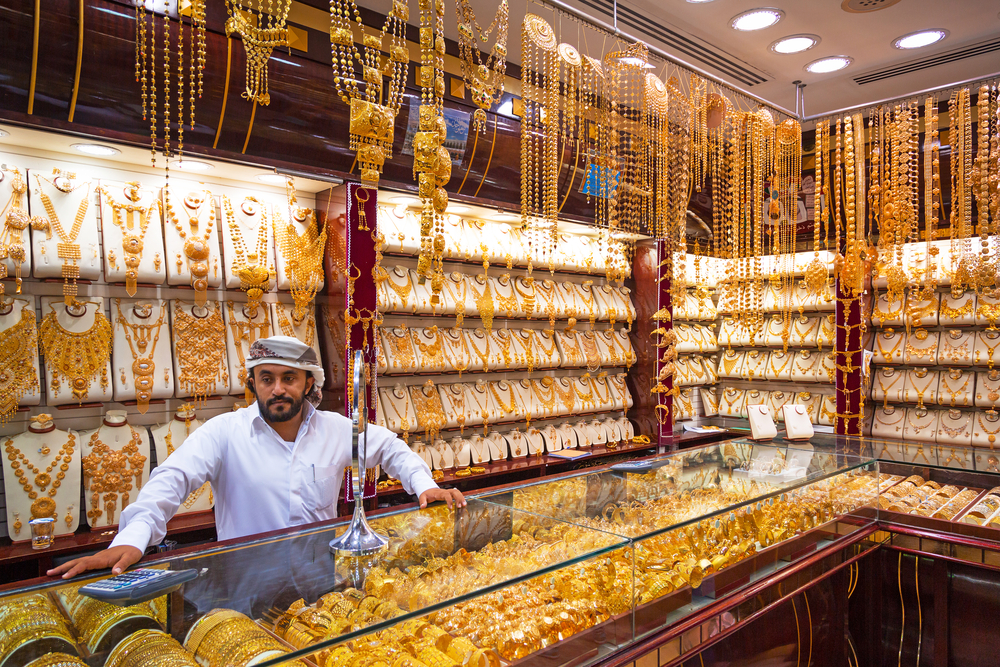 The distance between Dubai International Airport and Dubai Gold Souk is 8.6 Km which can be covered in approximately 20 minutes. You can easily get a metered taxi from Dubai International Airport. It will drop you at the creekside where Abras (water taxis) frequently cross the creek. Sit in the Abra and reach the other side in just 1 Dirham. After getting down on the other side, walk towards the Dubai Fish Market and Deira Corniche both of which are adjacent to the Gold Souk.
Best Time to Visit Gold Souk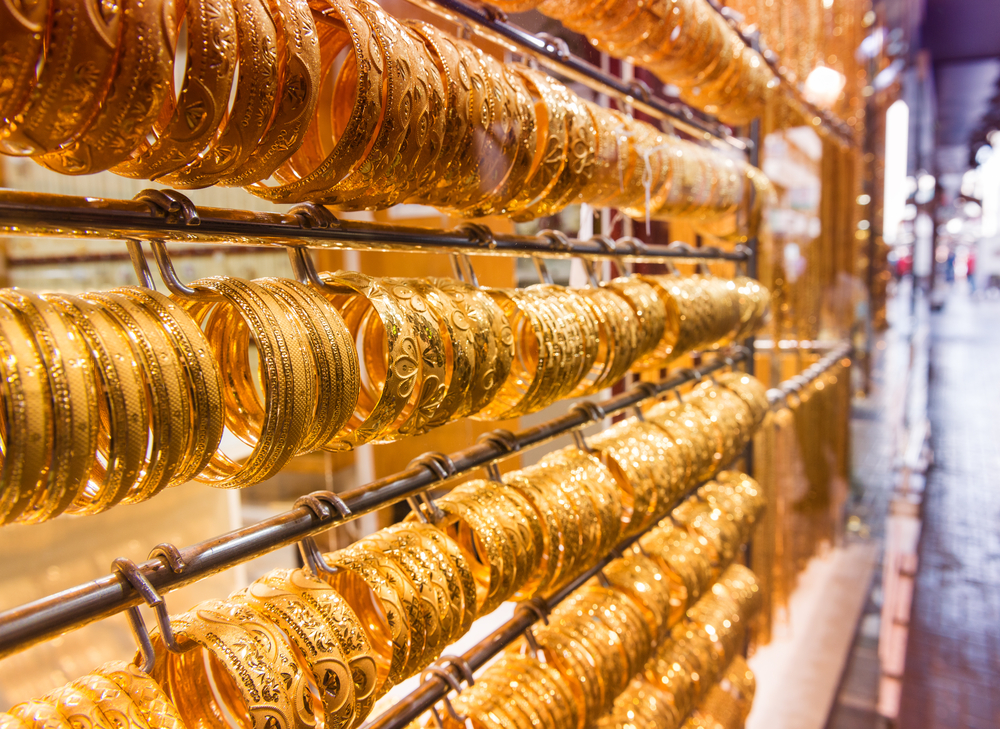 Dubai encounters the peak tourist season from November to March when the weather is pleasant. The tourists mostly have Gold souk on top of their itineraries, so during these months the Gold Souk witnesses a lot of crowd for the whole day. The prices of gold are rarely affected by the number of customers at the souk but you can try to barter for some extra discount during the off-season months.
What Not to Miss at Gold Souk


Here are some of the best places to visit near Gold Souk:


1. Dubai Spice Souk Market: 
Visit this place for a burst of sensational smells and sights and sometimes tastes. You can buy haggle for some of the best quality spices and herbs sold by both weight and packets. The vendors also suggest the use of these spices in food and drink recipes.  
2. Al Fahidi Historical District:
 With most of the original infrastructure preserved, you can get a good understanding of the Emirati culture in the mid 19th century. Formerly known as Bastakiya Quarters, now they are restored into museums, cafes, cultural exhibits, craft shops, art galleries, and two boutique hotels. 
3. Women's museum Bait Al Banat: 
A visit here will educate you about the important contribution of Emirati women in building the rich history of UAE. This place is a documentary center dedicated to the life and role of women in all fields of life like culture, arts, style, and rituals.
4. Heritage House:
 Closed for renovation till further notice, this structure was once home to a wealthy pearl merchant. Now a museum, it showcases the traditional Emarati lifestyle and architecture during the 19th century.
5. Al Ahmadiya School: 
Now a museum, this school, just adjacent to the Heritage house was the first-ever school in the history of UAE. You will be able to get a quick history lesson about the education system here.
6. Deira Perfume Souk:
 Just east of Gold Souk you can find thousands of exotic and traditional Arabic fragrances at the Perfume Souk. Buy oud or bakhoor for your home or get a personalized scent made according to your personality and skin type.
Things to Do in Gold Souk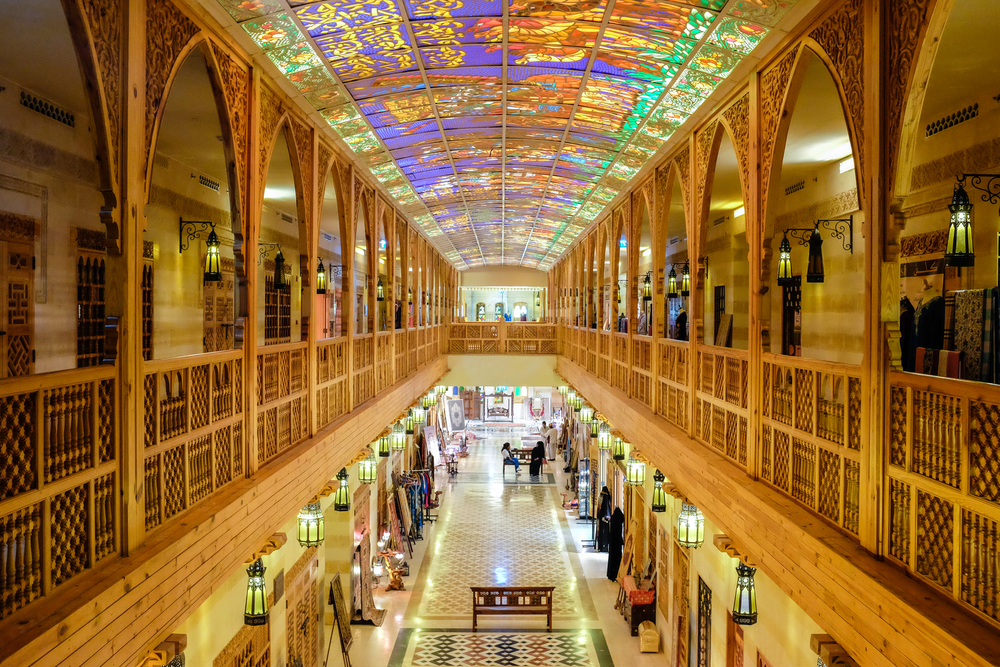 1. Shopping:
 Buy a huge variety of gold jewellery from over 300 retailers lined on either side in this traditional gold market. The vendors gladly show you the pieces of jewellery and weigh it to decide the price for it.
2. Bargain:
 The main trading of gold goes on through bargaining. Haggle your way out and pay less money for your liking of jewellery. Although the global gold prices cannot be reduced, there is a scope for decreasing the making charges.
3. Window Shopping: 
Stroll through the biggest gold market in the world even if you don't want to buy any piece of jewellery. This will surely be a delightful experience to remember. You will be able to see dazzling shops on both sides of this golden labyrinth that may tempt you into buying a piece. There are also street vendors selling gold and "genuine fake" products like Rado & Gucci watches.  
4. Gold To Go:
 A unique concept here, the Gold ATM or vending machine spits out gold bars and custom made gold coins. The ATM has options to give out one, five, and ten grams of gold bars and coins. There are slots for both cash and cards from where you can pay for your gold items. 
Other Essential Information About Gold Souk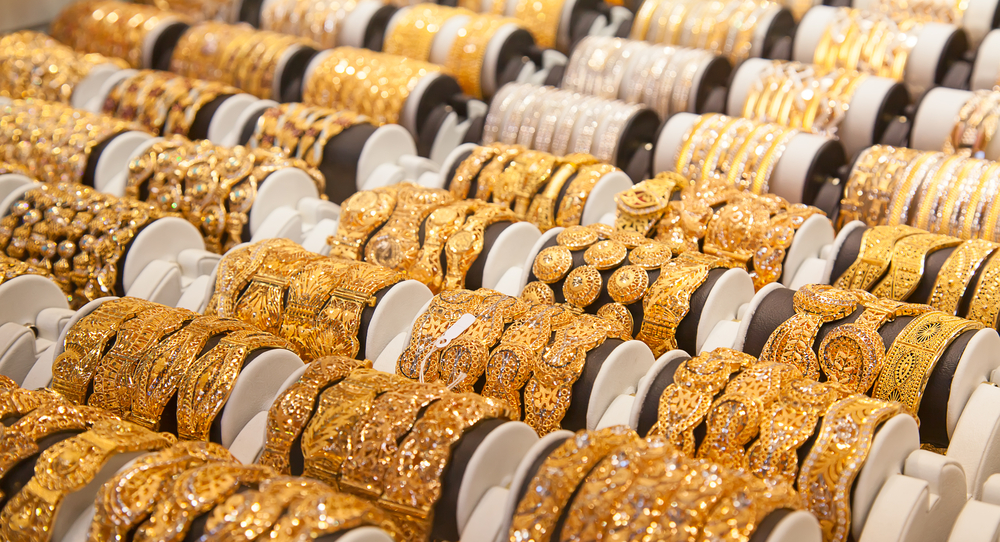 Location:
 Al Khor St | Deira, near Gold Center Building, Dubai 75157, United Arab Emirates
Timings: 
9:30 am to 9.30 pm, Friday- 4 pm to 9.30 pm
Price:
 As per the ongoing gold rates
Tips for Visiting Gold Souk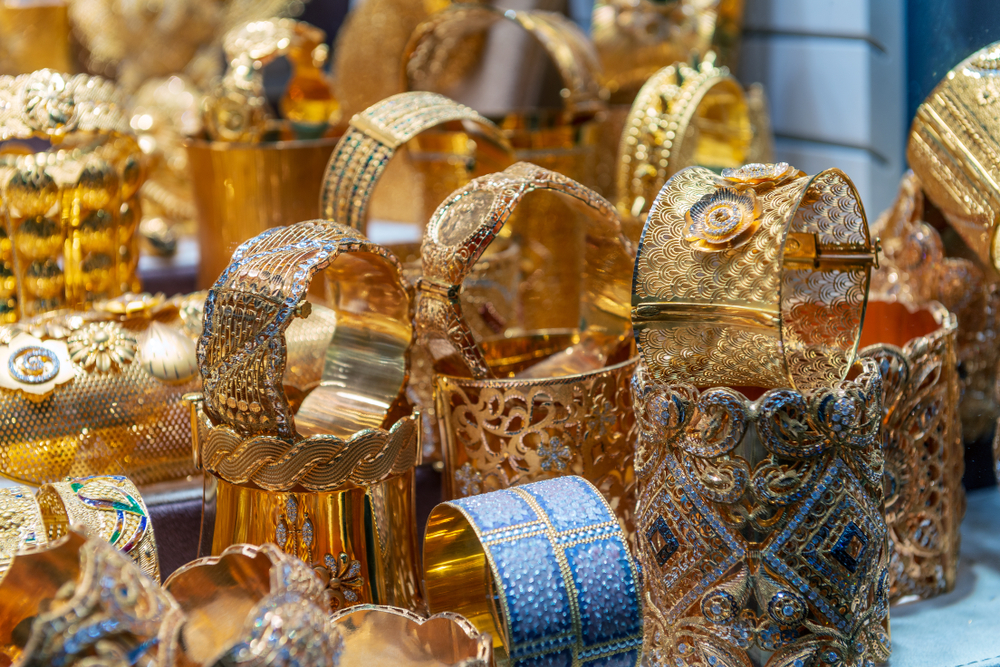 - It is one of the safest places to buy pure and authentic gold, that too at discounted prices if you haggle.
- There is a massive selection of jewelry to choose from and more than 300 retail shops are happy to help you if you get confused. 
- Take as much time to select a piece of jewelry and roam around to discover more designs. 
- Beware of the street vendors who sell gold and other items. They may sell you gold for cheaper rates, but they do not adhere to the government rules and regulations and hence cannot be tagged as authentic.
- It is always a good idea to stick to the retail shops in the souk.