About Darling Harbour
Darling Harbor, located close to the Sydney City Centre has developed as the most popular Sydney tourist places. Stretching from Cockle Bay and Kings Street to Pyrmont, it has innumerable attractions to offer to the tourists. As a result of being Sydney's commercial port once, Darling Harbor has seen a thorough intermingling of various cultures that are best exhibited through its tourist spots.

Being located at the heart of Sydney, this tourist waterside destination can leave you spoilt with the number of attractions and activities for tourists to explore. Known as one of the most favourite shopping and dining spots in Sydney, Darling Harbor hosts a number of events for its tourists all year long. 

Starting from high end shopping centres, Madame Tussauds Museum and to the most popular Sydney wildlife world, Darling harbour has a lot to offer to its tourists. Get to dine at some of the world's famous restaurants as you enjoy the scenic beauty of the surroundings, sail over the ocean in luxury cruises and explore the enchanting aquatic life all in this place.

Explore the Australian Maritime Museum on the Western side of the Pyrmont bridge to get a detailed illustration of sea wars that took place several years ago. Not only that, Darling Harbour being located at the center of Sydney is well connected through to the main cities by road and water, which makes connectivity easier.

It is located 10 minutes away from major shopping centers, 25 minutes from the Sydney International Airport and has frequent bus and ferry services running to and fro. Stay in some of the finest hotels and resorts around this area and have a memorable and mesmerizing holiday.
How to Reach Darling Harbour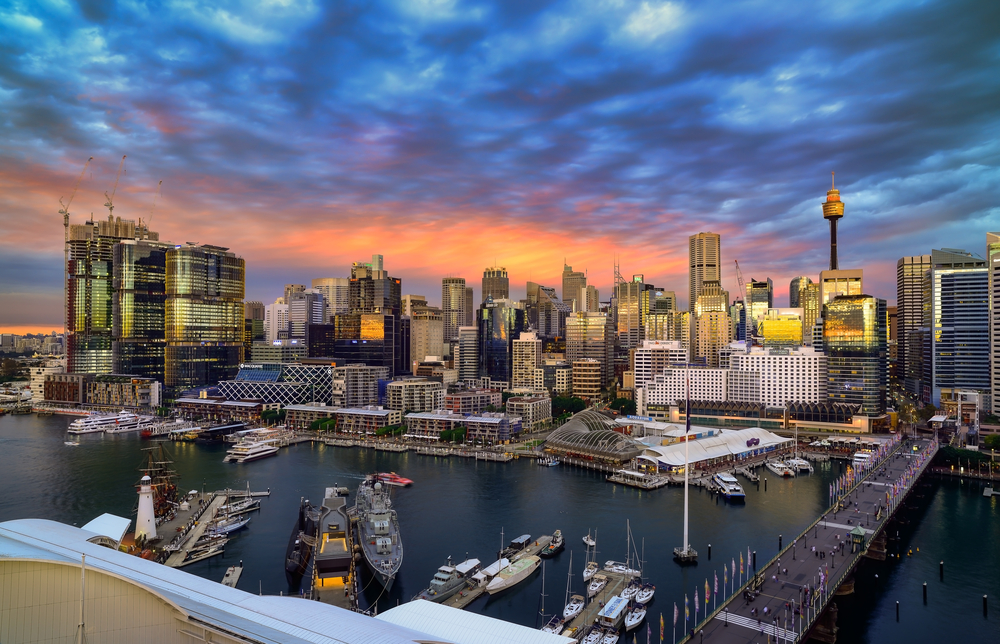 Darling Harbor is not very far off from Sydney Airport and is quite well connected through trains and buses. 

Train-
The Sydney T8 train that departs from Sydney Airport takes you to the town hall station that is only 5 minutes away from Darling Harbor. 

Cabs-
You can also take private cabs if you want a faster journey with maximum comfort. Trains generally charge you 21 Euros while taxis charge you 27 Euros approximately. Overall, reaching Darling Harbor from Sydney Airport should take you around 25- 30 minutes based on your mode of transportation and also the traffic.
Best Time to Visit Darling Harbour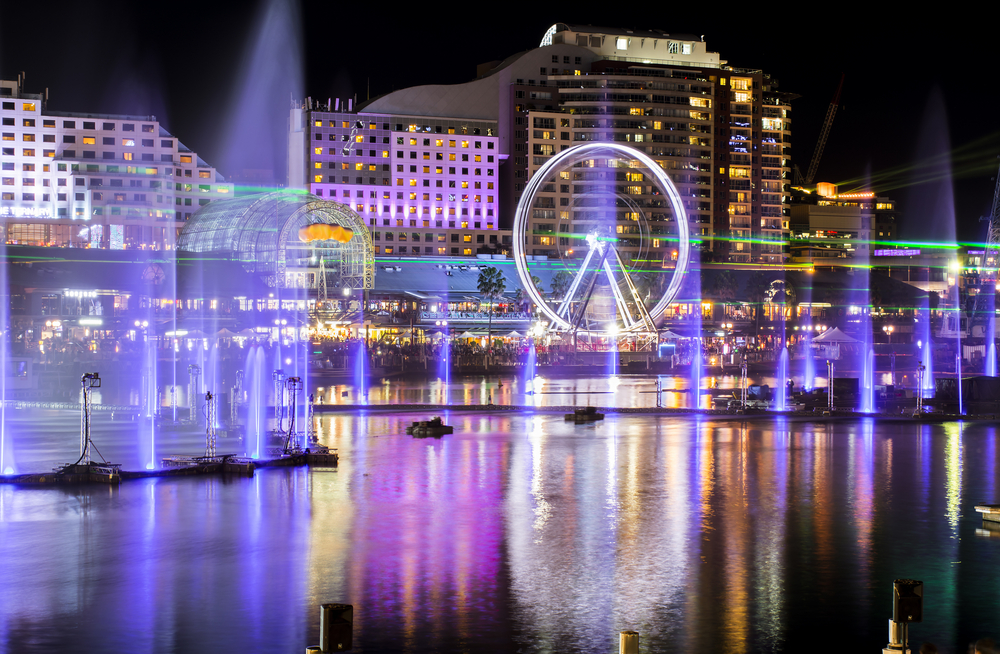 Though you can enjoy a holiday to Darling Harbor anytime you wish, the best time to visit here is between the months of February and August. These months provide you a pleasant climate, appropriate for touring the harbour and enjoying it to the fullest.
What Not to Miss at Darling Harbour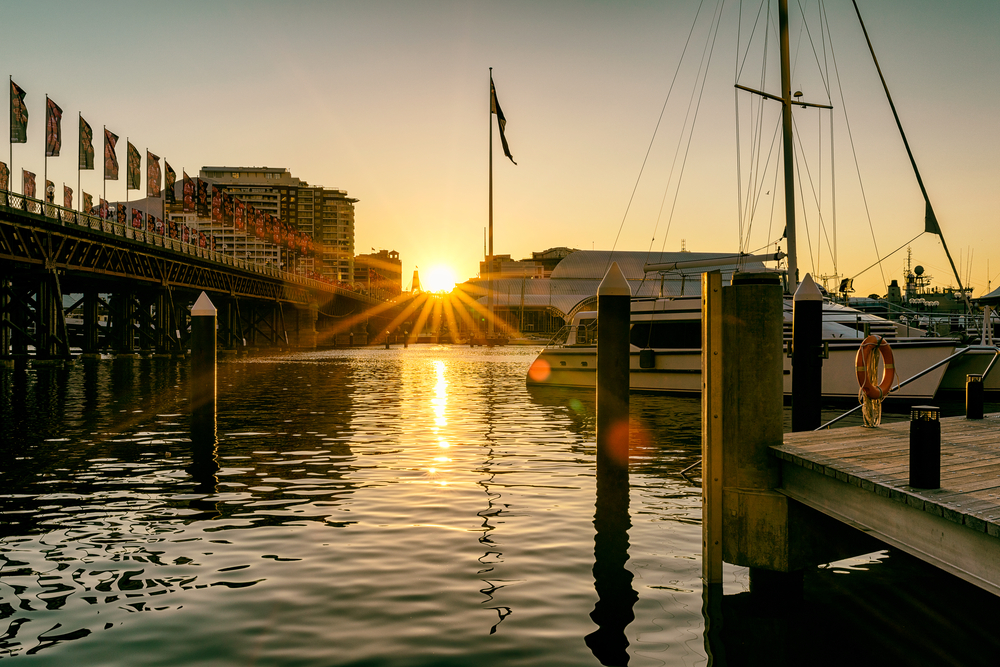 Here are some of the best things to do at Darling Harbour:
1. Visit the Darling Square
This is one of the most renowned places near Darling Harbor and one of the most popular tourist spots. With the lovely harbour at the backdrop, this place comprises of educational and cultural institutions, the Darling Square library, fine dining options, and beautifully set up bars.

All of these provide you with a mesmerizing experience both in terms of what the places offer to you individually and also because of the beauty of the surroundings. The royal Darling Square Library is a place especially meant for book worms and is known for its unparalleled collection of novels, autobiographies, picture books and so on.

2. Explore the Chinese Garden of friendship
This garden set on Taoist principles is one of the most peaceful places that you can visit while your trip Darling Harbor. Starting from the beautiful waterfalls, an intercity oasis to various orchards and willows, this is the perfect place which serves to combine nature and culture at its best for its tourists. 

- Entry for children – 4$
- Entry for adults – 8$. 

You also get several concessions if you are a senior citizen. You might even get a few offers and discounts on the tickets for special occasions. 

3. Sail with the Cruises
If you want to spend your holiday, luxuriously, you can take all occasion cruises from Darling Harbor. Starting from serving you with elaborate meals to let you experience the harbor and its surroundings as it takes you around the wild waters having yourself seated at the deck enjoying the sun with a drink, these cruises give you an unforgettable experience worth remembering all throughout your life. 

4. Experience 9D action cinemas
This place provides you with a revolutionary experience with action cinemas. The beautifully 3D cinemas designed in a 9D pattern are what attract most tourists here. The production of the cinemas and portrayal of them in the 9D form has been one of the rarest of its kinds which has, in turn, attracted most tourists to the place whenever they have visited Darling Harbor.

The remarkable technology of the working of this place and the thrilling experience is something worth your time and money if you are at Darling Harbor. 

5. Get a Carrousel
When you are at Darling Harbor, taking a ride on the Carrousel is one of the activities you cannot afford to miss. Driven by an age-old steam engine, the ride makes you feel as if you rewound time Centuries and living it with all its glory. It takes you back to age-old Hollywood movies with the steam engine still functional. The Carrousel has also been featured in several events and movies pictured in Sydney. 

- Timings- 10 AM – 5 PM every day. It is however closed on Good Friday. 
6. Enjoy some local food
Darling Harbour is also an excellent place for enjoying a sumptuous meal. Starting from authentic Australian delicacies to continental dishes and even fine confectioneries, there are ample restaurants in and around the site to satiate your taste buds.
Restaurants like 8BIT, Adria bar and so on serve few of the most craved for delicacies apart from providing a majestic décor and experience of fine dining. Not only that, restaurants are serving native delicacies of various countries of the world, and the list of restaurants is endless. You can always choose your most preferred cuisine and select the restaurant that you feel would provide you with the experience you need!
Places to Visit around the Darling Harbour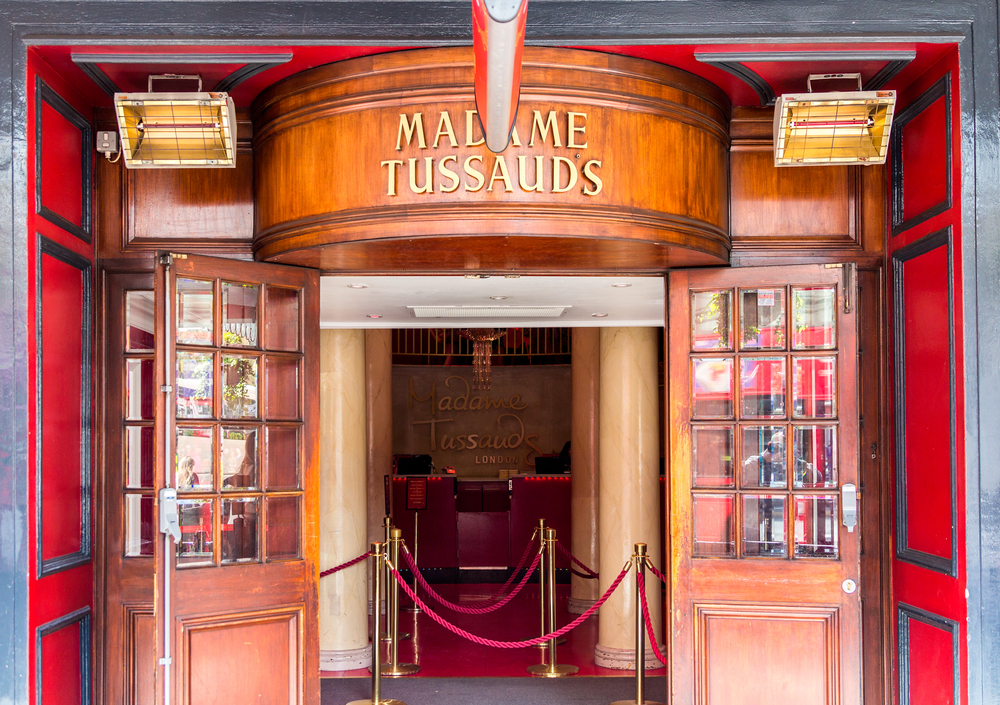 1. Sydney Sealife Museum
If you want to explore the aquatic life in Australia, Sydney sea life aquarium is the place for you. It comprises several tanks like pools which lets you swim around as you see sharks and other aquatic creatures swimming around you. 

You can also opt for a few minutes boat ride to see some of the rarest animals on earth including the gentoo penguins, jellyfish and so on. The mesmerizing great barrier tank lets you explore a variety of exotic aquatic creatures. 
2. Sydney Fish Market
The Sydney fish market is known to be one of the largest fish markets in the world that transports around 15 million kgs of seafood every year. It is one of the largest retailers of seafood and is something worth visiting if you are at Darling Harbor.

If you are a thorough foodie and love to explore various kinds of stuff, visiting this market is a must. Starting from the bizarre aquatic creatures to some of the freshest catches of the day are sold here. Not only that, the market sells seafood at exceptionally affordable prices as compared to other markets in Sydney. 
3. Lumi
Set in a splendid yet cosy décor providing a mesmerizing view of the surroundings, this restaurant is known to cook portions of pasta to perfection. The warmth of the food in the comfortable and beautifully set place adds to your comfort of dining.

You also have courteous staff to serve you to your expectations with very prompt and efficient service. The restaurant as a whole takes your holiday a notch higher by serving some of the costliest and best wines with your comfort food. 
4. Madame Tussauds
This museum has some of the most beautiful waxworks that you would see. If you are a fan of Hollywood Madame Tussauds is sure to leave you in awe. The wax statues of several celebrities, both from Hollywood and Bollywood film industries, are what attracts tourists from all over the world. 
5. Tumbalong Park
If you have spent a tiring day sightseeing around Darling Harbor, the Tumbalong park gives you a quick resort to relax. This park can provide tourists with a perfect family time and is the best place for playing a few interesting outdoor games with your children. This lush green park at the South of Darling Harbor provides you a quiet and serene place that lets you  enjoy the beauty of the surroundings with your dear ones.
Other Essential Information About Darling Harbour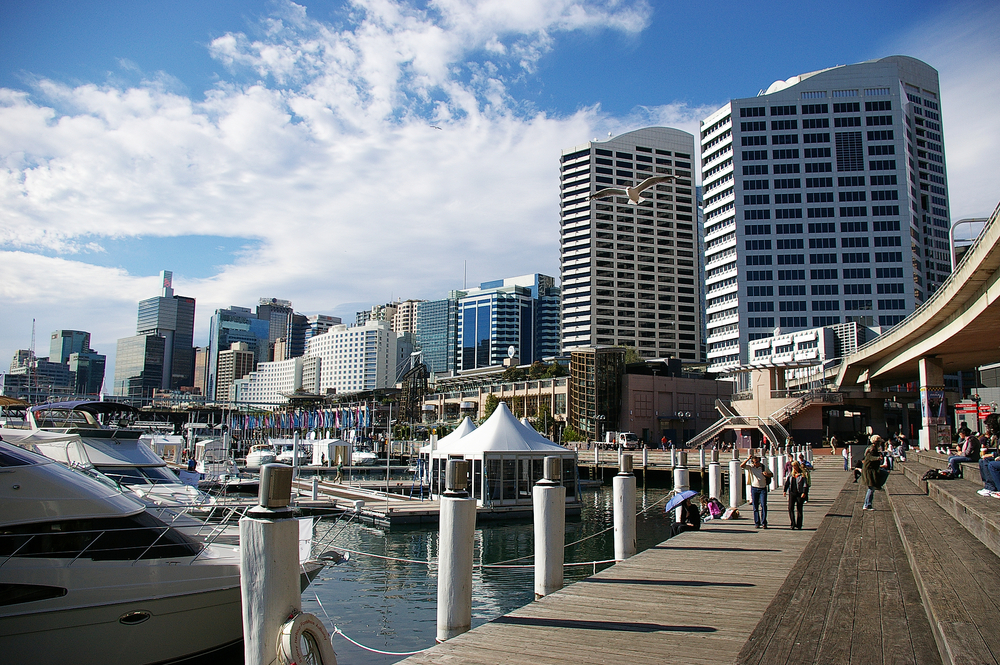 Highlights about Darling Harbour and Pyrmont
Located on the Western side of the Darling Harbor, Pyrmont is known for its unparalleled natural beauty and casino, motorway flyovers and so on. Pyrmont is one of the oldest hanging bridges over Darling Harbor and is one of the major tourist attractions of the place.

It would show you the unimaginatively beautiful shores of the Darling Harbor along with its strength and tenacity as a bridge over the years. This electrically operated bridge is one of the significant and fastest ways of connecting Darling Harbor with Sydney, which not only facilitated transportation in general but also led to a vast commercial growth between the two places.

This bridge, being one of the oldest electrified bridges not only has a special place in history but is also a famous tourist spot because of its magnificence. This bridge also shows an extraordinary use of hydraulics and other technologies a century ago.

Pyrmont has gained a unique name in the history of Sydney because of the millions of pedestrians crossing it every year which includes natives and tourists. This factual data does not only show the importance of the bridge but also how famous it has become over the years because of its unparalleled service in terms of connectivity provided between Darling Harbor and Sydney. 

Darling Harbor provides you with some of the most exotic touring experiences. Located in the middle of Sydney, this place offers you plenty of sightseeing options and other activities. The place lets you explore a vast range of aquatic species through snorkelling and scuba diving and also visit the beautiful gardens and museums.
You can additionally enjoy  the view of Cockle Bay and also explore some of the most happening pubs and bars at King Street Wharf.
Tips before visiting Darling Harbor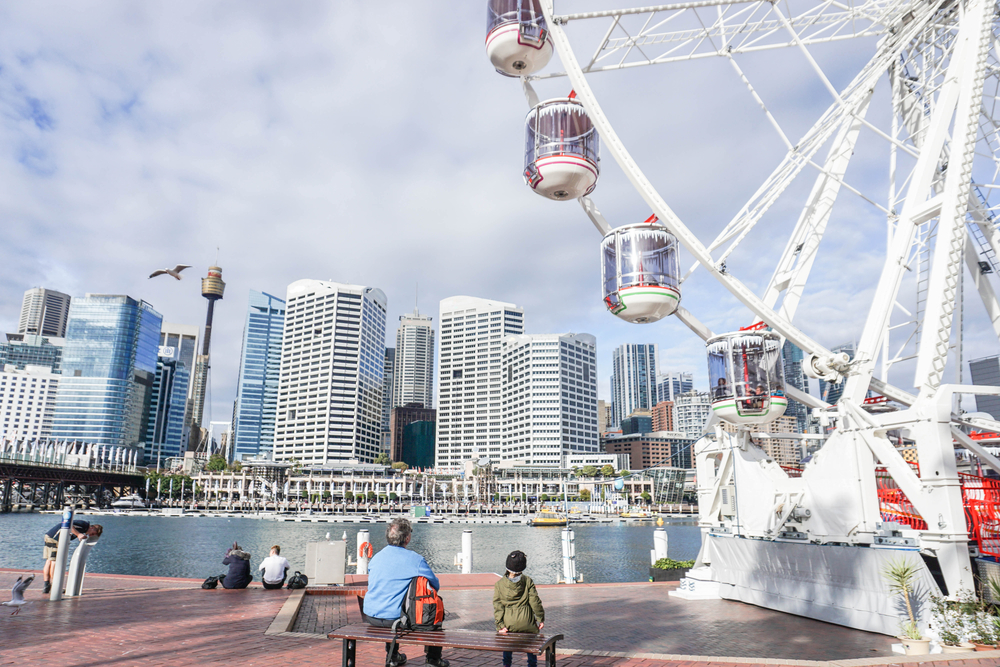 There are a few mandatory guidelines which you should follow in order to make your holiday easier and hassle free. They are as follows- 

- For most of the sightseeing spots, especially the museums or zoological parks, you can look for better deals online since there are sites which provide you with affordable packages.

- If you are visiting Darling Harbor for the first time, it is better that you plan your trip with any travel and tourism company so that you do not need to worry about chalking out the places that you cannot miss out. Additionally, they can often provide you with cheaper deals. 

- Though most of the museums remain open on all days except a few being closed on weekends, it is best that you check on the website of the sites regarding their status and timings. You can also check their ticket prices as they are subject to minor changes once in a while.