About Broadbeach
Broadbeach is a suburb in the popular city of Gold Coast which has grown to become its most amazing place. Broadbeach has a lot of adventures and amazing places to offer to the visitors. A shopping hub and home to some of the most popular music festivals in the country, Broadbeach has hosted millions of tourists from different parts of the country.

If you visit the Gold Coast, Broadbeach is a must-visit place to seek adventure and experience many amazing places. Among the several popular places in Broadbeach, one must visit the Gold Coast Convention and Exhibition Centre which organizes many international conferences and events. Broadbeach is probably the best location in Gold Coast for shopping with places like Pacific Fair which has more than 400 shops, cinema and many popular restaurants.

With clubs like The Star Gold Coast and The Envy Hotel with their 24-hour gaming and casino centre, luxurious lounges, bars and restaurants, the suburb is the perfect place to enjoy the best nightlife in Gold Coast. For people who are travelling with children, the suburb has various fun-arena and gaming centres which offers an amazing experience.

Broadbeach is also home to some of the finest hotels to stay in Gold Coast.With the most beautiful night walks on the streets of the suburb to the magnificent mornings, Broadbeach is a must-visit place in Gold Coast.
How to Reach Broadbeach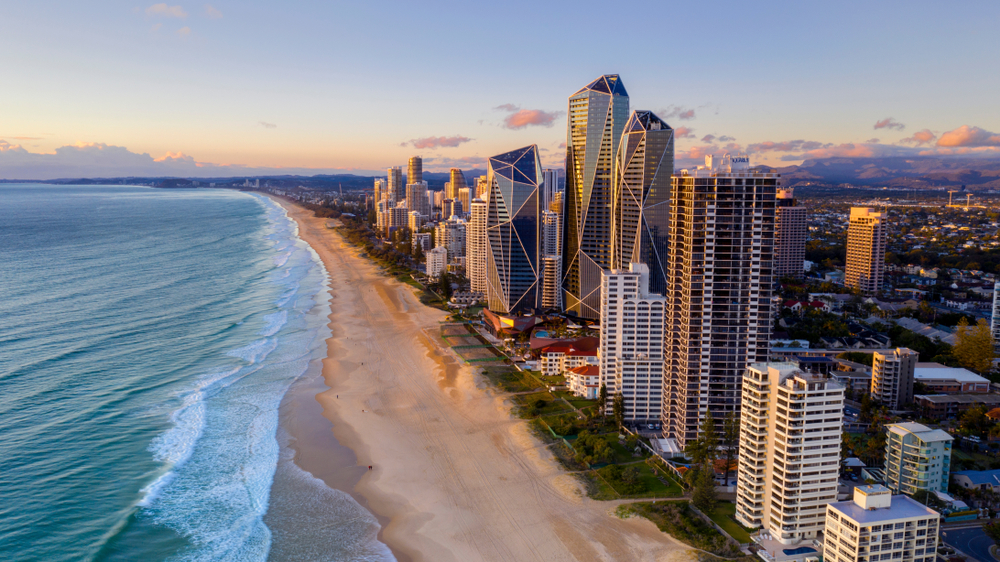 Gold Coast Airport is 19 km from Broadbeach and is easily accessible by roadways.

By Bus: Buses from Line 777 can take you to Broadbeach from the Gold Coast Airport. It would take you around 30 minutes as you may encounter traffic.

By Taxi or Private Cab: Taxi and private cabs are available right outside the Gold Coast airport. Drives take around 20-25 minutes.
Best Time to Visit Broadbeach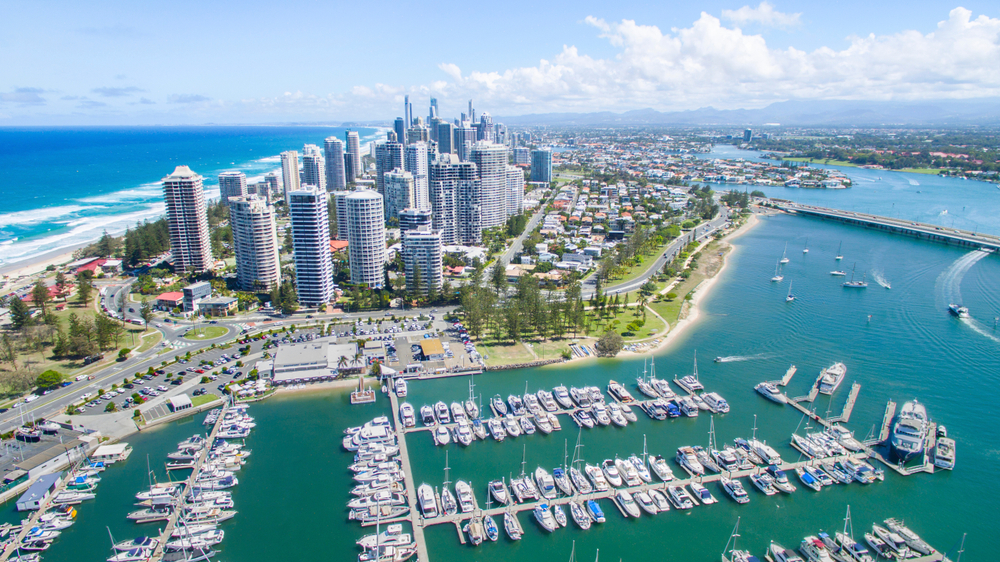 Talking in terms of the climate and weather conditions, the best time to visit Broadbeach is from December to February. The climate in the suburb from December to February is pleasant and warmer than the other months and is the perfect duration to visit Broadbeach.

Broadbeach is home to many world-famous events and festivals that happen- all around the year. If you want to enjoy these events, then visit Broadbeach between March and July. During this period, the suburb hosts various events like:

Gold Coast Superhero Weekend - March

Groundwater Country Music Festival - July

Blues On Broadbeach Music Festival - May
What Not to Miss at Broadbeach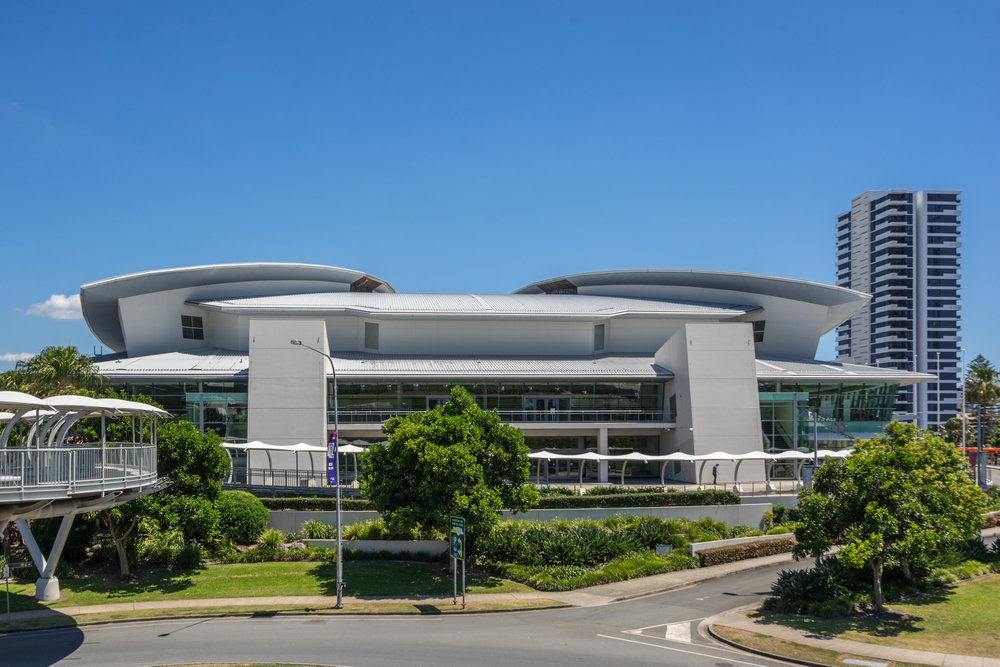 Gold Coast is among the most visited places in Australia and attracts millions of tourists every year. With a perfect place like Broadbeach which has many awesome shopping centres and adventure places, tourists can do a lot of things in Broadbeach. Below mentioned are some of the things to do at Broadbeach.

1. Shopping at the Pacific Centre: Home to more than 400 shops, Pacific Centre is the perfect destination for shopping in Broadbeach. Housing brands like Armani, Gucci, Louis Vuitton, Prada and whatnot, Pacific Centre is the ultimate shopping hub in the suburb.

Pacific Centre also has many restaurants which serve some of the most mouth-watering food items. The place also has a movie theatre and an adventure gaming zone for the children. Other than these, it also has a luxurious Visitor Lounge which has facilities like Prayer room and free Wifi.

Enjoy a perfect one-day picnic by visiting the various shops in the shopping centre, eat some tasty dishes or enjoy a movie in the Pacific Centre.

2. Gold Coast Exhibition Centre: GCCEC or Gold Coast Convention and Exhibition Centre is Australia's biggest commercial convention centre, and the perfect place in Broadbeach to host events and meeting.

With its various modern facilities and technological aspects, it has hosted events like Gold Coast Congress, Youth Festival, Australian CrossFit Challenge, Australian Veterinary Association Conference, etc.  Also, GCCEC has hosted events of world-famous artists like Rihanna, Janet Jackson, Mariah Carey, Kings of Leon, Billy Connoly and many others and has attracted many tourists.

3. Visit the various Art Stalls on the Coast: Broadbeach is an amazing place for an art lover as the suburb is home to various art and craft stall markets. Usually, these markets can be found at the Coast and they host more than 200 outdoor stalls which display their varied arts and crafts.

Look out for stalls of handicrafts, paintings, various canvasses and a few food stalls too. These art and craft markets operate on Sundays from 8 am to 2 pm on the beachfront of Broadbeach. One can buy some fine and beautiful souvenirs from the various stalls in the markets. These markets are very popular among tourists as they are located near the beach and parks of Broadbeach.

4. Stroll in the Cascade Gardens: These riverside gardens which are open from 6 am to 6 pm are a perfect family place. With its various fun rides and tranquil environment, one can spend an evening at ease in the green covers of Cascade Gardens. Do not forget to experience the rainforest walk and various cultural activities in various locations across the garden.

5. Learn Surfing at the Broadbeach Surfing School: Gold Coast is probably the most ideal destination for Surfing in the world and home to the popular surfing school; the Broadbeach Surfing School. The school provides various courses which range from 1-day, 3-day to weekly courses. Many tourists visit the school to learn surfing and it provides one of the most enriching and unique experiences.
Other Essential Information About Broadbeach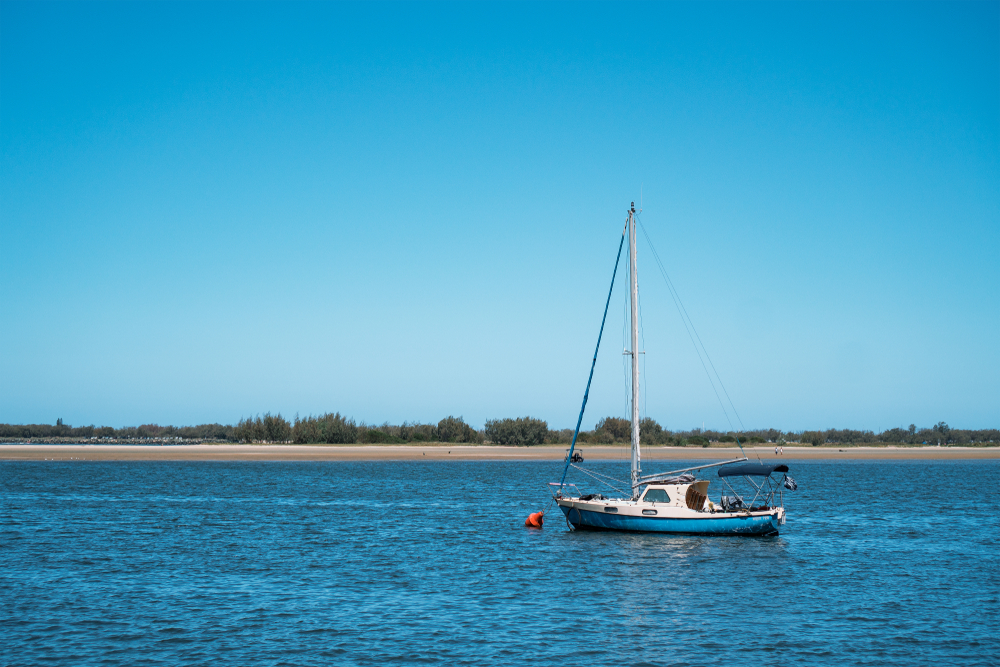 1. Location:
Broadbeach is a popular suburb in the city of Gold Coast in the state of Queensland.

2. Timings: The various popular tourist places in Broadbeach are open from 6 am to 10 pm. Although, some of the beaches and clubs in the city are operational late in the night.

3. Distance from Gold Coast Airport
: Gold Coast Airport is 19 km from Broadbeach and is easily accessible by roadways.

Accommodation in Broadbeach


Broadbeach is home to some of the most luxurious and popular hotels in Gold Coast. Below mentioned are some of the accommodation options in Broadbeach.

1. The Star Grand: 
The Start Grand hotel is one of the most popular hotels in Gold Coast. With more than 30 years of rich history, the hotel has offered some of the most marvellous and comfortable stay options in the city. With its proximity to the beach, The Star Grand is often the ultimate stay option.

The Star Grand is home to some of the most famous and award-winning restaurants as well. Combining the luxury of the hotel and various entertainment options like live karaoke, 24-hours bar and casino, Spa and fitness centres, The Star Grand has risen to become the best hotel in Broadbeach.

2. The Breakers:
Probably the most beautiful hotel in the suburbs, The Breakers is located near the beach and offers direct beach access. Enjoy a beautiful stay in this hotel and visit popular places in the suburbs like Star Casino, Pacific Shopping Centre, etc.


Visit the beach at night and enjoy an amazing drink and eat some awesome dishes under the starry night. If you wish to enjoy a perfect stay and have absolute fun and amazement then The Breakers is the perfect hotel.

3. Aruba Surf Resort:
Located in the heart of the suburb and around 200 metres from the coast, Aruba Surf Resort is a popular stay option in Broadbeach. With its beach facing balcony, furnished rooms and amazing services, Aruba Surf Resort is filled with tourists, all around the year.

Alongside these facilities, the resort also has a swimming pool, spa centre and massage halls to enjoy a relaxing stay. 
With its location in the prime spot of the city, Aruba Surf Resort is amongst the most popular stay options in the suburbs.

Dining & Nightlife in Broadbeach


Broadbeach is the most popular suburb in Gold Coast for its nightlife and restaurants. The suburb is home to various award-winning restaurants and some wonderful clubs and pubs.


Below mentioned are some of the finest places to dine and enjoy the nightlife in Broadbeach.

1. Hideaway Kitchen and Bar:
Serving some of the finest Asian food items in Gold Coast, Hideaway Kitchen and Bar is a popular restaurant in Broadbeach. One can enjoy a perfect evening eating some tasty Asian items and drinks in the restaurant. The ambience of the restaurant makes it more attractive as the walls are articulated and designed with some fine graffiti.


Other than its popular Asian menu and wonderful ambience, the restaurant serves some fine cocktails. From beer to wine and whatnot, drink the finest cocktail in this restaurant.

2. Kurrawa Surf Club:
Located in the heart of Broadbeach, Kurrawa Surf Club is a popular surf club and restaurant in Broadbeach. Offering vegetarian to gluten-free items, Kurrawa Surf Club is always filled with tourists. 


The restaurant has installed a new clubhouse boat. This boat gives you a 230-degree view of the Azure water of the Pacific Ocean. One can eat some fine grilled and barbeque items and enjoy the most beautiful view of the Pacific Ocean at Kurrawa Surf Club.

3. Dracula's Cabaret:
Dracula's Cabaret follows a theme of adventure and excitement. The moment you enter the restaurant, you'll be welcomed by the spooky waiters who would be dressed as vampires. The design and the ambience of the restaurant are spooky as well.


The restaurant organises various events and shows that range from musicals to comedy to rock and horror. Due to its unique theme and varied events, Dracula's Cabaret is very popular among the tourists.


Shopping & Services in Broadbeach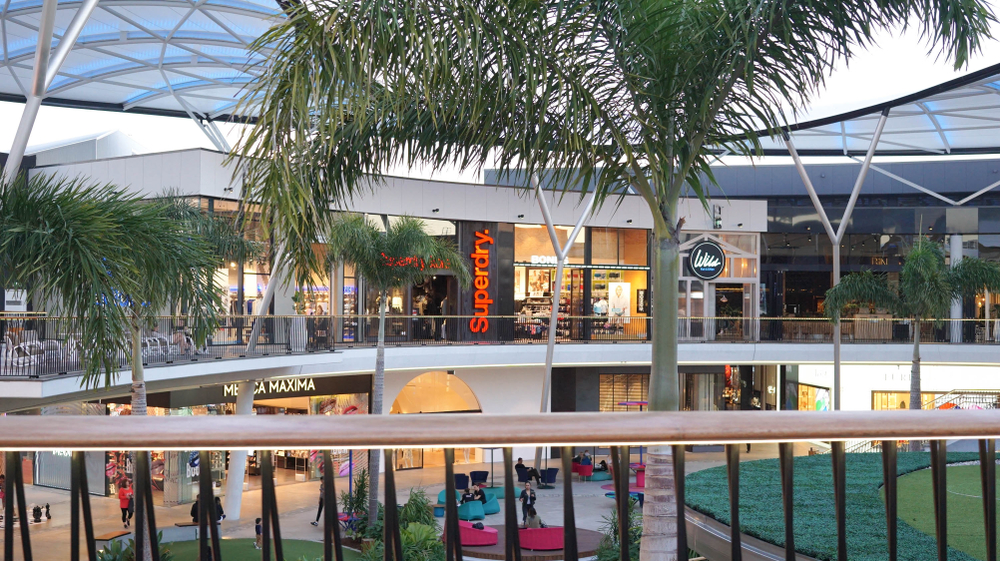 Broadbeach is the fashion hub in the Gold Coast. Look out for the shops and buy several fashionable items from various shops in the suburb. Broadbeach also has a few beauty and healthcare centre where visitors can relax and ease their body. 


Let us look at some of the shopping centres and other magnificent services in Broadbeach.

1. Pacific Shopping Centre: 
If you visit Broadbeach, you must visit the Pacific Shopping Centre. This giant and magnificent shopping centre houses some amazing shops. Hop in any of these shops and get the best product at the best price.


In recent years due to the growth in tourism, the shopping centre has expanded a lot and now it has more than 400 shops of various brands and items.

2. Matrixx Clothing:
Located in the Oasis Shopping Centre, this is a very popular shop. Many locals and visitors often visit the shop as it is known for its quality products. Matrixx Clothing offers some popular clothing designs from John Lenon, Pure Blakk and David Smith.

3. Zoneleader Acupuncture and Chinese Medicine:
If you are in Broadbeach and do not visit Zoneleader Acupuncture and Chinese Medicine, your trip is incomplete. With its relaxing services like traditional acupuncture, treatment using Chinese herbal medicine, mind-blowing massage, Moxibustion, Cupping Therapy and much more, Zoneleader is the best place to go to relax your body. The place is known for its natural remedies and treatment in natural ways.

4. Emilly Hadrill Hair Salon:
To get a perfect haircut, hair spa or hair treatment in Broadbeach, Emilly Hadrill Hair Salon is the best place. This L'oreal Professional platinum level hair salon offers services like hair styling, bridal hairstyling, upstyling and many other services.

Beach in Broadbeach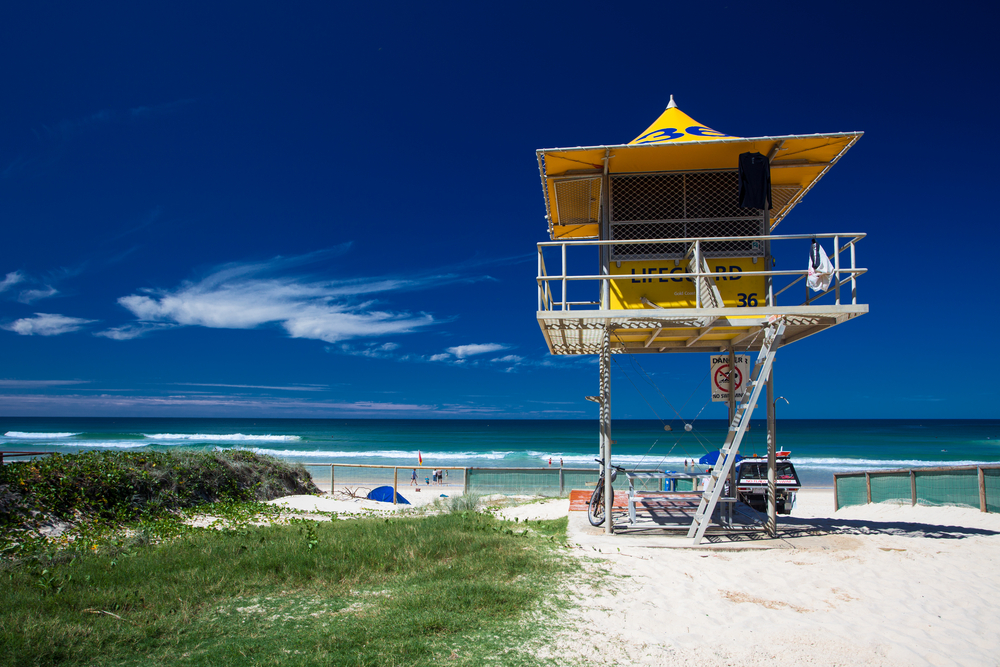 The long and beautiful coastline of Gold Coast is home to many wonderful beaches. One of the finest beaches of Gold Coast is located in Broadbeach, the Kurrawa Beach. It is one of the newest beaches and is very popular among tourists. The beach is home to many water sports and activities like Surfing, Fishing, Swimming, etc.


Surfing in this 1.6 km long beach is one of the finest things to do at Kurrawa beach. With the finest beach breaks and offshore winds, one can enjoy the best surfing experience.


Beach Fishing in Gold Coast is best enjoyed at the Kurrawa Beach. One can experience the best fishing at Kurrawa Beach as the beach is always precipitated with the best fishing conditions. 
The annual temperature at Kurrawa beach revolves from 20 degree-Celsius and 25 degree-Celsius.


Parks in Broadbeach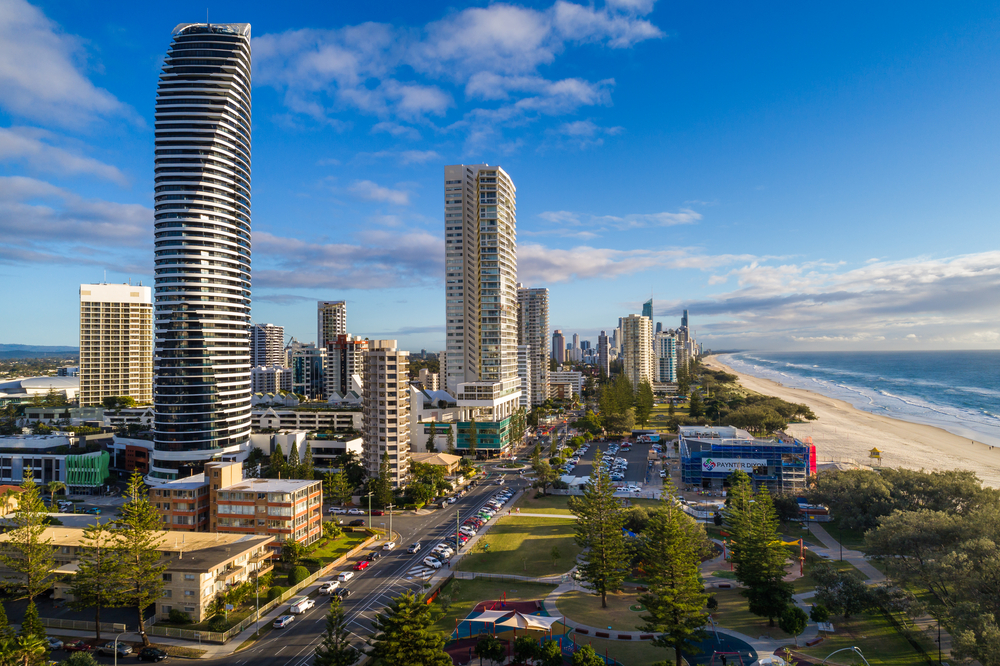 1. Pratten Park: 
Located on the popular Old Burleigh Road, Pratten Park or Kurrawa Pratten Park is a popular park in Broadbeach. The park is one of the biggest in Gold Coast and is home to many local sports activities like rugby and soccer. One can spend a day at leisure in the park.

2. Cascade Gardens: 
With beautiful walking promenades and BBQ eating facilities, one can enjoy the best time at Cascade Gardens. Cascade Gardens also has a small rainforest in it where one can enjoy and visit the various points.

The garden has a river in it which is a popular spot for a few picnic locations. Cascade Gardens is a very popular spot for spending one-day picnics as it has a rainforest, BBQ food items and a pleasant river.

3. Victoria Park: 
It is an open park and has a big playground for children to play. Victoria Park is the perfect place for an early morning jog and a late evening walk. It is one of the well-maintained parks in Broadbeach and is often visited by tourists to have long-walks and spend a pleasant evening at ease.


Weather in Broadbeach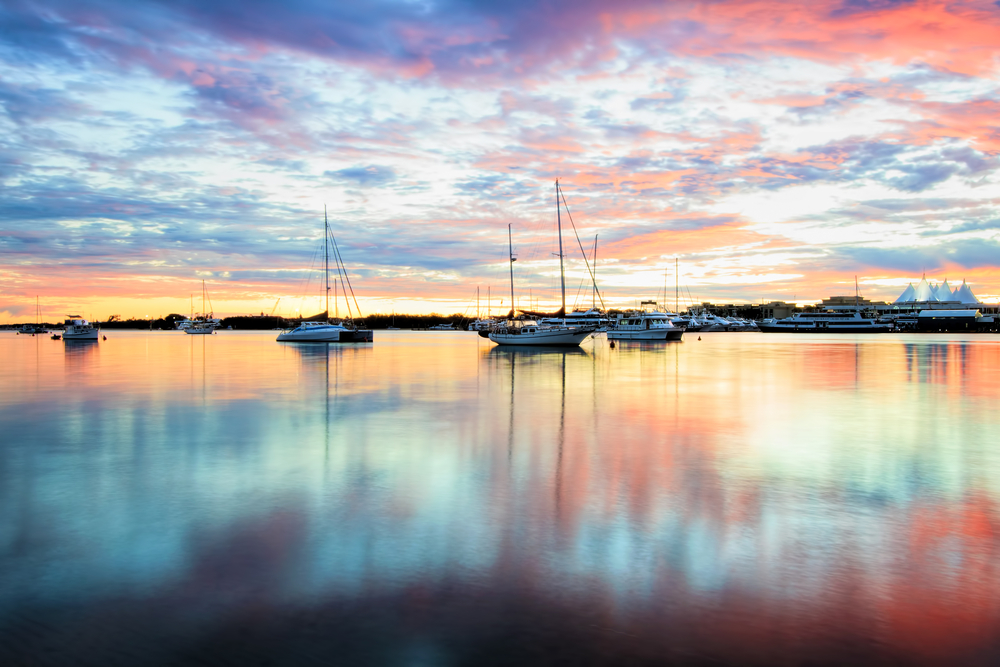 Gold Coast experiences Summer, Autumn, Winter and Spring season. The detailed analysis of the seasons and weather in Broadbeach is as follows

1. Summer Season - November to February

Though the summer season starts from December, Broadbeach experiences sunny days from November end. Gold Coast experiences sunny days all-around the year but the warmer days fall from December to February. With the average temperature of 28 degrees Celcius in Broadbeach, it is advisable to wear a cap or hat and apply sunscreen.


- Sunrise: 5 am - 5.15 am


- Sunset: 7 pm - 7.05 pm

2. Autumn - March to May

Broadbeach hosts various events like the Gold Coast Superhero Weekend and the Blues on Broadbeach Music Festival in the Autumn Season. The average temperature can range from 24 to 25-degree Celsius.


- Sunrise: 6 am


- Sunset: 5.20 pm to 5.30 pm

3. Winter- June to August

The temperature in Broadbeach in Autumn varies from 20-degree Celsius during the day and around 13-degree celsius at night.


- Sunrise: 6.30 am


- Sunset: 5 pm - 5.15 pm

4. Spring - September to November

Spring brings long days in the suburbs and moderate rainfall. This time of the year is the best time of the year as the average temperature ranges between 20 degrees Celsius to 25 degrees Celsius.


- Sunrise: 5 am


- Sunset: 6 am to 6.15 am