About Bingin Beach
One of the most secluded beaches in the Pecatu region of Bali, Bingin Beach overflows with a rustic Bohemian charm. This white sanded, tropical beach has a clear shoreline and an amazing landscape with tall cliffs engulfing the beach. Bingin beach is away from the clattering tourist crowd giving its visitors the most needed privacy and space to enjoy a laid back beach holiday.

During low tides, the water recedes inside revealing the rocks beneath and one can witness mind-blowing sunset views at that time. As the sun sets, the skies are filled with a riot of colors from various shades of yellow and orange to crimson red filling an onlooker's soul with sheer awe for this place.

Because of the rocky shoreline, swimming in Bingin Beach is not advisable. The cliffs around the beach offer panoramic views of the scenery around and the hike up the cliffs is easy and rewarding.
Bingin Beach is a paradise for water bums who love to surf, sun bath, eat, and repeat. Surfing is the most popular water sport at Bingin Beach. The waves at Bingin beach are just so perfect to maneuver the winds; particularly during the high tides.

One can find surf clubs and surf schools all around the beach and these institutes help you rent colorful surfboards that are available in various sizes and shapes. Grab one and steer through the waves! 

There are many warungs, and eateries all along the coastline where you can relish on delicious seafood. These eateries spread their tables on the beach in the evenings, and some of them even offer romantic candle-light dinners. Cocktails and smoothies in these beachside eateries do need a special mention.

Tourism at Bingin is further accentuated with the numerous hotels, resorts, and bungalows that have absolutely stunning ocean views offer luxurious accommodation options at very affordable prices.

How to Reach Bingin Beach
From Airport?
The distance between Bingin Beach and Denpasar Airport is 20 km and one can reach Bingin Beach from the airport by hiring a taxi. No public buses are plying between the two destinations.
Best Time to Visit Bingin Beach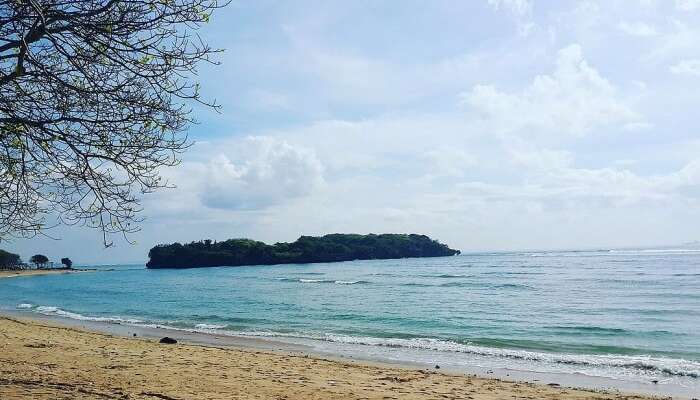 The best time to visit Bingin Beach is from March until June when the climate is pleasant with clear skies. The waters of the Indian Ocean are ideal for surfing and swimming during these months. This makes these months the busiest tourist season in Pecatu. If you are looking for a budget-friendly holiday, you can plan your trip in September when airfares and hotel tariffs drop to the maximum.
What Not to Miss at Bingin Beach
Places to visit near Bingin Beach


1. Uluwatu Temple: 

Uluwatu Temple of Pura Luhur Uluwatu is a beautiful Balinese Hindu temple that is perched on a cliff overlooking the Indian Ocean. Adorned with traditionally-designed gateways and ancient sculptures, the temple is a testament to the Balinese architecture. The temple is particularly famous for soul-stirring sunset views.
Distance from Bingin Beach: 6.3 km
Timings: 7.00 AM - 7.00 PM Mon-Sun
2. Thomas Beach :

With glittering white sand, azure blue water, and beach chairs, Thomas Beach is a hotspot for those looking forward to a laid back beach holiday. The beach is ideal for surfing and swimming, but these activities are vastly dependent on tides. There are warungs (shops) selling tender coconuts, snacks, and water bottles. 
Distance from Bingin Beach: 4.0 km
Timings: Always open
3. Uluwatu Kecak & Fire Dance :
This waterfront amphitheatre located near the Uluwatu Temple is the place to go to see the traditional Balinese Kecak dance. The scenic environment around and the power-packed dance performance by the Balinese folks is indeed a cherishable experience. You can book tickets for these shows online.
Distance from Bingin Beach: 6.3 km
Timings: 8.00 AM -7.00 Mon - Sun
4. Karang Boma Cliff :
Also known as Uluwatu Cliff, this cliff is a viewpoint that offers stunning views of the Indian Ocean and the shores along. Sunsets from the clifftop are spectacular and the 100-meter drop to the shoreline from the top is daunting.
Distance from Bingin Beach: 9.1 km
Timings: Always open
5. Garuda Wisnu Kencana Cultural Park :
Sprawling across 148 acres of verdant lawn, this park is dedicated to Hindu god Vishnu, and his mount, Garuda, the mythical bird. The park is famous for the 23-metre (75.5 ft) large statue of Vishnu which towers until the clouds. 
Distance from Bingin Beach: 10.0 km
Timings: 8.00 AM - 9.00 PM Mon - Sun

Things to do at Bingin Beach


1. Get sun tanned :
This tropical beach has abundant sunshine and you can spend hours soaking in all its glory. Lounge in one of the sunbeds at the Bingin Beach and enjoy a lazy day sipping your favorite cocktail or the natural tender coconut and get immersed in your favorite book.
2. Surf through the waves :

Surfing is actually what draws thousands of visitors to Bingin Beach. The wave quality of Bingin Beach is unrivaled and consistent making it a surfer's Heaven. There are many surf schools and professional guides whom you can hire to get your surfing lessons. These surf schools also rent out surfboards and other gears for water activities.
3. Play Golf at New Kuta Golf : 

Located just behind the Bingin Beach, this 18 hole New Kuta Golf ground is one of the astounding places in Pecatu to enjoy a game of golf. The golf club fee is inclusive of a caddie; so so not bother even if you are a newbie. Just head to this clifftop place and indulge in a fun-filled game amidst surrounding scenic views.
4. Rejuvenate with spa sessions and yoga :

The shoreline of Bingin Beach is home to a plethora of world-class yoga studios that have various yoga programs from dawn to dusk. There are also several finest spas where you can head to and enjoy a relaxing and blissful spa therapy.
Other Essential Information About Bingin Beach
Location : Pecatu, Indonesia
Timings : Always open
Places to Eat at Bingin Beach


1. Kelly's Warung : 

One of the best eateries in Pecatu with amazing ocean views and rustic wooden furniture, this sandwich shop serves healthy and delicious fruit bowls. The freshly made smoothies is another menu item that is a delight to gorge upon. The laid back mood of this shop, courteous staff, and prompt service make Kelly's Warung top the list.
Address: Pecatu, Kuta Selatan, Pecatu, Kec. Kuta Sel., Kabupaten Badung, Bali 80361, Indonesia
Timings: 8.00 AM - 9.00 PM Mon - Sun
2. The Sun & Surf Stay :

This restaurant is located within The Sun & Surf Stay hotel and serves delicious renditions of breakfast, lunch, dinner, and drinks. The pizzas and sides served here are appetizing and the drinks include smoothies, fruit juices, cocktails, mocktails, beer, and wine.
Address: Jl. Pantai Bingin, Pecatu, Kec. Kuta Sel., Kabupaten Badung, Bali 80361, Indonesia
Timings: 8.00 AM - 9.00 PM Mon - Sun
3. Bingin Bagus Seafood BBQ :

What is a beach holiday without seafood? Bingin Bagus Seafood BBQ is a paradise for seafood lovers as this restaurant serves some of the best seafood which includes freshly caught tuna, red snapper, prawns and squid, barbeques, and grills in Indonesia. The restaurant only arranges romantic candle-light dinners with stunning views of the beach.
Address: Pecatu, South Kuta, Badung Regency, Bali 80361, Indonesia
4. Lucky fish :

Located right on the Bingin Beach, Lucky Fish serves amazing fish grills and fish barbeques that are finger-licking good. The salty breeze, cozy ambiance, and the subtle music played at the restaurant make this beachside restaurant extremely welcoming and the staff depicts unparalleled hospitality.
Address: Pecatu, South Kuta, Badung Regency, Bali 80361, Indonesia
Timings: 7.00 AM - 10.00 PM
5. The Cashew Tree :

This beachside, veg cafe is a great place to relish on burritos, salads, sandwiches, smoothies, and cocktails. Thursdays are special here as the live bands play eclectic music make the tourist mob go crazy.
Address: Jl. Pantai Bingin No.9, Pecatu, Kec. Kuta Sel., Kabupaten Badung, Bali 80361, Indonesia
Timings: 8.00 AM - 10.00 PM Mon - Sun

Places to Stay near Bingin Beach


1. The Temple Lodge :

This upscale, clifftop hotel features cozy, rustic suites with wooden flooring and extensive use of wooden Balinese decor. The suites looks so modest yet lavish with coral stone walls, and thatched roofs. This 4-star hotel has a restaurant serving zest Indonesian cuisine and has yoga classes and spa centres.
Location: Jalan Pantai Bingin, Pecatu, Kuta Selatan, South Kuta, Badung Regency, Bali 80361, Indonesia
2. Leggie's Bungalows :

Located close to the Uluwatu Temple, the bungalows are set amidst the fragrant frangipani trees that add a nice ambiance to the place. The rooms are luxurious with clean bedding, mosquito nets, a verandah and have all the modern-day facilities like swimming pool, Wi-Fi, massage, and airport transfers.
Address: Dr. Dinas Buana Sari Pecatu, Kuta Selatan (80364) Bali, Indonesia
3. BoHo Beach Bali :

Featuring various Bohemian rooms and eclectic suites with a thatched roof with unhindered ocean views and garden views, Boho is a great place for a luxurious stay. The hotel is surrounded by lush green trees and has two infinity pools for relaxed swimming time.
Address: Pecatu, South Kuta, Badung Regency, Bali 80361, Indonesia
4. Sal Secret Spot :

This new eco-boutique hotel has urban chic homey rooms with their Indonesians decoration where one can enjoy a comfortable stay. The hotel also has a 24 hours babysitter facility and so for travellers with toddlers and infants, this hotel is a refreshing choice.
Location: Gg. Mertasari, Pecatu, Kec. Kuta Sel., Kabupaten Badung, Bali 80361, Indonesia
5. Bingin Beach House :

Located right on the Bingin Beach, this beachfront house features 3 bedrooms, 1 bathroom, 2 toilets, has an outdoor shower, a cinema room, a full kitchen, a daily housemaid, Bluetooth sound dock, and wif-fi. Needless to say, if you are travelling with your gang of friends or as a group of family members, this opulent beach house is for you.
Address: Bingin Beach House, Jl. Pantai Bingin, Pecatu, Kec. Kuta Sel., Bandung, Bali 80364, Indonesia