About Akshardhama Temple
Situated in Vaishali Nagar of Jaipur, Akshardham Temple is one of the most popular destinations of the pink city. Being dedicated to Lord Vishnu or Lord Narayana, Akshardham Temple is also known as Swaminarayan Temple. It is equally well-known for both its cultural aesthetics and stunning architecture. 
The temple of Akshardham in Jaipur has been recently constructed, and the credit of its foundation goes to Bachsanwasi Shri Akshar Purushottam Swaminarayan Sansthan.There are three houses within the Akshardham temple – Hari Mandapam, Vibhuti Mandapam, and Prasadi Mandapam.
The main shrine of the temple is known as Hari Mandapam. It is here where you can find the presence of a 7-feet statue of Lord Swaminarayan carved in pure gold. It is well-studded with both silver and gold ornaments. 
Vibhuti Mandapam or the second house is where you get to witness the exquisite-lit brass lotuses. Finally, you have the Prasadi Mandapam, where you will find some holy relics of Lord Swaminarayan.
Apart from those three houses, the Akshardham Temple features two small shrines featuring the idols of Lord Krishna, Lord Ganesha, and Shiva Parvati. All the walls of the temple have beautiful displays of beautiful carvings, paintings, sculptures, and mantras for motivating the visitors and onlookers. 
The moment you step in the Akshardham Temple, you are filled with profound faith and positive vibration. The tranquillity of the temple enlightens every single visitor who visits here. Akshardham Temple is famous for its magnificent idols, beautiful architecture, carvings, and sculptures. 
Apart from the architectural brilliance, the temple is blessed with a stunning green surrounding. It has also got a large playground and a kids section within it where you have slides, swings, etc. Finally, before leaving the Akshardham Temple, do not forget to munch on its delicious servings at its Food Hut.
History of Akshardham Temple – 



Swaminarayan, the founder of Swaminarayan Sampraday, has constructed nearly 10 temples across 10 different cities. Akshardham is one amongst them. You can't call it an ancient temple as it was built somewhere between 20th to 21st centuries.
The place of worship of this temple falls under the Nar Narayan Dev Gadi. This constitutes one of the essential seats that represent the Sampraday. Presently, the headquarters of this Sampraday is located at Ahmedabad in the form of Shri Swaminarayan Mandir.
As soon as the temple construction was completed, Swaminarayan assigned a special task to his adopted sons – Raghu Veerji and Ayodhya Prasadji. This task was to draw lots for the transparent appointment of Acharyas, both for Nar Narayan and Lakshmi Narayan Dev Gadi.
The outcome of this draw was that Ayodhya Prasadji was sworn in as the first acharya for Nar Narayan while his sibling, Raghu Veerji, for the Lakshmi Narayan Dev Gadi. From that moment onwards, their disciples and followers have been worshipping them on regular intervals in their respective shrines.
The architecture of Akshardham Temple –



Akshardham Temple of Jaipur symbolizes the purity and sanctity of the Hindu's philosophy, and the same has been portrayed through its Hindu architectural work. The complex of the temple measures around 23 acres and holds a sanctum sanctorum at its center.
The entire structure has been brilliantly carved with a blend of white marble and pink sandstone. It stands atop a slightly raised platform set amidst a beautifully designed lush green landscape with fountains.
The temple has got a flight of stairs to lead you to the central hall of the temple. There are traditional shikaras, intricately carved stone carvings, paintings, and ornately decorated stone structures. A significant fraction of these master creativity demonstrates legends of Lord Vishnu, the developmental stages of the Hindu culture, and the importance of Vedas.
You will also learn a lot about the teachings and beliefs of Swaminarayan Sampraday. The Akshardham Temple has pillared walls that are well-ventilated and spacious. There's an area reserved for the visitors to rest within the premises that surround the manicured gardens.
Hari Mandapam, Vibhuti Mandapam, and Prasadi Mandapam are the three houses that constitutes the Akshardham Temple. The gold-leaf idol of Lord Swaminarayan situated within the first house - Hari Mandapam attracts the onlookers with its intricately carved silver and gold ornaments.
Second Mandapam or Vibhuti Mandapam features brass lotuses. In contrast, the third and the final one is where you can find relics of God Narayana. Akshardham Temple also features a small cafe where you can relax for sometime. Located close to it is a small playground for your children to play. 
How to Reach Akshardhama Temple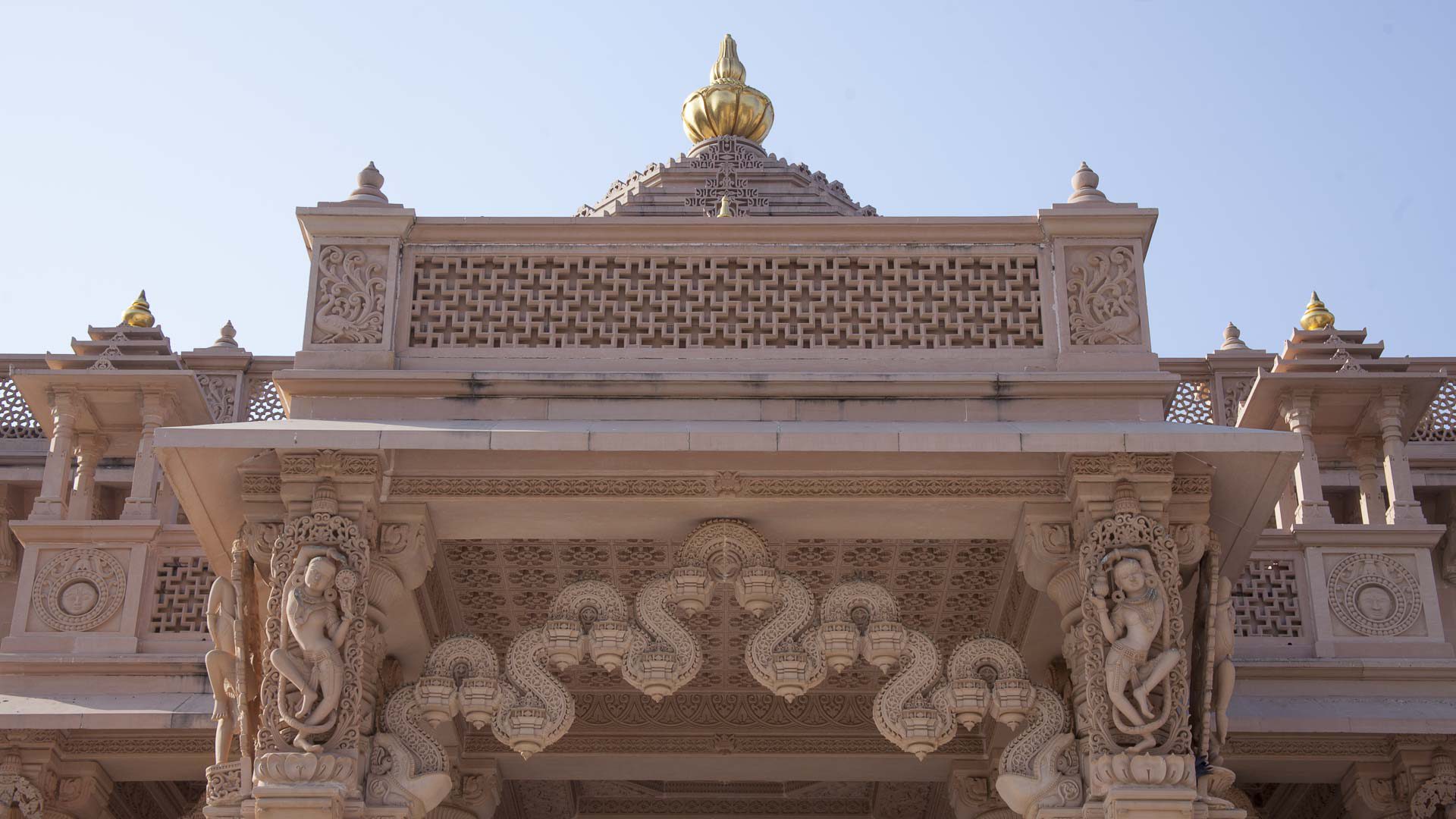 Here are the best options to reach Akshardham Temple from Jaipur Airport –

By Bus – You can opt for a direct bus transfer between Jaipur International Airport to Kings Road to reach the Akshardham Temple in Jaipur. Your bus journey will last for 45 minutes and will cost you around 18 to 35 INR per head.

By Road – If not by bus, you can either opt for a hired taxi ride or a self-drive to drop you at Akshardham Temple in Jaipur. You will be covering a total distance of 13.3 km at the expense of 300 to 370 INR (taxi) and 100 to 150 INR by self-drive. Your journey between Jaipur International Airport and Akshardham Temple, Jaipur, will last as long as 12 minutes.
Best Time to Visit Akshardhama Temple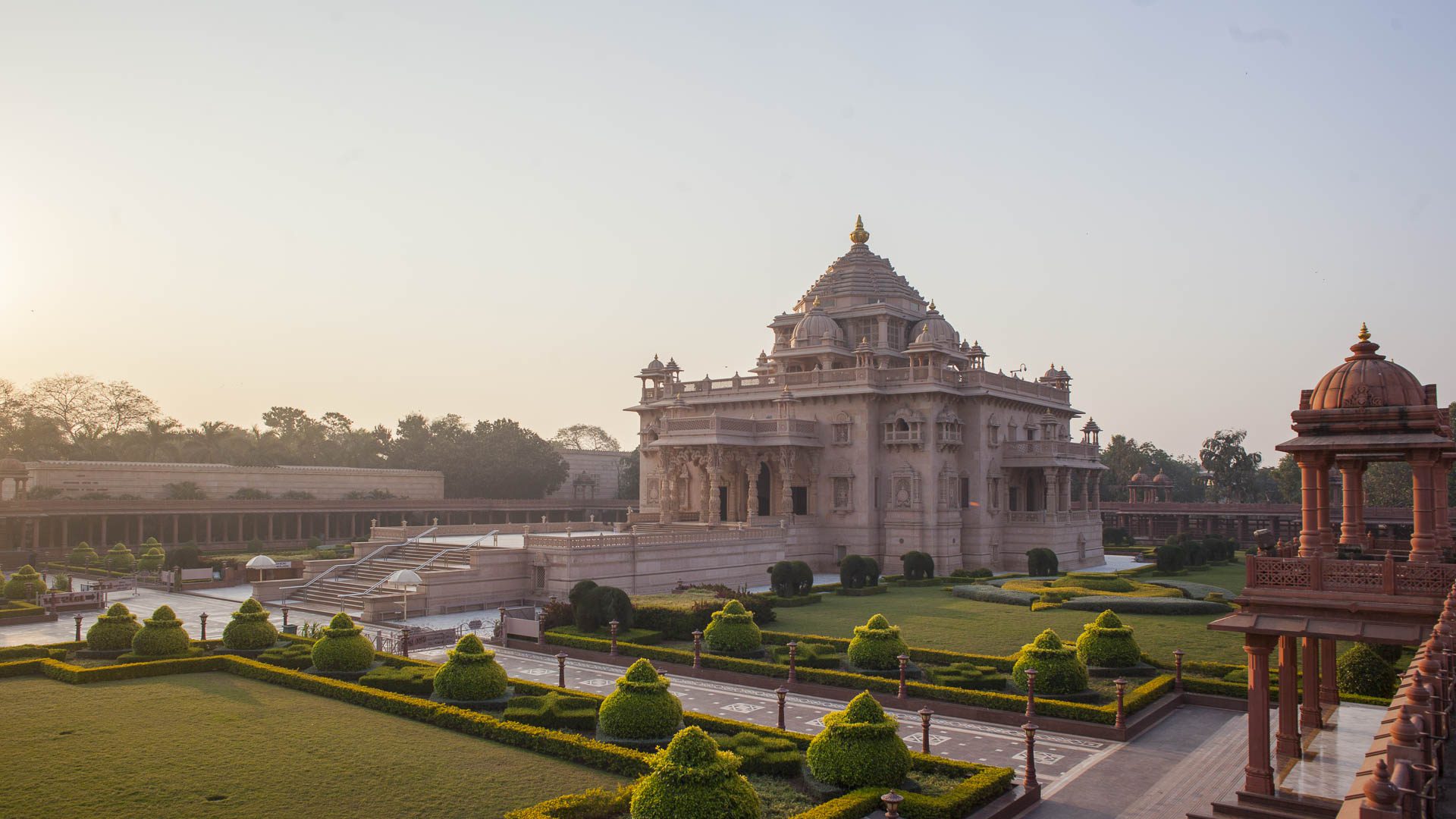 October to February is always best to plan your visit to the Akshardham Temple in Jaipur. This period is a winter period here in Rajasthan when the temperature remains pleasant throughout. The months of December and January turn out to be on extremely colder sides.

It is recommended to completely avoid your visit to the Akshardham Temple during summers as the heat turns out to be a sweltering one. You may witness the temperatures soaring as high as 40 degrees. As it is a dry region, you can expect little to no showers in the month of monsoons.
What Not to Miss at Akshardhama Temple
Attractions near Akshardham Temple –




Other Jaipur attractions around the Akshardham Temple are also worthy of being visited. Here's a list of some of the best tourist places to explore –

1. Birla Planetarium – This place was once renowned for being Asia's largest planetarium as a central landmark for the Indian celestial research. You can spend some quality time exploring this observatory as it has got a lot of things and artifacts related to space.

Distance from Akshardham Temple – 7.7 km

2. Nahargarh Fort – Also known as the Tiger Fort, Nahargarh Fort is an abode of tigers. The main purpose of this fort was protecting the pink city from invaders. There's a café inside where you can sip in your favorite cup of coffee while clicking some phenomenal pictures of the landscape beauty of Jaipur.

Distance from Akshardham Temple – 8 km

3. Birla Temple – If you want to explore the hidden beauty of the Birla Temple, visit it in the night-time when it is illuminated with beautiful lights. Carved out from a unique type of marble, Birla Temple of Jaipur is indeed acknowledged as a modern architectural marvel.

Distance from Akshardham Temple – 9 km

4. Moti Dungri –  Moti Dungri of Jaipur constructed during the 18th century, today marks as a famous tourist destination. It is perched atop a small hill and has an exotic palace – The Moti Palace. It is known both for its intricate stone carving and beautiful latticework.

Distance from Akshardham Temple – 9.7 km

5. Jaipur Zoo – Founded in the year 1977, Jaipur Zoo has two bifurcating sections – one is purely reserved for animals and the second one for birds and reptiles. There are nearly 500 diverse species of flora and fauna within the premises of this zoo.

Distance from Akshardham Temple – 9.9 km

6. Albert Hall Museum – The building of the Albert Hall Museum is an excellent architectural example boasting both paintings and carvings. Within the premises of this museum, you will also find some intricately carved works of ivory, crystal, stone, and metal.

Distance from Akshardham Temple – 10.2 km

7. Sanjay Sharma Museum – If you love the flow of history, Sanjay Sharma Museum, located close to Johri Bazaar, is the place for you. Right from books to manuscripts to artifacts to paintings, this Sanjay Sharma Museum has got everything to exhibit.

Distance from Akshardham Temple – 10.3 km

8. Jawahar Kala Kendra – Jawahar Kala Kendra is a place where different forms of arts are preserved in their traditional forms. Film screenings, workshops, drama, dance performances, seminars are typical attractions of this place.

Distance from Akshardham Temple – 10.3 km

9. City Palace Jaipur – Nestling amidst the stunning hills of Rajasthan, City Palace of Jaipur is a representative of European, Rajput, and Mughal style of architecture. In the evening, when the sun sets, the entire palace acquires a golden glow. The peacock gates, buildings, and gardens are all a treat for the wanderers.

Distance from Akshardham Temple – 10.4 km 
Other Essential Information About Akshardhama Temple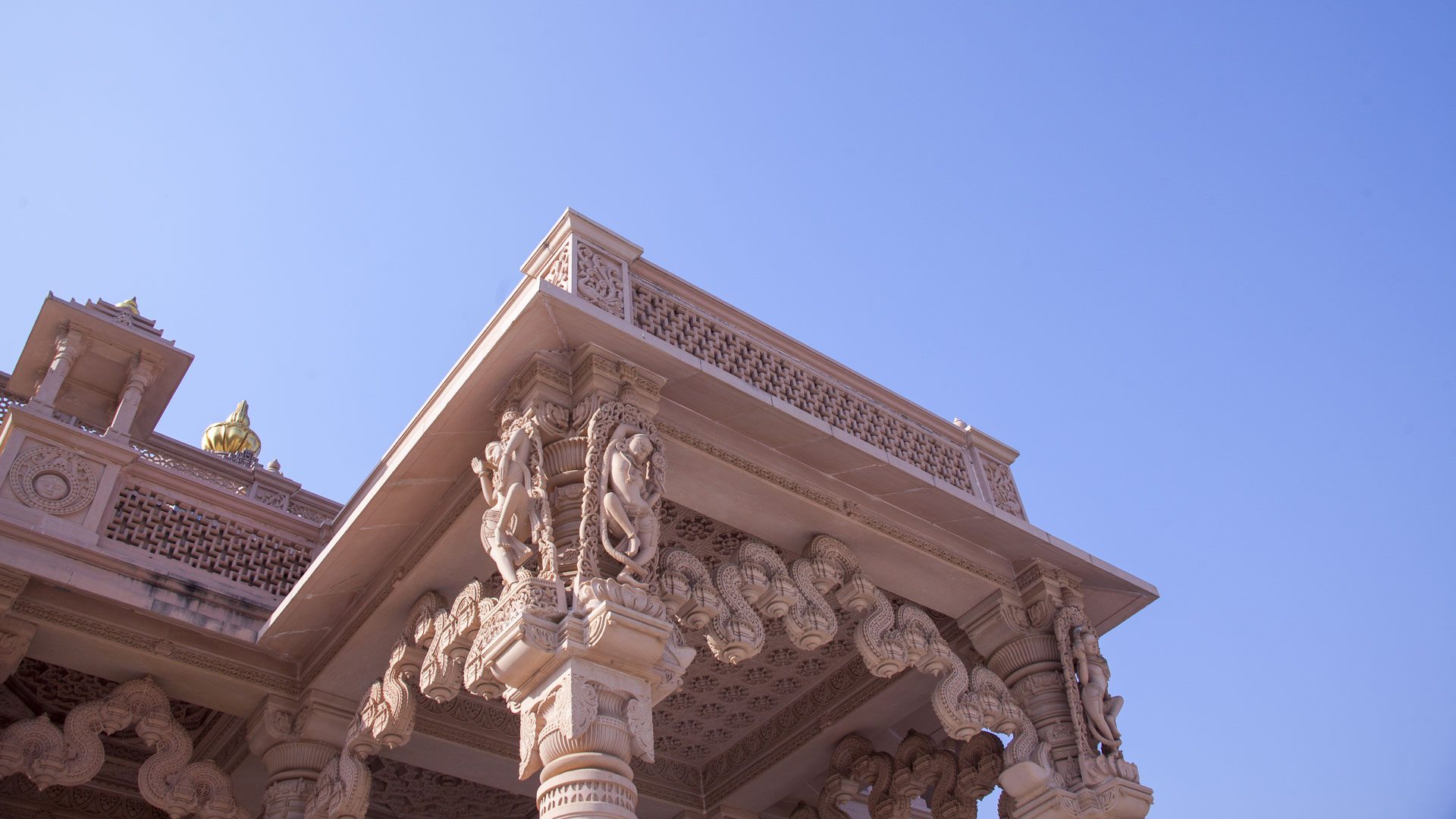 Location –
Vidyut Nagar Vaishali Nagar, Chitrakoot, Jaipur, Rajasthan 302021
Timings –
Akshardham Temple is open for visitors on all days of the week except on Mondays. You can walk in and out of the temple premises anytime between 07:30 am to 12:00 pm and then between 04:00 pm to 08:00 pm.
Fee -
You do not need to pay an entry ticket fare to step in within the Akshardham Temple.
Here's a close look at the other expenses that are associated with your visit to the Akshardham Temple –
Exhibition Cost –
Adult –
170 INR per head
Children below the age of 11 years –
100 INR per head
Children below the age of 4 years –
Free
Senior Citizen –
125 INR per head
Musical Fountain Cost –
Adult –
30 INR per head
Children below the age of 11 years –
20 INR per head
Children below the age of 4 years –
Free 
Facts about Akshardham Jaipur:



Here are some interesting facts about the Akshardham Temple – 
1. The Akshardham Temple at Jaipur is a representative of the Swaminarayan Temple chains present throughout India. 
2. The chain of these temples extends to other regions across the globe, too – Melbourne, Toronto (Canada), Sydney, Adelaide (South Australia), and Western Australia. 
3. Although Akshardham Temple is not that old, it gives a resemblance to an ancient architectural temple.
4. The walls of the Akshardham Temple are inscribed with motivational and religious lines and thoughts. They create a sense of positivity and rejuvenates the mind and soul of devotees who read them religiously.
Tips for Visiting Akshardham Temple: 



1. No camera, cell phones, or videography instrument is allowed to be used within the premises of the Akshardham Temple of Jaipur. 
2. You have many transportation options (bus, hired cab or self-drive in a privately owned vehicle) to travel to the Akshardham Temple, Jaipur. 
3. The best time of the day to visit the Akshardham Temple is early morning as soon as the sun rises. 
4. Within the temple premises, you won't find any food stall. So, if you want to have something to satiate your tummy's cravings, you need to walk pass the temple premises. You have many small food options outside the temple premises. 
5. There are many shopping malls around the premises of the Akshardham Temple where you can shop for some local souvenirs.